All Japan Pro Wrestling "2017 STARTING OVER ~ Jr. TAG BATTLE OF GLORY ~, 11/5/2017 [Sun] 17:00 @ Nagoya International Conference Hall in Aichi
(1) Yuma Aoyagi, KAI (FREE) & Konaka = Pale One (666) vs. Rocky Kawamura (PancraseISM), Takatoshi Matsumoto (FREE) & Michio Kageyama (DEP)
◆Winner: KAI (6:47) with the Splash Plancha on Kageyama.
(2) Jr. TAG BATTLE OF GLORY: Masashi Takeda & Atsushi Maruyama (both FREE) vs. Kotaro Suzuki & Keiichi Sato (both FREE)
◆Winner: Kotaro (8:33) with a Tiger Driver on Maruyama.
~ Kotaro & Keiichi [2 wins = 4 points]
~ Takeda & Maruyama [1 loss = 0 points]
(3) Zeus vs. Naoya Nomura
◆Winner: Zeus (11:05) with a Jackhammer.
(4) Jr. TAG BATTLE OF GLORY: Atsushi Aoki & Hikaru Sato vs. Koji Iwamoto & Yusuke Okada
◆Winner: Hikaru (11:15) with a Capture style Cross Armbar on Yusuke.
~ Aoki & Hikaru [1 win, 1 loss = 2 points]
~ Iwamoto & Yusuke [2 losses = 0 points]
(5) World Junior Heavyweight Championship Match: [46th Champion] TAJIRI (FREE) vs. [Challenger] Yohei Nakajima
◆Winner: TAJIRI (14:09) following a Buzzsaw Kick.
~ 1st successful title defense.
(6) Suwama & Shuji Ishikawa vs. Ryoji Sai (LAND'S END) & So Shibata (FREE)
◆Winner: Suwama (11:08) following a Backdrop on So.
~ Ishikiri is out with injury, freelance wrestler So Shibata got the chance to compete. (So Shibata originally trained in the NOAH dojo back around 2011, but left, and has been competing in the USA. Though he is in Japan for the time being competing on various indie shows.)
(7) Jun Akiyama vs. Yoshitatsu (FREE)
◆Winner: Yoshitatsu (13:16) with the Yoshitatsu Lock I.
~ Yoshitatsu celebrates the win in his first ever singles challenge against Akiyama, as his focus is now solely on the TC challenge on the 9th.
(8) Kento Miyahara vs. Takao Omori
◆Winner: Miyahara (20:22) with the Shutdown German Suplex Hold.
~ Miyahara & Yoshitatsu both claim the win over the World Tag Champions.
~ Miyahara declared that he is aiming to win the "Strongest Tag League" then challenge for the World Tag belts.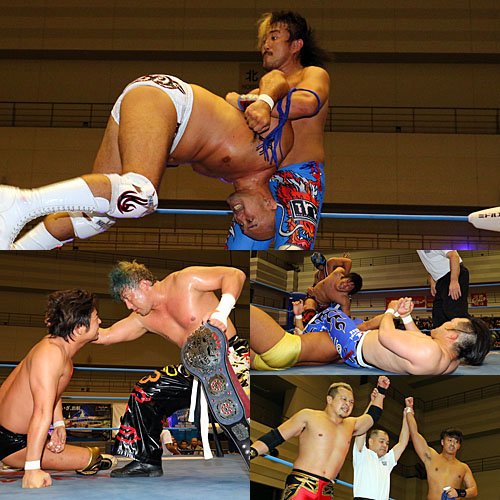 http://puroresuspirit.net/2017/10/ajpw-event-cards-for-november-december-2017/