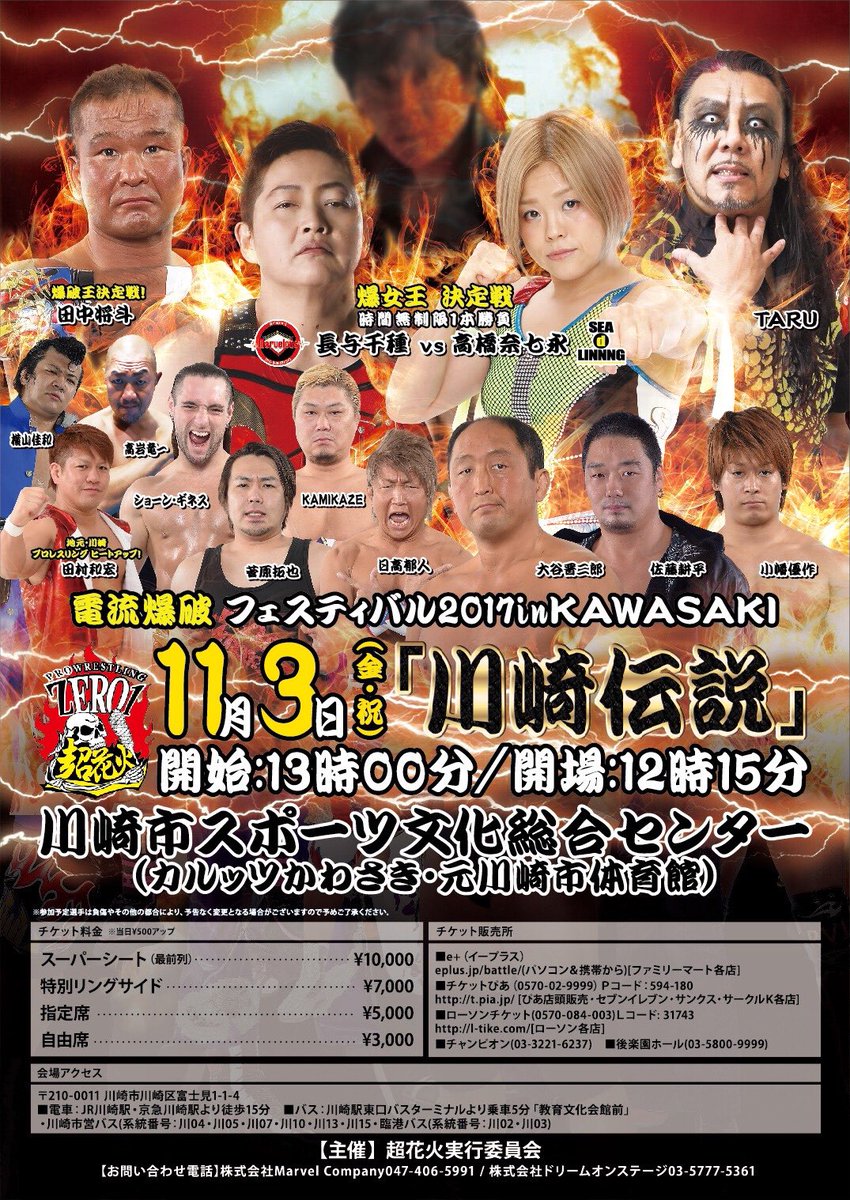 ZERO1 "Denryu Bakuha Festival 2017 ~ Furinkazan Tag Tournament 2017", 11/3/2017 [Fri] 13:00 @ Culttz Kawasaki in Kanagawa
(0) Tatsuhito Takaiwa & Yowa Iwasaki vs. Yoshikazu Yokoyama & Shoji Fukushima
◆Winner: Takaiwa (7:12) with a Boston Crab on Fukushima.
(1) Furikanzan 1st Round Match: Ikuto Hidaka & Takuya Sugawara vs. Sean Guinness & SUGI
◆Winner: Takaiwa (10:51) with a Japanese Ocean Cyclone Suplex Hold on SUGI.
(2) Kohei Sato, Yusaku Obata & Kazuhiro Tamura vs. TARU, KAMIKAZE & Hartley Jackson
◆Winner: Kohei (10:22) following a Diving Knee Drop on KAMIKAZE.
(3) Marvelous Offer Match: Takumi Iroha & Rin Kadokura vs. Mio Momomo & Rosa Negra
◆Winner: Iroha (13:34) with a Liger Bomb on Negra.
(4) Furikanzan 1st Round Match: Shinjiro Otani & Super Tiger vs. Shogun Okamoto & Yutaka Yoshie
◆Winner: Yoshie (13:34) with a Diving Body Press on Otani.
(5) No-rope Barbed-wire Electric Current Blast Board Double Hell Death Match: Chigusa Nagayo vs. Nanae Takahashi
◆Winner: Nagayo (15:03) via pin-fall.
(6) Bakuha-o Championship Electric Current Blast Bat & Street Fight Death Match: [7th Champion] Masato Tanaka vs. [Challenger] Yuko Miyamoto
◆Winner: Miyamoto (17:05) with a Moonsault Press.
~ Miyamoto becomes the 8th champion.
http://puroresuspirit.net/tag/zero1/
Upcoming…
ZERO1 "Furinkazan Tag Tournament 2017", 11/5/2017 [Sun] @ Iwasaki City Peace Hall
() Yoshikazu Yokoyama vs. Pandita
() Dump Matsumoto & ZAP vs. Aki Shizuku & Tadaware
() Shoji Fukushima vs. Yowa Iwasaki
() Sean Guinness vs. Tatsuhito Takaiwa
() Shinjiro Otani & SUGI vs. Masato Tanaka & Takuya Sugawara
() Kohei Sato & Ikuto Hidaka vs. (losers of 11/3 match)
() Furikanzan 2nd Round Match: (Winners of Otani/Tiger vs Shogun/Yoshie) vs. TARU & Hartley Jackson
ZERO1 "Furinkazan Tag Tournament 2017", 11/13/2017 [Mon] @ Shinkiba 1stRING in Tokyo

() Furikanzan 2nd Round Match: Kohei Sato & Hideki Suzuki vs. Tatsuhito Takaiwa & Yoshikazu Yokoyama
() Furikanzan 2nd Round Match: Yusaku Obata & Yuko Miyamoto vs. Masato Tanaka & Isami Kodaka
ZERO1 "Furinkazan Tag Tournament 2017", 11/17/2017 [Fri] @ White Cube in Miyagi, Shiroishi City Cultural Center
() Furikanzan 2nd Round Match: (Winners of Hidaka/Sugawara vs Guinness/SUGI) vs. Daiki Inaba & Sato
ZERO1 "Furinkazan Tag Tournament 2017", 11/23/2017 [Thu] @ Korakuen Hall in Tokyo
() Furikanzan Final Match: