Atsushi Onita FINAL ~ Korakuen Hall Retirement Show, 10/31/2017 [Tue] 18:30 @ Korakuen Hall in Tokyo
2000 Spectators (overcrowded)
(1) Electric Current Blast Wind Death Match: Buatsu Dainita vs. Pandita
◆Winner: Pandita (8:53) following a Barbed-wire Bat Strike.
(2) Independent World Battle Royale: Ricky Fuji, Flying Kid Ichihara, Choden Senshi Battranger, Wild Seven, Wild Bear, Wild Common, Wild Cat, Tomoryu, Naoshi Sano, Masahiro Sase, 326, Macho Michaels, Raiden, Shocker, Toshiaki Terao, Takumi Sakurai, Masaru Kameda
◆Winner: Battranger (10:20) with a Michinoku Driver on Ichihara.
(3) FMW Mixed Match: Dump Matsumoto, Ichiro Yaguchi, ZAP & Onryo vs. Crusher Maedomari, Hideki Hosaka, Bad Nurse Nakamura & Nene∞D.a.i
◆Winner: ZAP (8:36) following a Lariat on Crusher.
(4) ZERO1 Offer Match: Masato Tanaka, TARU & Takuya Sugawara vs. Shinjiro Otani, Yusaku Obata & Sean Guinness
◆Winner: TARU (15:21) with the TARU Driller on Guinness.
~ Atsushi Onita Retirement Ceremony
~ Onita stated that the years are finally catching up to him, more so than in the past, as his knee problems, which forced to retire the first time in the 1980's, are even effecting him from properly using stairs.
~ Onita's mother (82) even appeared and was in tears, as she noted that her bad son but she is thankful for what all he has done.
~ Onita stated that he really does not wish to ever compete in the ring again, but that his aim now is to still contribute to the ring in another noteworthy way. Hinting that further details will be coming soon.
(5) Atsushi Onita Korakuen Final ~ The Last Death Match ~ Street Fight Tornado Bunkhouse Death Match: Atsushi Onita, Shingo Takagi & KAI vs. Kazuyuki Fujita, Kendo Kashin & NOSAWA Rongai
◆Winner: Onita (16:48) with a Thunder Fire Powerbomb on NOSAWA.
~ After the match, Dump called for Onita to please return to the ring again someday, while TARU stated that Onita will never retire and all the fans will once more be cheated of this day. As today technically marks the seventh retirement from Onita.
~ Fujita demanded for a rematch against Onita, if the now 60 year old ever decided to return to the ring.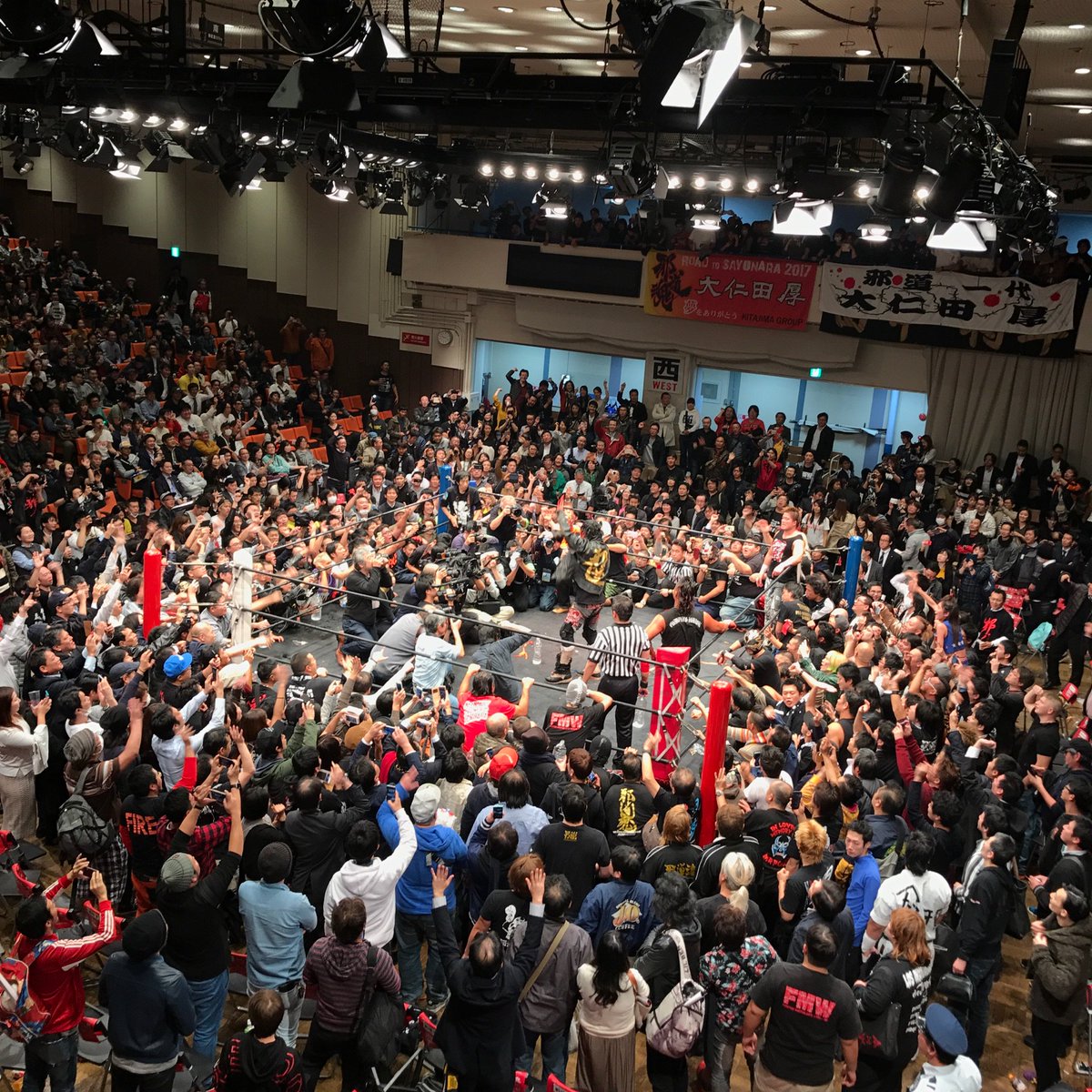 http://puroresuspirit.net/tag/atsushi-onita/
~ Here is also the main event result from Onita's last show in Nagoya back on the 29th. Sorry I was not able to compile the whole shows results, hence no separate post.
Fire Pro-Wrestling "Atsushi Onita Final Bakuha in Nagoya", 10/29/2017 [Sun] 15:00 @ Nagoya Conference Hall, Event Hall in Aichi
(5) Lumberjack Electric Current Blast Death Match: Atsushi Onita, KAI & Yoshitatsu vs. Minowaman, NOSAWA Rongai & Masashi "Kancho" Aoyagi
◆Winner: Onita (12:46) following a Blast Bat Strike on Aoyagi
---
Atsushi Onita's Retirement History
1st Retirement : 1/3/1985 in All Japan Pro-Wrestling, citing a left knee injury suffered against Hector Guerrero back on 4/20/1983. (Returned on 12/3/1988 against Gran Hamada in JWP. Went on to form FMW.)
2nd Retirement : 5/5/1995 in FMW, following a retirment match against Hayabusa. (Returned for Mr. Pogo's retirement in 12/11/1996. Ultimately a ruse from Pogo who returned the following year.)
3rd Retirement : January 2003 retired due to entering politics. (Was not a formal retirement, but is still counted. Had a match against Shiro Koshinaka later in the year though.)
4th Retirement : 3/26/2005 held a graduation from pro-wrestling match as he teamed with Ichiro Yaguchi to go against Genichiro Tenryu & Shiro Koshinka. (Announced his return in February 2008)
5th Retirement : 12/27/2009 announced his retirement as he once more sought out a chance at politics, but did not win the election to become governor of Nagasaki. Thus returned to the ring.
6th Retirement : 5/5/2010 teamed with Tarzan Goto at the Shinkiba 1stRING. (Returned for Miss Mongol's 15th anniversary show 0n 11/22/2010)