DRADITION 2017 SKY HIGH DRAGON TOUR TOKYO, 10/27/2017 [Fri] 19:00 @ Korakuen Hall in Tokyo
1,212 Spectators
(1) Kazuhiro Tamura & Ryota Hasumi vs. Noboyuki Kurashima & Tsubakichi Sanshu
◆Winner: Tamura (10:33) with a Samson Clutch on Sanshu.
(2) Ryota Hama & LEONA vs. Super Tiger & Shogun Okamoto
◆Winner: Super Tiger (15:01) with a Backdrop Hold on LEONA.
(3) Shinjiro Otani & Tatsuhito Takaiwa vs. AKIRA & Super Delfin
◆Winner: Takaiwa (14:02) following a Death Valley Driver on Delfin.
(4) Yoshiaki Fujiwara & Shiro Koshinaka vs. Mitsuya Nagai & Hiro Saito
◆Winner: Koshinaka (11:41) following a Diving Hip Attack on Saito.
(5) Special 6 Tag Match: Tatsumi Fujinami, Mil Mascaras & Keiji Mutoh vs. The Great Kabuki, Jinsei Shinzaki & KAZMA SAKAMOTO
◆Winner: Mascaras (12:40) with a Diving Body Attack on KAZMA.
~ The Original Tiger Mask also came out after the match as he took part in a photo op with his fellow legends.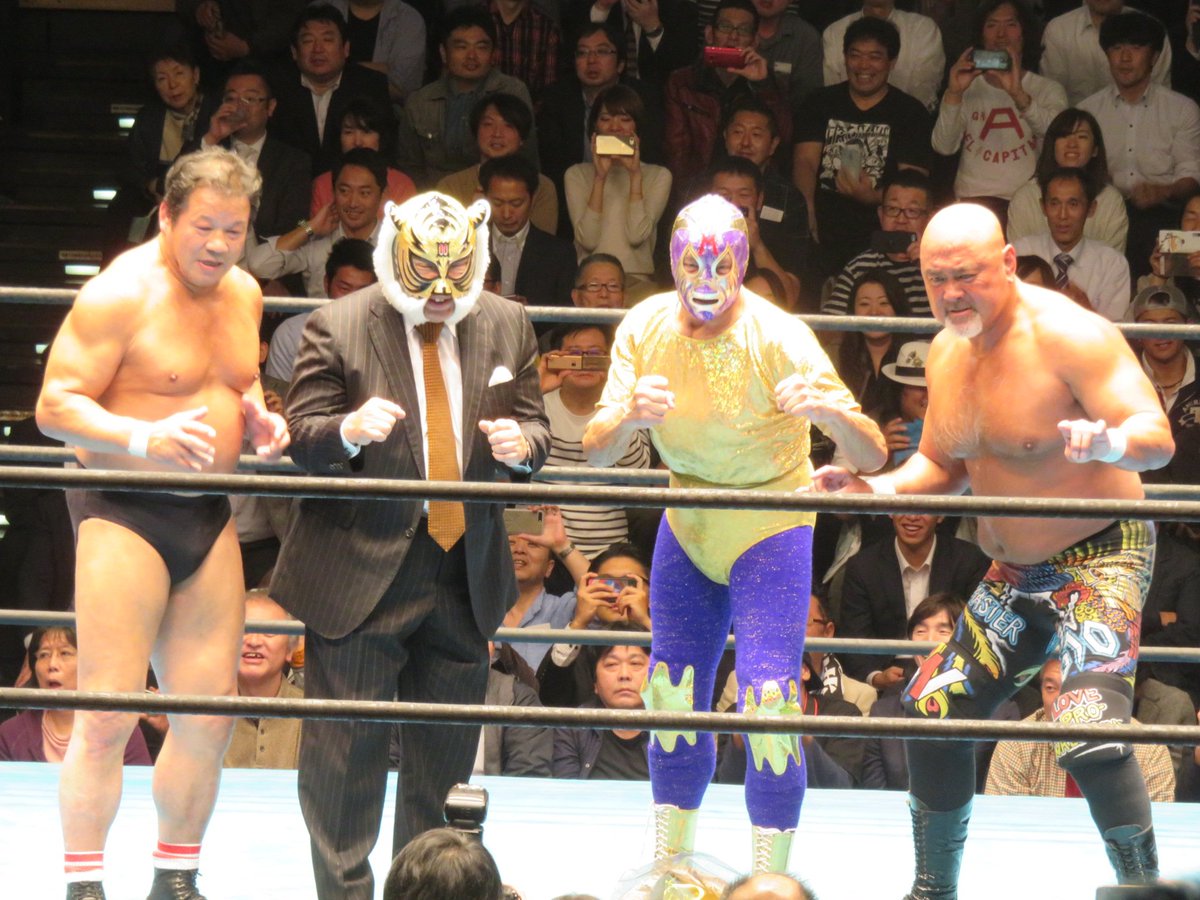 http://puroresuspirit.net/tag/dradition
Upcoming…
"DRADITION 2017 SKY HIGH DRAGON TOUR OSAKA", 10/29/2017 [Sun] 12:30 @ ATC Hall, C Hall in Osaka
(1) Kaisen Pro Offer Match: Bushi-katsuo & Destroyer vs. Fugu Kamen Desrler & Evilman
(2) Jun Gang Chul vs. Nobuyuki Kurashima
(3) LEONA vs. X
(4) Takumi Sano & Tatsuhito Takaiwa vs. Koji Kanemoto & Super Delfin
(5) Yoshiaki Fujiwara & Takaku Fuke vs. Mitsuya Nagai & Hiro Saito
(6)  Special 6 Tag Match: Tatsumi Fujinami, Mil Mascaras & Riki Choshu vs. The Great Kabuki, Shiro Koshinaka & AKIRA