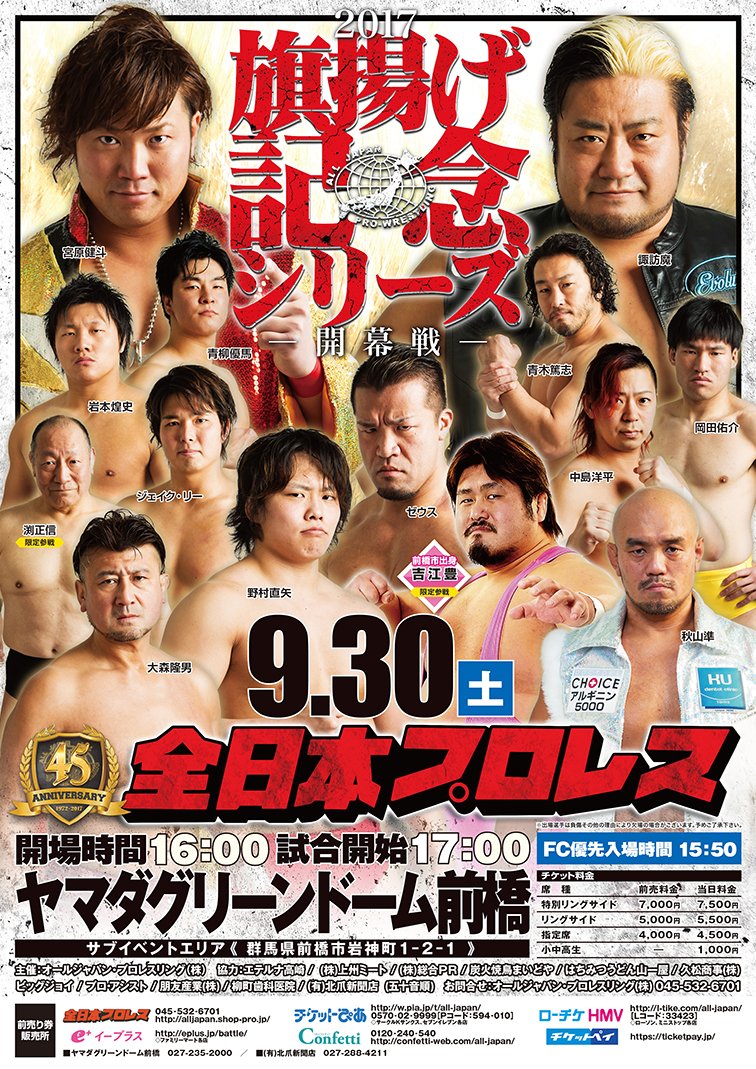 All Japan Pro-Wrestling "2017 Raising an Army Series", 9/30/2017 [Sat] 17:00 @ Yamada Green Dome Maebashi Sabai Inn Area in Gunma
(1) Atsushi Aoki & Yusuke Okada vs. Hikaru Sato & Yuya Aoki (BJW)
♦Winner: Hikaru (10:15) with a Chicken Wing Arm Lock on Yusuke.
(2) Yohei Nakajima & Atsushi Maruyama (FREE) vs. TAJIRI (FREE) & Massimo
♦Winner: TAJIRI (6:40) following a High Kick on Maruyama.
(3) Suwama vs. Koji Iwamoto
♦Winner: Suwama (10:26) via referee stop, with the Manriki Sleeper.
(4) 2017 Raising an Army Memorial Match in Maebashi World Tag Prelude 6 Man Tag Match: Daisuke Sekimoto, Yuji Okabayashi & Great Kojika (all BJW) vs. Jun Akiyama, Takao Omori & Masanobu Fuchi
♦Winner: Sekimoto (15:15) with an Argentine Backbreaker on Fuchi.
~ The World Tag Champions with the win in the memorial match with their teacher by their side.
(5) Asia Tag Championship Match: [102nd Champions] TAKA Michinoku (K-DOJO) & Black Tiger VII (FREE) vs. [Challengers] Naoya Nomura & Yuma Aoyagi
♦Winner: Aoyagi (14:03) following the Rock Star Buster on Black Tiger.
~ Champions fall on their 1st title defense. Nomura & Aoyagi become the 103rd champions.
~ Black Tiger called out for a rematch as he wants to team with W-1's Manabu Soya.
(6) Kento Miyahara, Yutaka Yoshie (FREE) & KAI (FREE) vs. Shuji Ishikawa (FREE), Danny Jones & Kyoboku Futoshi
♦Winner: Miyahara (17:06) with a German Suplex Hold on Jones.
http://puroresuspirit.net/2017/08/ajpw-event-cards-for-september-october-2017/