BASARA NEWS
~ A few matches were announced for FUMA's self-produce show on December 9 at the Shinkiba 1stRING. The main event will see FUMA taking on the deathmatch veteran Jun Kasai and then the team of Yusuke Kubo and Hagane Shinno (formerly Madoka) will be taking on Isami Kodaka and Yuko Miyamoto.
~ The show will also feature several "heavy metal" bands that will playing throughout the course of the show.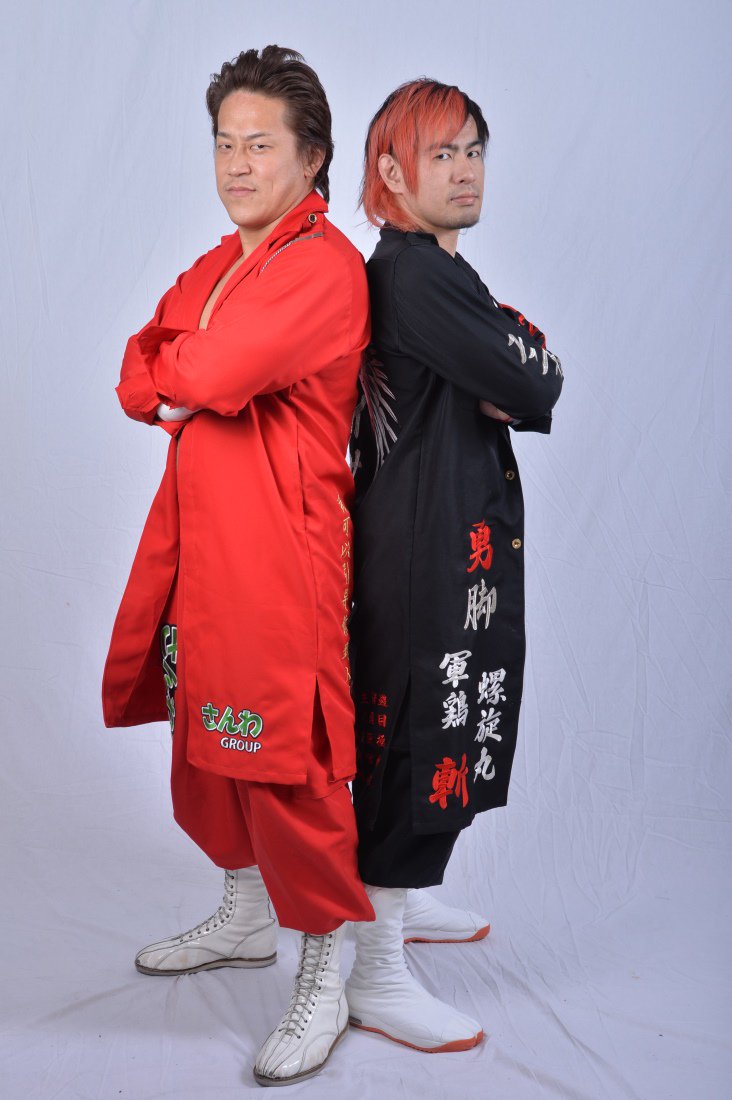 FUMA FEST Vol.1 ~ Wrestle'em All~, 12/9/2017 @ Shinkiba 1stRING
() Yusuke Kubo & Hagane Shinno vs. Isami Kodaka & Yuko Miyamoto (666)
() FUMA vs. Jun Kasai (FREEDOMS)
http://puroresuspirit.net/tag/basara
---
DNA NEWS
~ The full event card was announced for the upcoming show on October 12. Though it was also announced that Naomi Yoshimura will miss the show due to suffering from a right thumb fracture.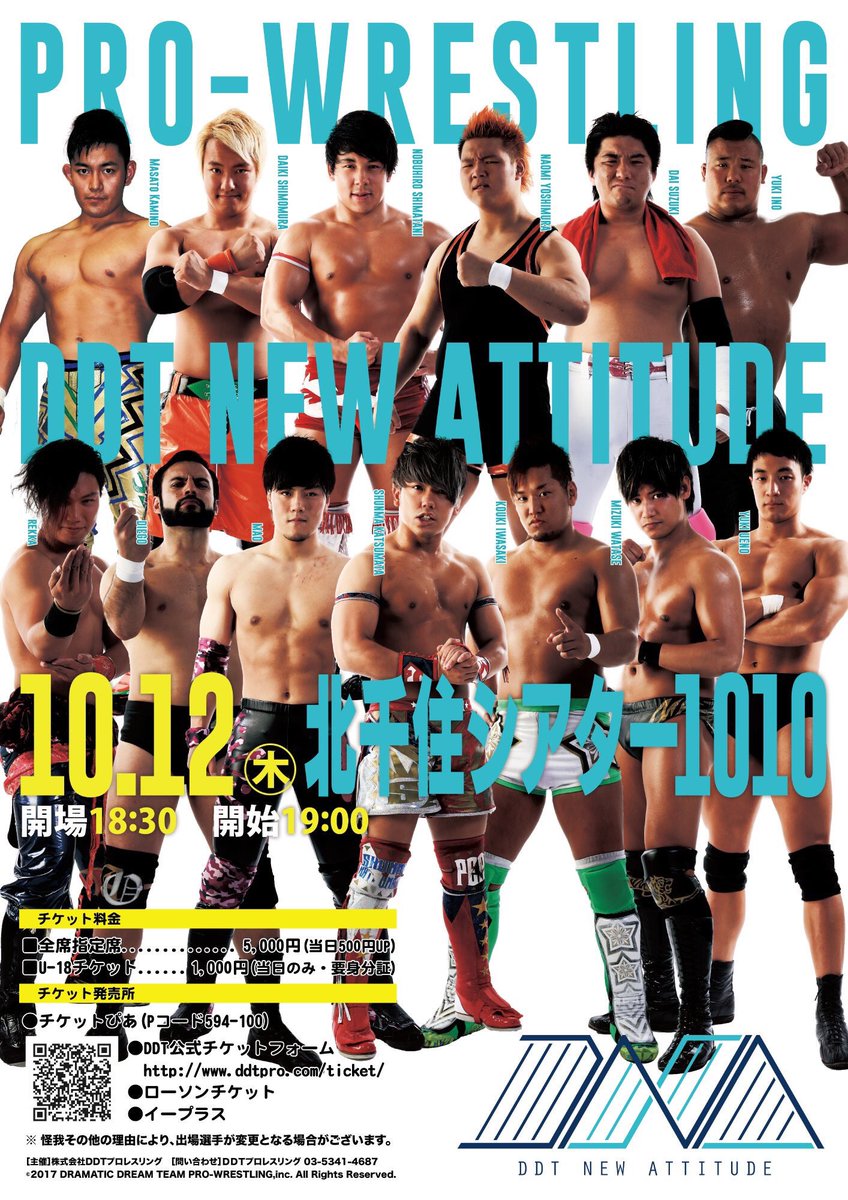 DNA 37, 10/12/2017 [Thu] 18:30 @ KitaSenju Theater 1010 in Tokyo
() Diego vs. Masato Kamino
() Recca vs. Dai Suzuki
() Yuki Ueno vs. Koju Takeda (666)
() Kouki Iwasaki vs. Kengo (FREE)
() Shunma Katsumata & Yuki Iino vs. MAO & Daiki Shimomura
() Mizuki Watase & Nobuhiro Shimatai vs. Keisuke Okuda & Akira Joh (both IGF)
http://puroresuspirit.net/tag/dna
---
DDT NEWS
~ The results for DDT's general election were announced as Danshoku Dieno won the first place position with 587 votes. With him winning the #1 position he will receive a shot at the KO-D Openweight belt on October 22 at the Korakuen Hall.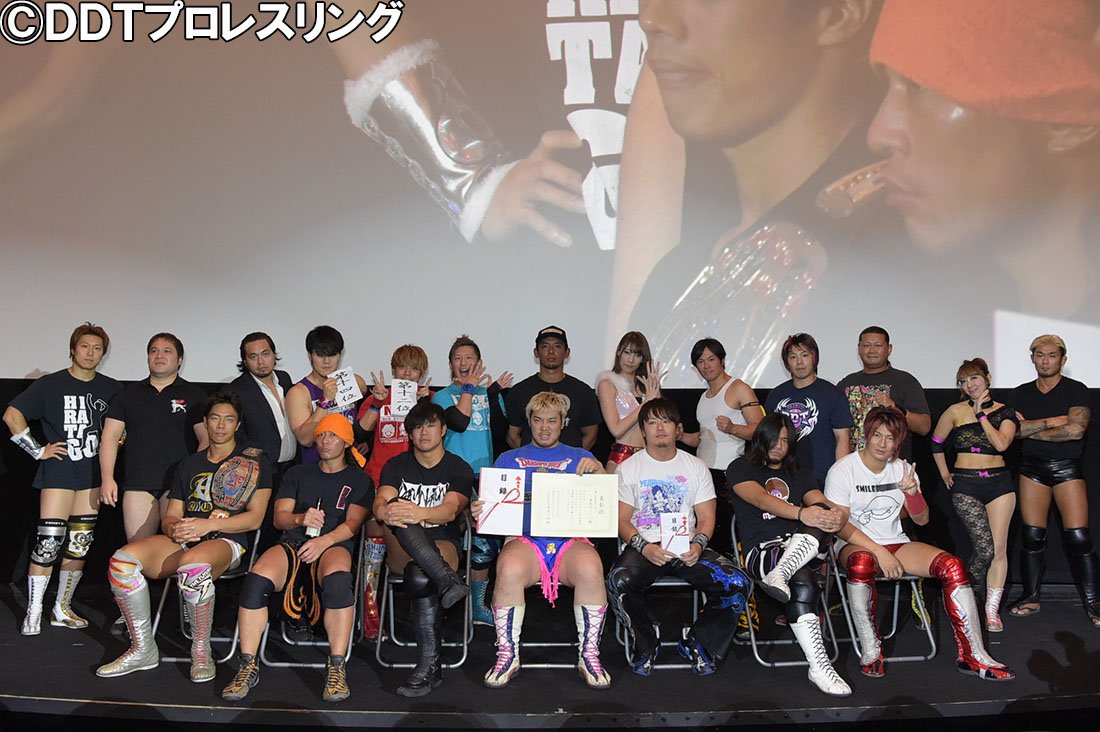 HARASHIMA came in at #2 (566 votes) and will be receiving a chance at the DDT EXTREME belt on the October 22 show.
3. Tetsuya Endo (501 votes)
4. Daisuke Sasaki (470 votes)
5. Masahiro Takanashi (330 votes)
6. Soma Takao (285 votes)
7. Konosuke Takeshita (261 votes)
8. Akito (227 votes)
9. Akai Saki (197 votes)
10. Makoto Oishi (176 votes)
11. KUDO (174 votes)
12. Shunma Katsumata (170 votes)
13. Keisuke Ishii (162 votes)
14. Toru Owashi (158 votes)
15. MAO (158 votes)
16.  Ken Ohka (152 votes)
17. Cherry (150 votes)
18. Antonio Honda (149 votes)
19. Yukio Sakaguchi (147 votes)
20.  Kazuki Hirata (141 votes)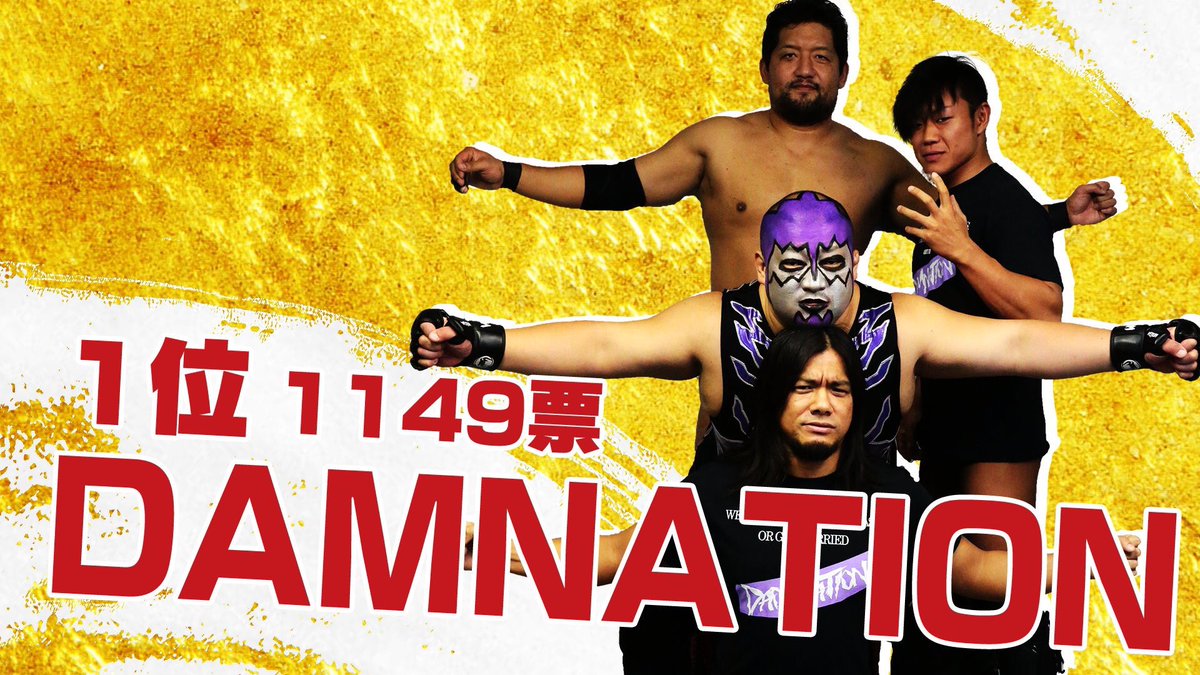 ~ Then the groups were voted on as well as DAMNATION won the top honor with 1,149 votes. They will go on to hold their own self-produce show on December 30 at the Korakuen Hall.
~ Below is the early event card for the next Korakuen Hall show on October 22. Among the previously announced title matches, Keisuke Ishii will be taking on All Japan's Suwama in a special singe match and then Tetsuya Endo will be facing Masahiro Takanashi.
"DDT Special 2017", 10/22/2017 [Sun] 12:00 @ Korakuen Hall in Tokyo
() Special Single Match: Tetsuya Endo (#3) vs. Masahiro Takanashi (#5)
() Special Single Match: Suwama (AJPW) vs. Keisuke Ishii (#13)
() DDT EXTREME Championship Match: [39th Champion] Daisuke Sasaki (#4) vs. [Challenger] HARASHIMA (#2)
~ 7th title defense.
() KO-D Openweight Championship Match: [61st Champion] Konosuke Takeshita (#7) vs. [Challenger] Danshoku Dieno (#1)
~ 9th title defense.
http://puroresuspirit.net/tag/ddt/
---
DIFFER ARIAKE CUP
~ NOAH, DDT, FREEDOMS and ZERO1 came together today at the Differ Ariake in Tokyo to announced that the "Differ Ariake Cup Tourament 2017" will be taking place on November 28. Wrestlers from UMA Corps and BJW will also be competing for the show, but not apart of the tournament.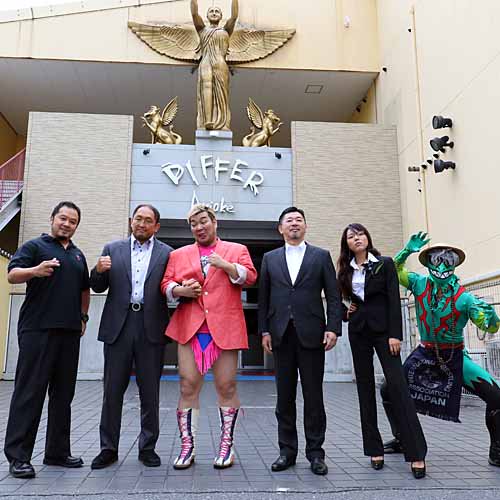 The show will be sponsored by S.P. Advertising Co., Ltd which they are responsible for the recent AAA shows in Japan. Takashi Sasaki from FREEDOMS, Shinjiro Otani from ZERO1, Danshoku Dieno from DDT, Masayuki Uchida from NOAH, and Haru Miyako and Kappakozo were present from UMA Corps for the press conference that was held.
NOAH's President Masayuki Uchida consulted with each of the promotions as an agreement was made to hold this event. Four teams will compete in total with one team from each promotion. Shinjiro Otani announced that the ZERO1 team will consist of Tatsuhito Takaiwa and Sean Guinness. Takashi Sasaki stated that he is withholding the announcement of his team at this time.
The last one day tournament was held back in 2007 and will potentially be the last to be held as the Differ Ariake is scheduled to be demolished in the Summer of 2018.
"Differ Cup Memorial 2017", 11/28/2017 [Tue] 19:00 @ Differ Ariake in Tokyo
() Differ Cup Memorial Special 6 Man Tag Match: HARASHIMA, Naomichi Marufji & Kappakozo vs. (to be announced)
~ 6-7 matches will be held in total for the show.
---
K-DOJO NEWS
~ It was announced that Kunio Toshima will be teaming with Isami Kodaka to challenge for the ST-K TAG belts on October 15 at the Korakuen Hall.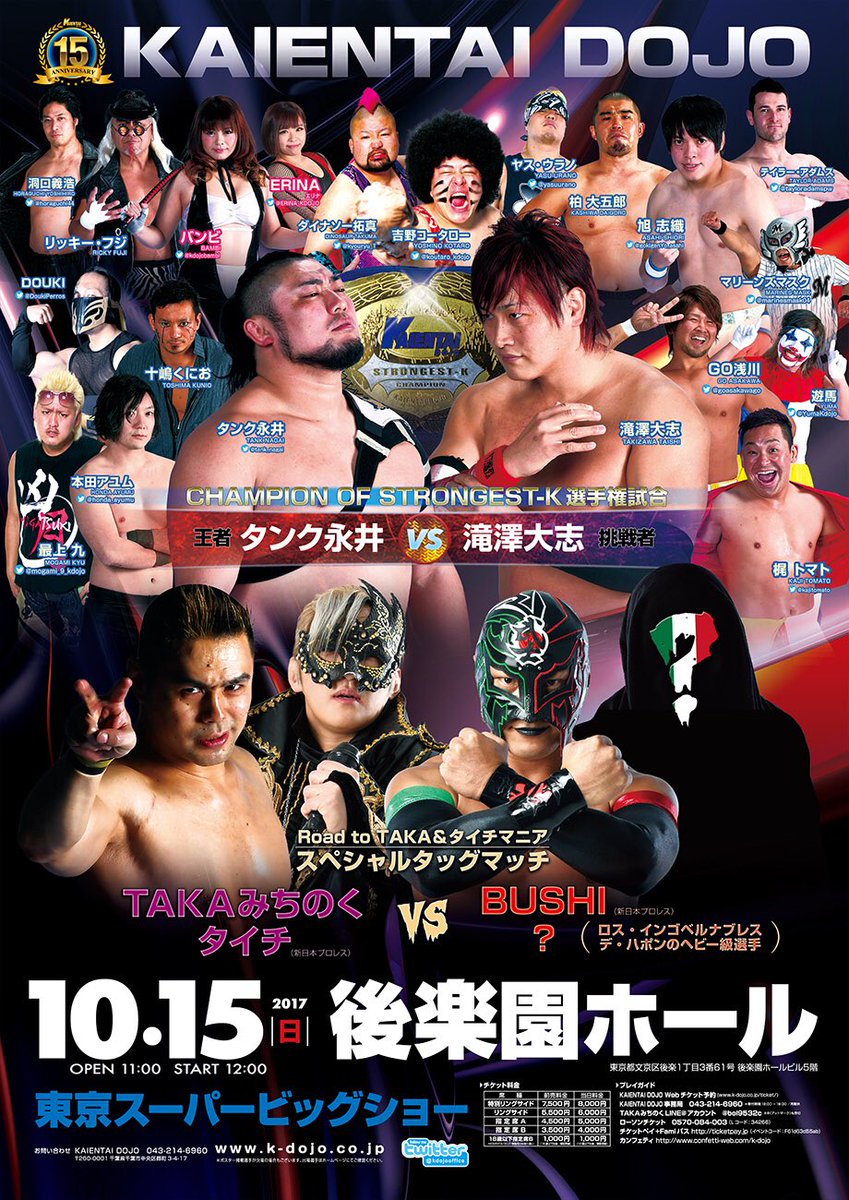 K-DOJO "TOKYO SUPER BIG SHOW", 10/15/2017 [Sun] 12:00 @ Korakuen Hall in Tokyo
() Road to TAKA & Taichi Mania ~ Special Tag Match: TAKA Michinoku & Taichi vs. BUSHI & X
() Independent World Junior Heavyweight Championship Match: [Champion] Daisuke Sasaki vs. [Challenger] Shiori Asahi
~ 1st title defense.
() STRONGEST-K TAG Championship 3WAY Match: [35th Champion] Kotaro Yoshino & Dinosaur Takuma vs. [Challengers] Daigoro Kashiwa & Yasu Urano vs. [Challengers] Isami Kodaka & Kunio Toshima
~ 1st title defense.
() CHAMPION OF STRONGEST-K Match: [24th Champion] Tank Nagai vs. [Challenger] Taishi Takizawa
~ 1st title defense.
http://puroresuspirit.net/tag/k-dojo/
---
NJPW NEWS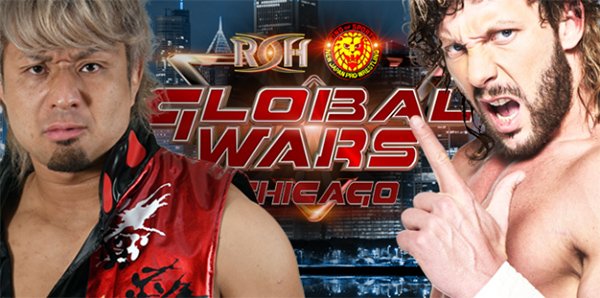 ~ Then it was also announced that Kenny Omega will be defending the USA belt against YOSHI-HASHI on October 15 in ROH.
http://puroresuspirit.net/tag/njpw/
---
If you enjoy these posts of the site in general, please support us through Patreon by clicking the picture below. At least $1 a month will help pay for the server costs to keep the site up and running.
Thanks for helping keep the spirit alive!