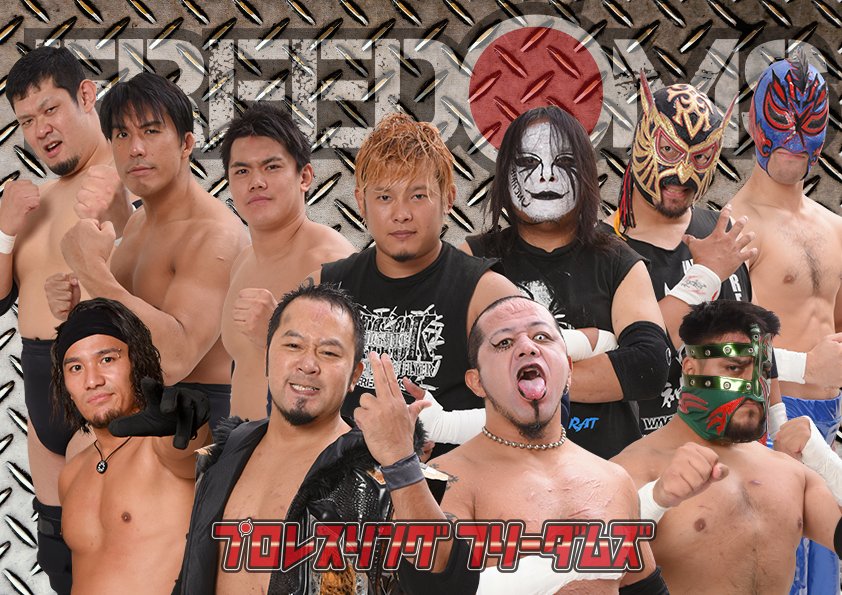 FREEDOMS "Kisotengai Damz Tamashi 2017", 9/28/2017 [Thu] 19:00 @ Shinkiba 1stRING in Tokyo
(1) Dragon Libre vs. Ultra Soki (Ryukyu Dragon)
♦Winner: Soki (10:17) with the Emerium Splash MAX.
(2) Yuya Susumu & PSYCHO (FREE) vs. Kenichiro Arai (DG) & Masamune (FREE)
♦Winner: Masamune (12:20) with the Honebami on Susumu.
~ Masamune made the challenge against Susumu for the UWA World Junior belt.
(3) 3WAY Tag Match: Toru Sugiura & Kamui vs. KAZMA SAKAMOTO(FREE) & Chikara (RikiEnterprise) vs. Shu & Kei Brahman (both FREE)
♦Winner: Chikara (7:35) following a Saber Chop on Toru.
~ Chikara and KAZMA made a challenge for the KFC Tag belts.
(4) GENTARO & Yuko Miyamoto (666) vs. Kenji Fukimoto & Gunso (DOVE)
♦Winner: Fukimoto (11:09) following a Package Driver on GENTARO.
(5) Mammoth Sasaki vs. Violento Jack
♦Winner: DRAW (15:24) via double pin-fall.
(6) Fluorescent Lights + Bring Your Own Weapons Death Match: Dasiuke Masaoka & Takashi Sasaki vs. Masashi Takeda & Minoru Fujita (both FREE)
♦Winner: Takashi (20:25) following the Migi-ashi (Right Kick) with fluorescent lights on Fujita.
~ Kasai claims a solid win as he looks to lead FREEDOMS with Kasai's absence.