AJPW NEWS
All Japan announced more matches for the October tour of shows, as the Triple Crown match is officially set on October 9 with Miyahara defending against the Oudou Tournament winner Suwama.
Suwama has stated that it is his goal to once more become the Triple Crown champion as the belt has alluded his grasp for several years now. If he can win the belt he could also go down in history as being the man to hold the belt for six times within his career. An honor that Suwama shares with Mitsuharu Misawa and Toshiaki Kawada which is currently at 5 reigns each. Outside of the TC match, Suwama and Shuji Ishikawa's potential union as a team will be shown as they have been scheduled to team throughout the tour.
Then also on the October 9 show, Joe Doering will face Shuji Ishikawa to determine the challenger for the belt on the October 21 show. This will be a rematch form this years Champion Carnival final in which Ishikawa emerged as the victor.
Naoya Nomura and Yuma Aoyagi took part in today's press conference to give their thoughts heading into the Asia Tag challenge on September 30. The two have confidence heading into the match and Aoyagi looks to become champion in his hometown area. They understand that the team of TAKA and Black Tiger VII pose a challenge as both are crafty wrestlers, but that just means they will have to be unified as a team and keep their trust high. Nomura himself is also eager to reclaim a belt after he and Lee were forced to vacate the World Tag belts.
Then Osamu Nishimura continues to carry the !BANG!TV World Heavyweight belt as a fighting champion against any and all challengers. Nishimura being a man who prides himself on his classic style has even offered the chance of the match being in favor of the traditional European round based rules (10 rounds, 3 mins. each). While Jones is eager for the opportunity that is being presented to him. The young man from Wales has been competing in All Japan since August and stated that he has nothing but respect for Nishimura and his style. He knows his current time in Japan is coming to an end and looks to prove himself in hopes of being offered a chance to return next year.
http://puroresuspirit.net/2017/08/ajpw-event-cards-for-september-october-2017/
---
DDT NEWS
~ It was announced that Daisuke Sasaki will be defending his newly acquired Indie Jr. Heavyweight belt against Shuichiro Katsumura on October 4 in Seijo.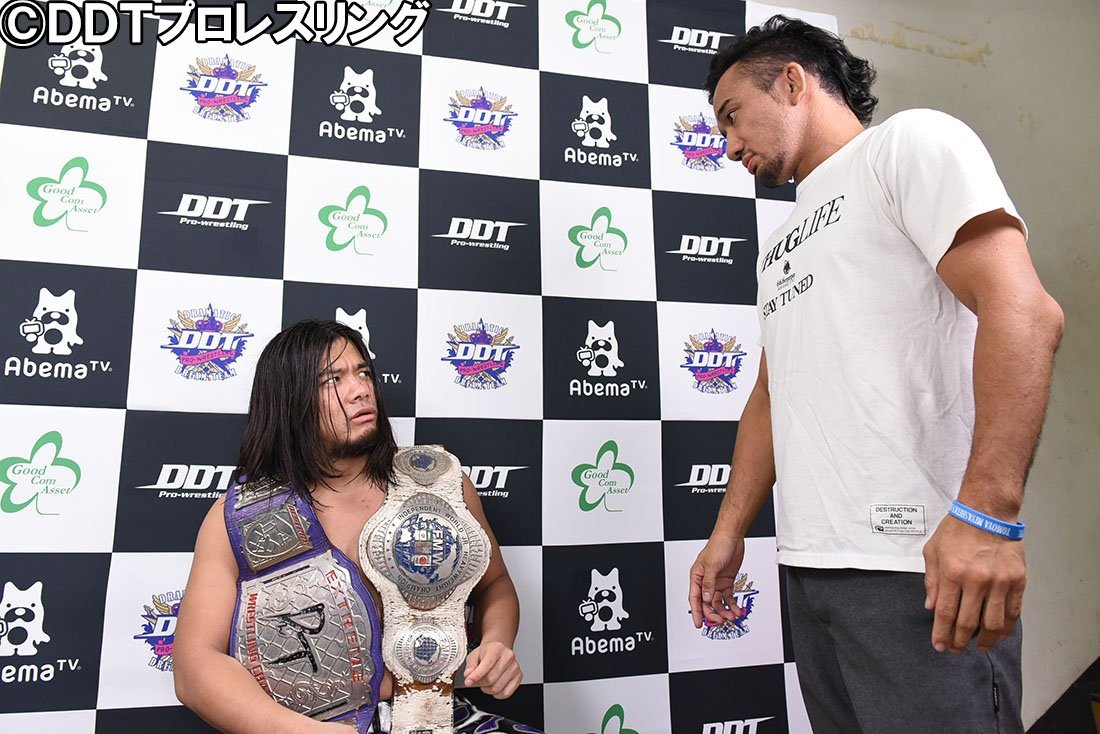 "Pro-Wrestling Kokeraotoshi! Kibun Seijo" 10/4/2017 [Wed] 19:00 @ Seijo Hall in Tokyo
() T2hee vs NωA Showdown: Sanshiro Takagi, Toru Owashi & Kazuki Hirata vs. Makoto Oishi, Shunma Katsumata & MAO
() Independent World Junior Heavyweight Championship Match: [Champion] Daisuke Sasaki vs. [Challenger] Shuichiro Katsumura
~ Then the KO-D 6 Tag belts will be in defense on October 14 in Yokohama. As Shuten-Doji takes on the ALL OUT trio.
DDT "Yokohama Twilight 2017 ~Fall~", 10/14/2017 [Sat] 17:30 @ Yokohama Radiant Hall in Kanagawa
() KO-D 6 Tag Championship Match: [Champions] KUDO, Yukio Sakaguchi & Masahiro Takanashi vs. [Challengers] Konosuke Takeshita, Akito & Diego
http://puroresuspirit.net/tag/ddt/
---
DRAGON GATE NEWS
~ DG announced the full event cards for their upcoming shows on October 1st at the Hakata StarLanes and 5th at the Korakuen Hall. The shows will feature the farewell tour for the JIMMYZ faction that have been together since the end of 2011.
http://puroresuspirit.net/2017/09/dragon-gate-event-cards-for-september-october-2017/
---
NJPW NEWS
http://puroresuspirit.net/2017/08/njpw-event-cards-for-september-october-2017/
---
MISC INDIE NEWS
~ Doutonbori announced that Kazuaki Mihara and TORU will be facing off in a double title match on December 22 in Osaka. As Mihara will be putting the WDW belt on the line and TORU the VKF Championship.
Doutonbori Pro-Wrestling, 12/22/2017 [Fri] 19:00 @ EDION Arena Osaka, 2nd Stadium
(-) WDW & VKF Double Championship Match: [WDW Champion] Kazuaki Mihara vs. [VKF Champion] TORU
http://puroresuspirit.net/tag/doutonbori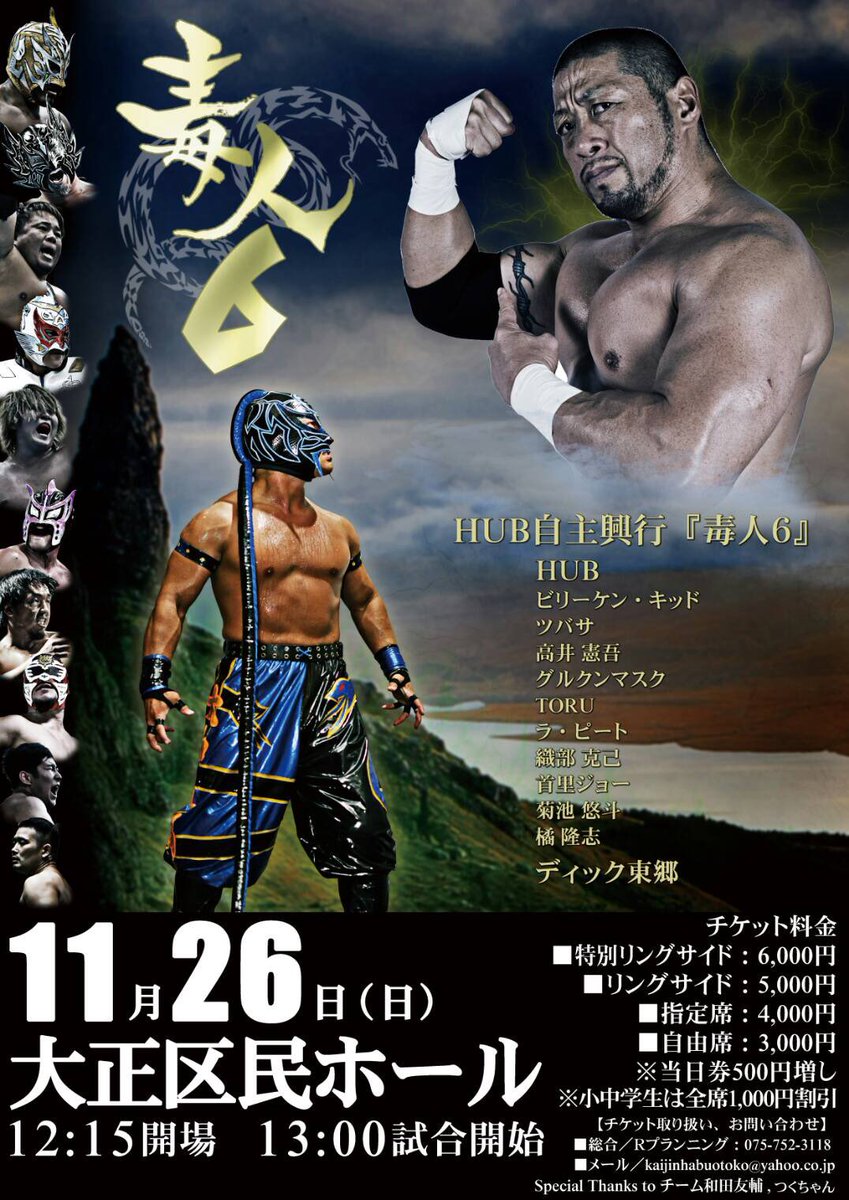 ~ HUB announced the main event for his self-produced show on November 26 in Osaka as he will be taking on Dick Togo.
HUB Self-Produce ~ Dokunchu 7, 11/26/2017 [Sun] 13:00 @ Taisho Kumin Hall in Osaka
(-) Main Event: HUB vs. Dick Togo
~ Also announced to be competing: Billyken Kid, Tsubasa, Kengo Takai, Gurukun Mask, TORU, Ra-pid, Katsumi Oribe, Shuri Joe, Yuto Kikuchi and Takashi Tachibana
http://puroresuspirit.net/tag/hub/
---
If you enjoy these posts of the site in general, please support us through Patreon by clicking the picture below. At least $1 a month will help pay for the server costs to keep the site up and running.
Thanks for helping keep the spirit alive!