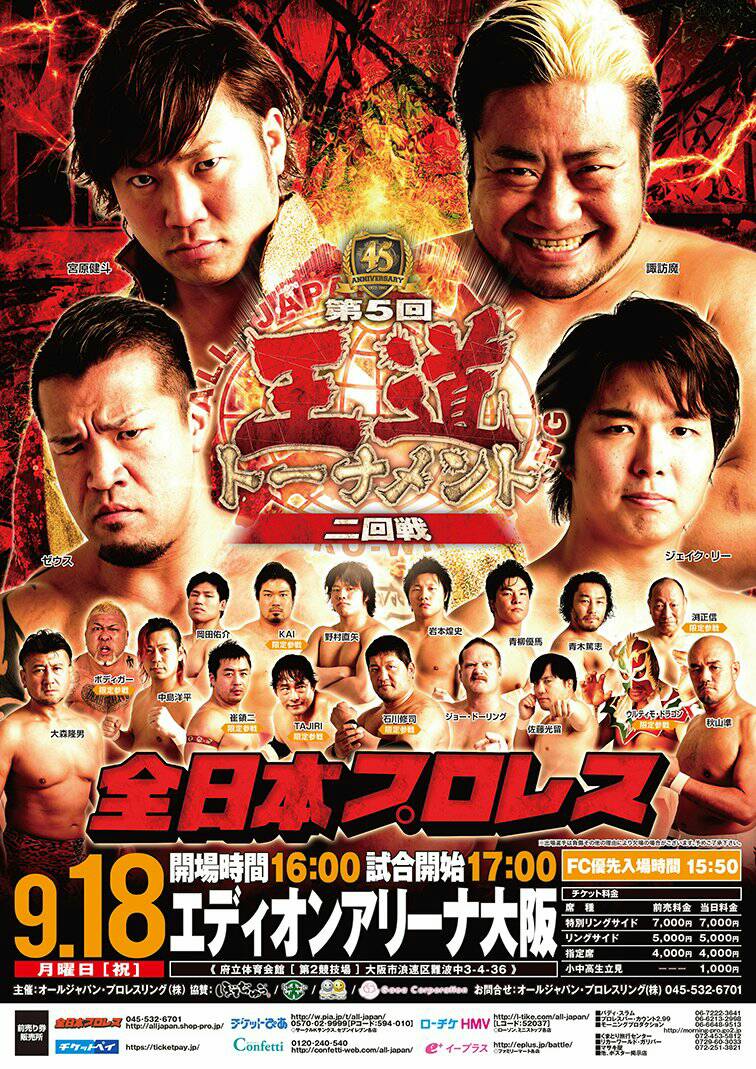 All Japan Pro-Wrestling "Oudou Tournament", 9/18/2017 [Mon] 17:00 @ EDION Arena Osaka, 2nd Stadium
612 Spectators (crowded)
(1) Noaya Nomura, Koji Iwamoto & Yuma Aoyagi vs. Joe Doering, Massimo & Danny Jones
♦Winner: Iwamoto (3:48) with the Koko no Geijutsu on Jones.
(2) TAJIRI (FREE), KAI (FREE) & Yohei Nakajima vs. Ryoji Sai (LAND'S END), The Bodyguard (FREE) & Atsushi Maruyama (FREE)
♦Winner: Bodyguard (6:07) with the Bounce on Yohei.
(3) Jun Akiyama, Takao Omori, Hikaru Sato & Kotaro Suzuki (FREE) vs. Suwama, Atsushi Aoki, Minoru Tanaka (FREE) & Yusuke Okada
♦Winner: Akiyama (14:15) with a Boston Crab on Yusuke.
~ Kotaro stated that the future is not over between himself and Aoki.
(4) World Junior Heavyweight Championship Match: [45th Champion] Ultimo Dragon vs. [Challenger] Billyken Kid (Answer)
♦Winner: Dragon (15:29) with a La Magistral.
~ 1st successful title defense.
~ TAJIRI made it known that he wants a rematch for the belt.
(5) 5th Oudou Tournament ~ 2nd Round Match: Shuji Ishikawa (FREE) vs. Zeus
♦Winner: Ishikawa () with the Splash Mountain.
~ Ishikawa moves on to the semi-final match on the 23rd.
(6) 5th Oudou Tournament ~ 2nd Round Match: Kento Miyahara vs. Yoshitatsu (NJPW)
♦Winner: Miyahara (19:13) with the Shutdown German Suplex Hold.
~ Yoshitatsu puts up a fighting effort against the Triple Crown champion, but ultimately suffers defeat. Yoshitatsu stated that he accepts the loss, but want to aim for another match against Miyahara in the future.
~ The first semi-final match is now set as Miyahara will be taking on Ishikawa.
http://puroresuspirit.net/2017/08/ajpw-event-cards-for-september-october-2017/