Michinoku Pro-Wrestling "Taro Nohashi Debut 15th Anniversary Show in Kobe", 9/10/2017 [Sun] 13:00 @ Kobe Sanbo Hall in Hyogo
(1) Yasutaka Ozera vs. Koji Kawamura
♦Winner: Ozera (5:21) with a Boston Crab.
(2) Daichi Sasaki vs. Rasse
♦Winner: Sasaki (7:23) with a Falcon Arrow.
(3) Yapperman #2 & #2 vs. Kei & Shu Brahman
♦Winner: Kei (9:00) with a School Boy on #2.
(4) Eisa8 vs. Louis Napoleon
♦Winner: Eisa8 (8:28) following an RKO.
(5) Manjimaru, Ken45 & Kengo vs. Rui Hyugaji, Takeshi Minamino & Ayumu Gunji
♦Winner: Hyugaji (13:10) following a Diving Elbow Drop on Kengo.
(6) Taro Nohashi Debut 15th Anniversary Special 8 Man Tag Match: Taro Nohashi, The Great Sasuke, Super Delfin & Dick Togo vs. Jinsei Shinzaki, Ultimo Dragon, GAINA &  Numajiro Kesen
♦Winner: Nohashi (23:25) following the Gyakuti on Numajiro.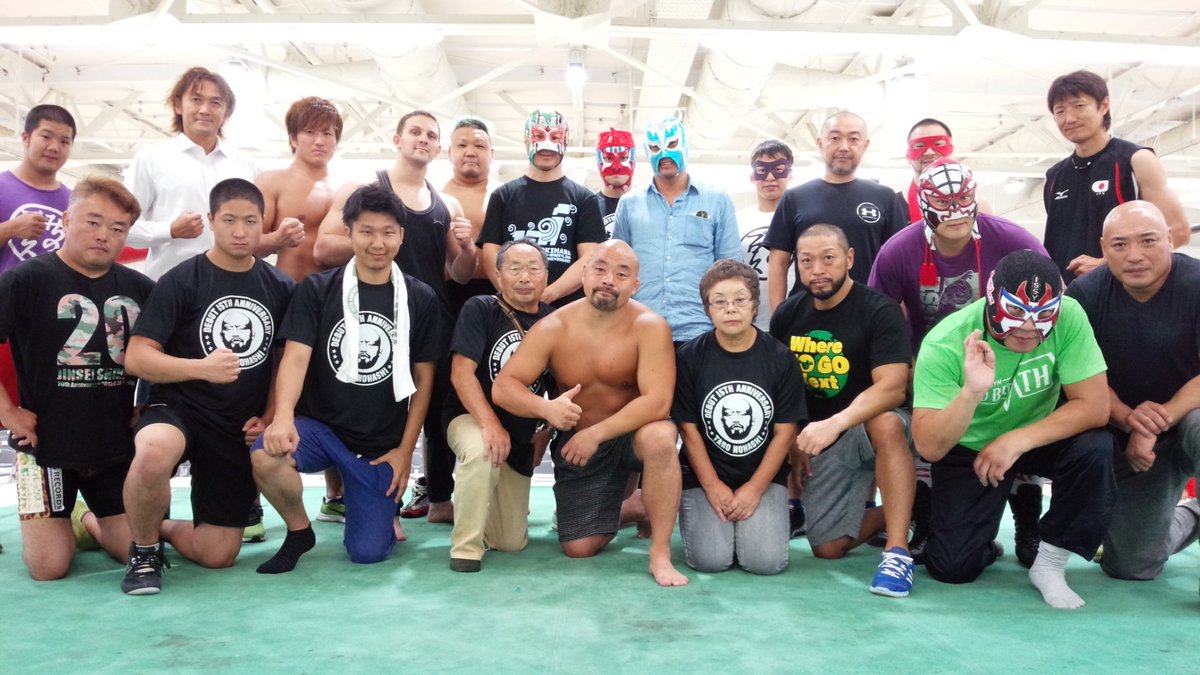 http://puroresuspirit.net/tag/michipro/
Upcoming…
Michinoku Pro-Wrestling "Rebuyukijin", 9/16/2017 [Sat] 18:30 @ Yahaba-machi Chomin Sogo Taiikukan in Iwate
(1) GAINA & Taro Nohashi vs. Yasutaka Ozera & Koji Kawamura
(2) Jinsei Shinzaki, Numajiro Kesen & Daichi Sasaki vs. The Great Sasuke, Shu & Kei Brahman
(3) Takeshi Minamino vs. Kengo
(4) Yapperman #1, Yapperman #2 & Louis Napoleon vs. Manjimaru, Ken45 & Golem Thai
(5) Tohoku & UWA World Tag Double Championship Match: [Champions] Ikuto Hidaka & Minoru Fujita vs. Rui Hyugaji & Ayumu Gunji