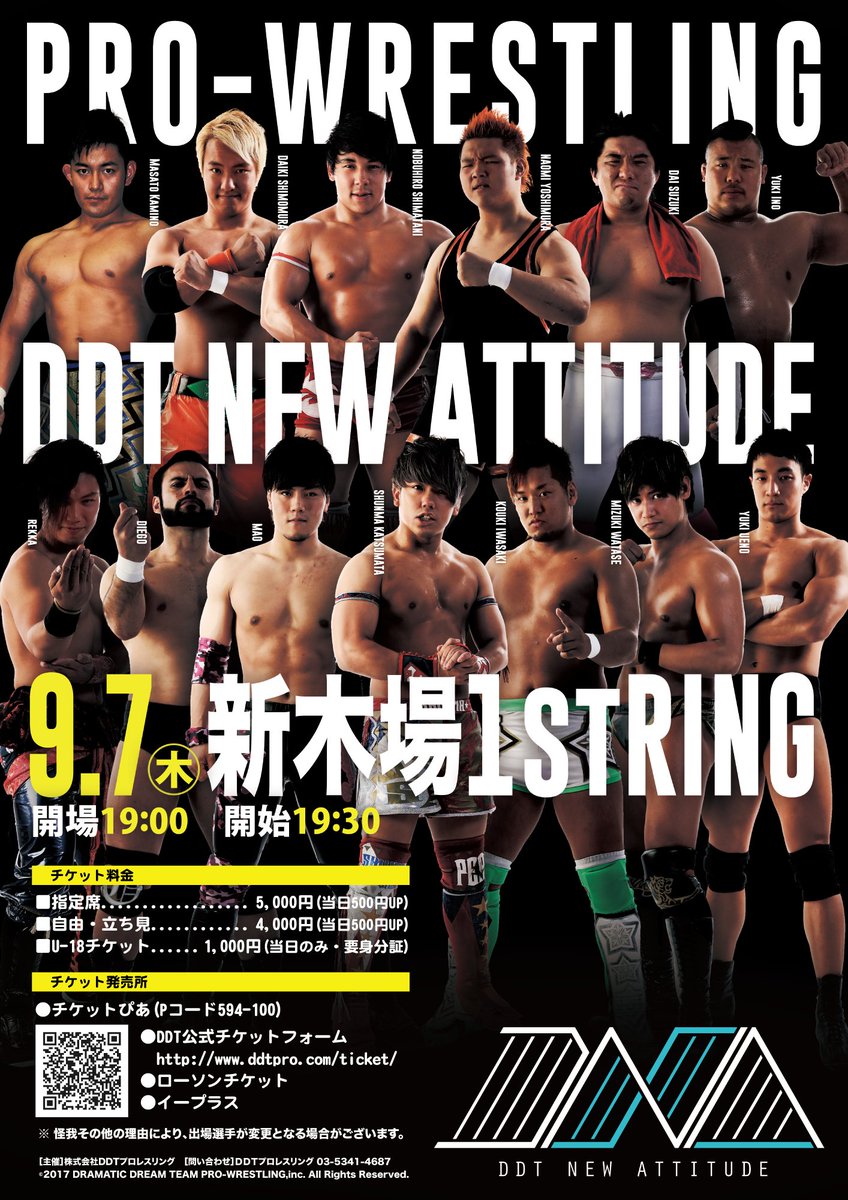 DNA 36, 9/7/2017 [Thu] 19:30 @ Shinkiba 1stRING in Tokyo
(1) Daiki Shimomura vs. Masato Kamino
♦Winner: Shimomura (6:58) following an Asai DDT.
(2) Dai Suzuki vs. Tanomusaku Toba (FREE)
♦Winner: Toba (6:08) following a Backhand Blow.
(3) Yuki Ueno & Koju Takeda (666) vs. Diego & Royce Isaacs
♦Winner: Isaacs (11:01) following the Zenith on Ueno.
(4) Yuuki Ino Single Match Trial Series ~ 1st: Yuuki Ino vs. Shigehiro Irie (DDT)
♦Winner: Irie (12:17) following a Cannonball Drop.
(5) Kouki Iwasaki & Nobuhiro Shimatani vs. Keisuke Okuda (IGF) & Mizuki Watase
♦Winner: Okuda (14:08) following an STO (Space Tornado Okuda) on Shimatani.
(6) Shunma Katsumata vs. Mike Bailey
♦Winner: Bailey (14:53) following the Green Tea Plunge.
(7) MAO & Rekka vs. Naomi Yoshimura & Kengo (FREE)
♦Winner: Yoshimura (18:26) following a Release Powerbomb on Rekka.
~ Iwasaki & Diego vs. Yoshimura & Kengo, ALL OUT vs BAD BOY, was announced to happen in the future.
~ The remaining shows of the year will be on 10/12 in Kitasenju, 11/9 at 1stRING, and 12/13 at 1stRING.