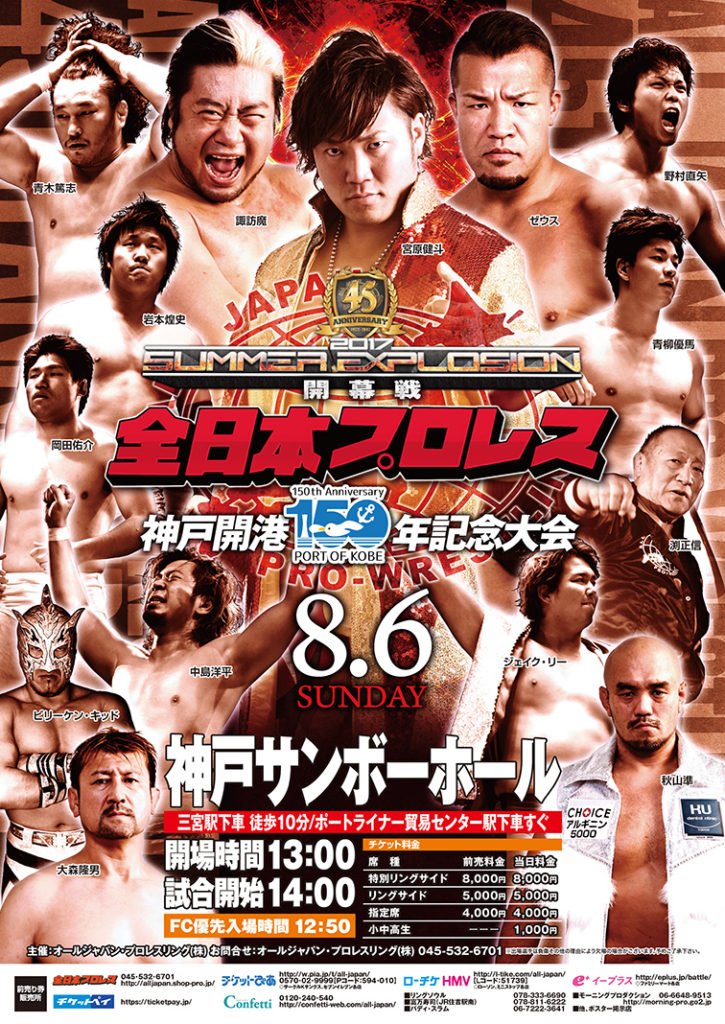 All Japan Pro-Wrestling "SUMMER EXPLOSION ~ Tour Start", 8/6/2017 [Sun] 14:00 @ Kobe Sambo Hall in Hyogo
510 Spectators (packed)
(1) Hikaru Sato vs. Rey Paloma (DOVE)
◆Winner: Hikaru (6:08) following a Death Valley Bomb.
~ Paloma sought out Takao Omori as he asked to be involved in the Battle Royal at Ryogoku, Omori accepted.
~ Hikaru addressed his Evolution withdrawal, as he stated that does with to continue teaming with Aoki in the future. As the two are still the Asia Tag Champions at this time.
(2) Minoru Tanaka (FREE) vs. Yusuke Okada
◆Winner: Tanaka (5:41) with the Tanaka Leg Bar.
(3) Ultimo Dragon & Yohei Nakajima vs. TAJIRI & Billyken Kid (both FREE)
◆Winner: TAJIRI (10:35) following a Buzzsaw Kick on Yohei.
~ TAJIRI with his first win as champion also of which being the first win in the prelude series against Ultimo.
(4) Jun Akiyama & Takao Omori vs. Massimo & Danny Jones
◆Winner: Omori (11:28) following an Axe Bomber on Jones.
(5) Suwama & Atsushi Aoki vs. Koji Iwamoto & Yuma Aoyagi
◆Winner: Suwama (13:33) following the Last Ride on Iwamoto.
~ Aoki did not give a clear indication on if he is remaining in Evolution, following Doering and Hikaru's departures, but this lead to Suwama stating that he will lead Evolution by himself if it comes down to it.
(6) Kento Miyahara, KAI (FREE) & Noaya Nomura vs. Shuji Ishikawa (FREE), Zeus & The Bodyguard (FREE)
◆Winner: Miyahara (17:03) with the Shutdown German Suplex Hold on Bodyguard.
~ KAI and Nomura celebrate their first win as a team, as they now have even more confidence heading into the World Tag Challenge at the Ryogoku show.
http://puroresuspirit.net/2017/06/ajpw-event-cards-for-july-august-2017/