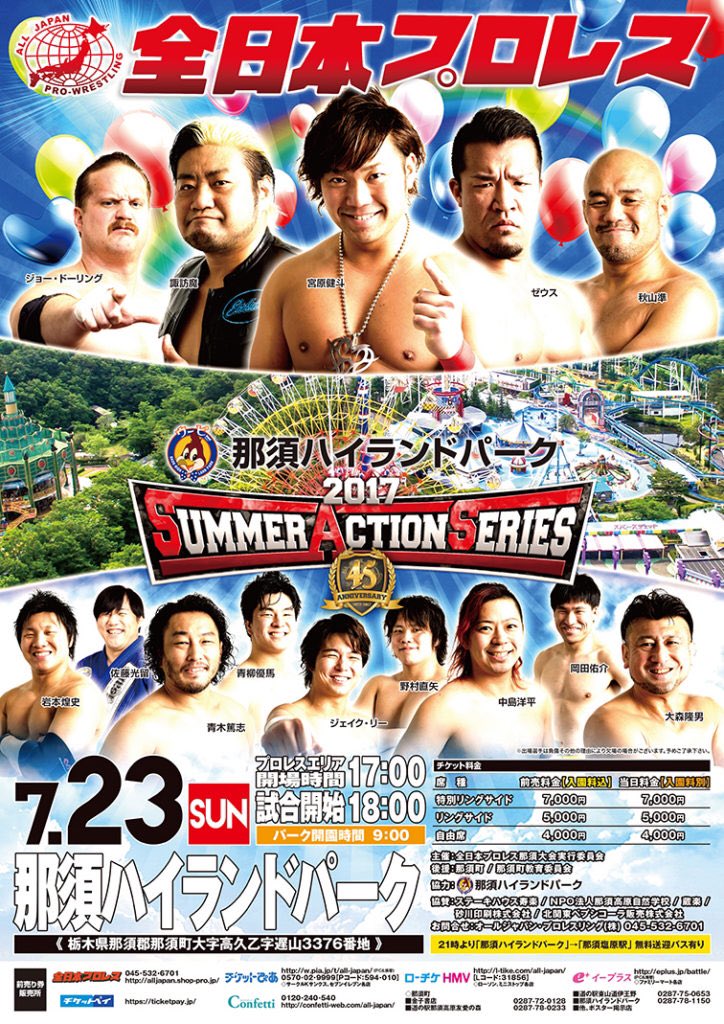 All Japan Pro-Wrestling "2017 SUMMER ACTION SERIES", 7/23/2017 [Sun] 18:00 @ Nasu Highland Park in Tochigi
(1) Koji Iwamoto vs. Yusuke Okada
♦Winner: Iwamoto (7:14) with a Cobra Twist.
(2) Yuma Aoyagi vs. Atsushi Maruyama (FREE)
♦Winner: Maruyama (7:52) with a Tiger Suplex Hold.
(3) Zeus, Jun Akiyama & Takao Omori vs. TAJIRI (FREE), KAI (FREE) & Yohei Nakajima
♦Winner: Omori (10:23) following the Axe Bomber on Yohei.
(4) Suwama & Joe Doering vs. Yoshihisa Uto & Takuya Nomura (both BJW)
♦Winner: Doering (10:40) with the Revolution Bomb on Takuya.
~ Doering continued to allude that is seeing things differently as part of "Evolution". Suwama tried to offer a reason for him to stay, but it seems Doering is still figuring out his options.
(5) Asia Tag Championship Match: [101st Champions] Atsushi Aoki & Hikaru Sato vs. [Challengers] Tank Nagai & Ayumu Honda (both K-DOJO)
♦Winner: Hikaru (14:15) with a Capture style Cross Armbar on Ayumu.
~ 1st successful title defense.
~ Maruyama came forward to make the challenge as he named his partner to be Masashi Takeda.
~ Hikaru still continued to hint that he wants to defend both the World Junior and Asia Tag belts at Ryogoku on 8/27.
(6) Kento Miyahara, Jake Lee & Noaya Nomura vs. Shuji Ishikawa (FREE), Ryoji Sai (LAND'S END) & Massimo
♦Winner: Miyahara (14:37) with a German Suplex Hold on Massimo.
~ Miyahara bounces back with a win following yesterday's loss.
http://puroresuspirit.net/2017/06/ajpw-event-cards-for-july-august-2017/