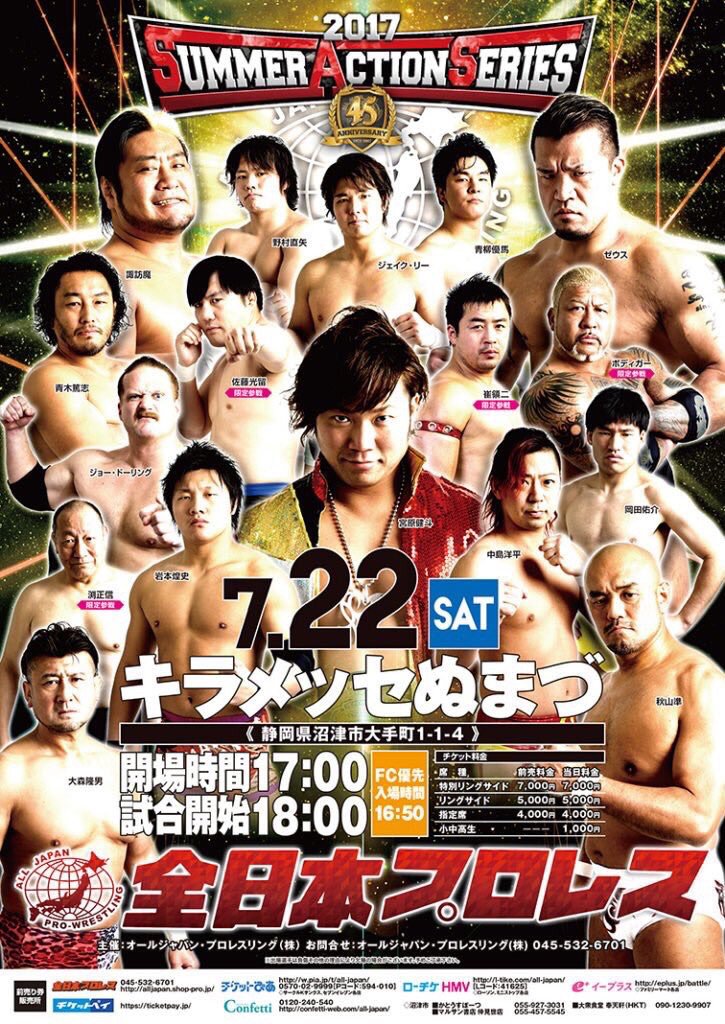 All Japan Pro-Wrestling "2017 SUMMER ACTION SERIES", 7/22/2017 [Sat] 18:00 @ Kira Messe Numazu in Shizuoka
(1) Yuma Aoyagi vs. Yusuke Okada
♦Winner: Aoyagi (8:56) with a Fisherman Suplex Hold.
(2) Yohei Nakajima & Koji Iwamoto vs. Minoru Tanaka & Atsushi Maruyama (both FREE)
♦Winner: Maruyama (11:10) with a Tiger Suplex Hold on Yohei.
(3) Atsushi Aoki & Hikaru Sato (Pancrase MISSION) vs. Takuya Nomura & Yuya Aoki (both BJW)
♦Winner: Hikaru (11:49) with a Boston Crab on Yuya.
~ Aoki and Hikaru with the win over the up-and-comers from Big Japan, but tomorrow they face a unique challenge from Tank Nagai and Ayumu Honda in defense of the Asia Tag belts.
(4) Zeus, Jun Akiyama & Takao Omori vs. TAJIRI (FREE), KAI (FREE) & Massimo
♦Winner: Zeus (11:41) with a Jackhammer on Massimo.
(5) Suwama & Joe Doering vs. Ryoji Sai & Rikiya Fudo (both LAND'S END)
♦Winner: Doering (9:03) following a Lariat on Fudo.
~ Following the match, Doering hinted at himself leaving "Evolution" as he wants to try and do things on his own.
(6) Kento Miyahara, Jake Lee & Naoya Nomura vs. Shuji Ishikawa (FREE), Daichi Hashimoto (BJW) & Hideyoshi Kamitani (BJW)
♦Winner: Ishikawa (21:35) following the Miyahara-Koroshi (Killer) [Modified Fire Thunder] on Miyahara.
~ The TC Champion Ishikawa claims the direct win over Miyahara, as he stated that his goal is simple in that he must "kill Miyahara at Ryogoku".
http://puroresuspirit.net/2017/06/ajpw-event-cards-for-july-august-2017/