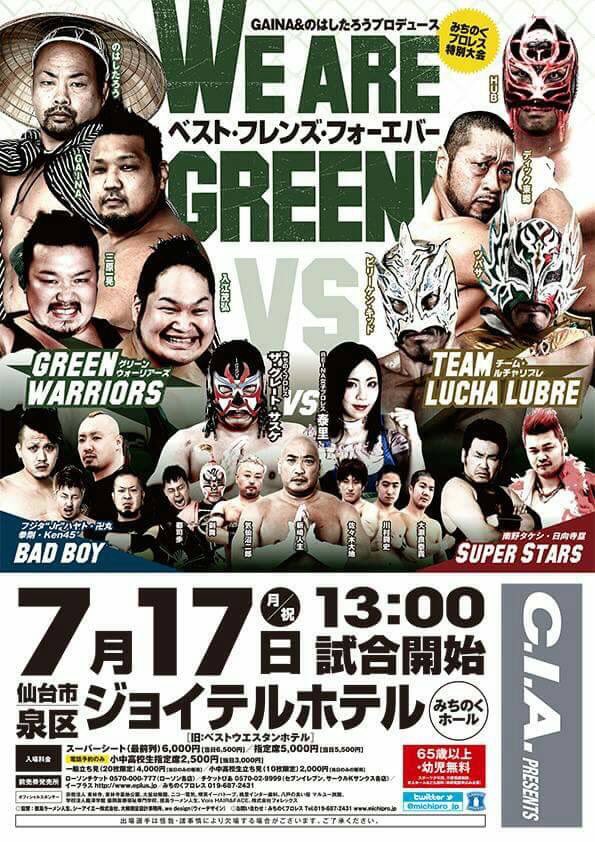 GAINA Produce "Best Friends Forever ~ We are Green!!", 7/17/2017 [Mon] @ Sendai City Izumi Ward Sendai Joytel Hotel Michinoku Hall in Miyagi
(1) Willer Yuta & Koji Kawamura vs. Numajiro Kesen & Yasutaka Ozera
♦Winner: Willer (10:22) with the Yuta Driver on
(2) The Great Sasuke vs. Hirori
♦Winner: Sasuke (7:21) with the Ganmenjime.
(3) Jinsei Shinzaki & Daichi Sasaki vs. Ultimo Dragon & Kenbai
♦Winner: Kenbai (10:13) with the Iwao-oni on Daichi.
~ Kenbai thanked everyone for the support, but he will now be out of action for the time being as he undergoes knee surgery. He stated that he aims to come back stronger.
(4) Rui Hyugaji, Takeshi Minamino & Ayumu Gunji vs. Manjimaru, Kengo & Ken45°
♦Winner: Gunji (12:50) via foul, Ken45° with a chair.
(5) "Green Warriors" GAINA, Taro Nohashi, Shigehiro Irie (DDT) & Kazuaki Mihara (Doutonbori) vs. "Team Lucha Libre" Dick Togo, HUB, Tsubasa & Billyken Kid
♦Winner: GAINA (24:20) following the DHC for Men (Last Ride) on HUB.
http://puroresuspirit.net/tag/michipro/
Upcoming…
"Ken45° Debut 15th Anniversary ~ ROCK'in FIGHT!! vol.6", 8/14/2017 [Mon] 18:00 @ Sendai RENSA in Miyagi
(-) Ken45° Debut 15th Anniversary Match: Ken45°, Manjimaru & Kengo vs. The Great Sasuke, Jinsei Shinzaki & Shiryu
"Taro Nohashi Debut 15th Anniversary Show in Kobe", 9/10/2017 [Sun] 13:00 @ Kobe Sanbo Hall in Hyogo
(-) Taro Nohashi Debut 15th Anniversary Special 8 Man Tag Match: Taro Nohashi, The Great Sasuke, Super Delfin & Dick Togo vs. Jinsei Shinzaki, Ultimo Dragon, GAINA &  Numajiro Kesen