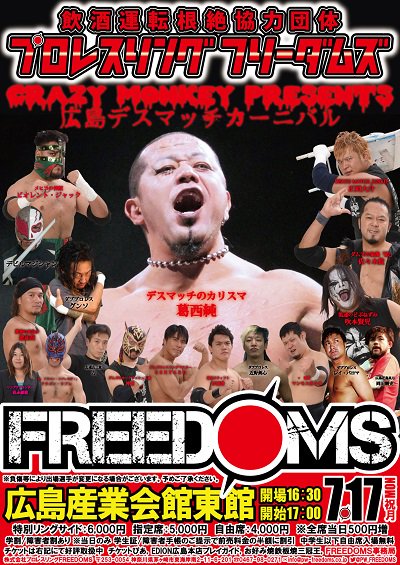 FREEDOMS "Jun Kasai Produce Deathmatch Carnival 2017", 7/17/2017 [Mon] 17:00 @ Hiroshima Industrial Hall, East Building
(1) Toru Sugiura, Kenji Fukimoto & Dragon Libre vs. Gunso, Takeshi Okada & Yuki Aoki
♦Winner: Fukimoto (8:37) following a Package Piledriver on Yuki.
(2) Mammoth Sasaki vs. Chikara
♦Winner: Mammoth (7:56) with a Stretch Plum.
(3) UWA World Junior Heavyweight Championship Match: [31st Champion] Yuya Susumu vs. [Challenger] Rey Paloma
♦Winner: Susumu (14:50) with the Front Clash.
~ 2nd successful title defense.
(4) Anywhere Fall Street Fight Tornado Death Match: GENTARO, Kamui & Dyna Mido vs. KAZMA SAKAMOTO, Chikano Kenshin & Devil Magician
♦Winner: Magician (16:21) following a Fisherman Buster on Mido on top of a car.
(5) Barbed-wire Board Death Match: Daisuke Masaoka & Takashi Sasaki vs. Violento Jack & Ciclope
♦Winner: Masaoka (16:43) following the Rokura-Kai on Ciclope.
(6) KING of FREEDOM WORLD CHAMPIONSHIP Next Challenger Decision ~ Battle Without Honor ~ fluorescent Light-tube 4 Corners of Hell + Alpha Death Match: Jun Kasai vs. Miedo Xtremo
♦Winner: Xtremo (16:23) with the Gaijo Driver onto a fluorescent light bundle.
~ Miedo will challenge Masaoka for the KFC belt on August 27 at the Korakuen Hall.