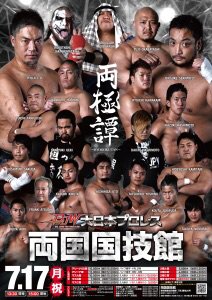 BJW ~RYOGOKUTAN~, 7/17/2017 [Mon] 15:00 @ Ryogoku Kokugikan in Tokyo
3,179 Spectators
(1) Kota Sekifuda's Return Match: Kota Sekifuda & Yuya Aoki vs. Ryuichi Sekine (BASARA) & Tatsuhiko Yoshino
♦Winner: Yoshino (7:37) with the Athlete German Suplex Hold on Sekifuda.
(2) Special 6 Man Tag Match: "Green Boy Dandy" Kojika, Tsutomu Oosugi & Hercules Senga vs. Kendo Kashin (FREE), Shu & Kei Brahman
♦Winner: Kojika (7:55) with a Small Package Hold on Kei.
(3) Special Tag Match: Masakatsu Funaki (FREE) & Kazumi Kikuta vs. Yoshihisa Uto & Takuya Nomura
♦Winner: Funaki (11:07) following the Hybrid Blaster on Takuya.
~ Respect was shown between Funaki and Takuya after the match.
(4) Tetsuori & KMGT Deathmatch: Yuko Miyamoto (666) & Isami Kodaka (BASARA) vs. Takumi Tsukamoto (BASARA) & Toshiyuki Sakuda
♦Winner: Miyamoto (14:06) following a Fire Thunder on Sakuda.
(5) First BJW Junior Heavyweight Championship Decision Match: (Jr League #1) Kazuki Hashimoto vs. (Jr League #2) Shinobu
♦Winner: Shinobu (13:18) following the S.E.X. Bomber.
~ Shinbou becomes the first BJW Junior champion.
~ TAJIRI appeared and placed the belt around the champions waist.
(6) Concrete Block Tag Deathmatch: Jaki Numazawa & Masashi Takeda (FREE) vs. Minoru Fujita (FREE) & Kankuro Hoshino
♦Winner: Takeda (12:12) following the Reverse U-Crash on Hoshino onto concrete blocks.
(7) Yokohama Shopping Street 6 Man Tag Championship Match: [10th Champions] Ryota Hama, Yasufumi Nakanoue & Shogun Okamoto (FREE) vs. [Challengers] Kohei Sato (ZERO1), Daichi Hashimoto & Hideyoshi Kamitani
♦Winner: Hama (16:16) with the Makushita Impact on Kamitani.
~ 1st successful title defense.
~ Hama and Shogun, being two former sumo wrestlers, with the successful defense in the sumo holy land.
(8) BJW World Strong Heavyweight Championship Match: [10th Champion] Hideki Suzuki (FREE) vs. [Challenger] Ryuichi Kawakami
♦Winner: Hideki (13:55) with a Sleeper Hold.
~ 3rd successful title defense.
~ Daichi appeared and asserted himself as the next challenger against the champion.
(9) BJW Tag Championship Match: [43rd Champions] Daisuke Sekimoto & Yuji Okabayashi vs. [Challengers] Abdullah Kobayashi & Ryuji Ito
♦Winner: Kobayashi (21:09) with the Diving Baka Chinga Elbow Drop on Okabayashi.
~ Champions fall on their 5th title defense. Kobayashi & Ito become the 44th champions.
(10) BJW Death Match Heavyweight Championship Match: [35th Champion] Masaya Takahashi (ASUKA PROJECT) vs. [Challenger] Takayuki Ueki
♦Winner: Masaya (23:42) with a Jackhammer onto a board of nails.
~ 2nd successful title defense.
~ With the win, Masaya formally announced that he is joining the Big Japan roster.