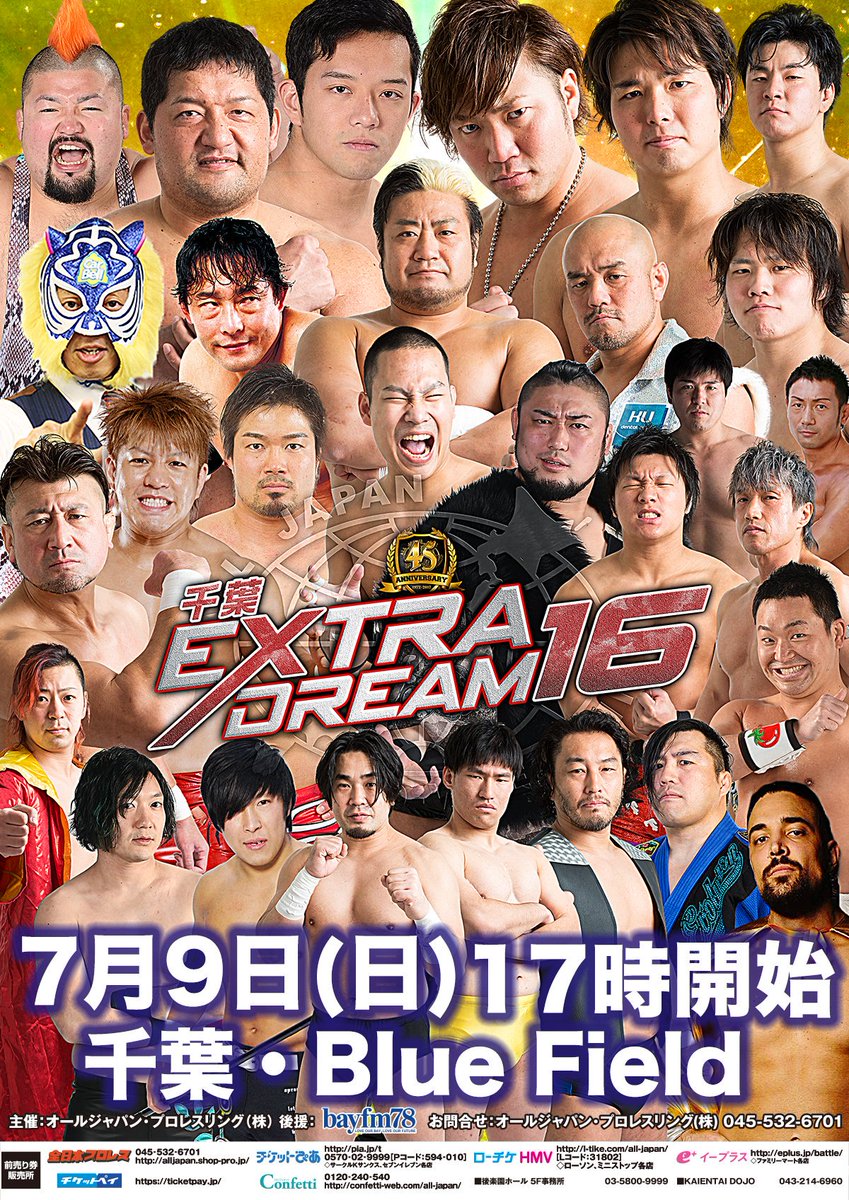 All Japan Pro-Wrestling "Chiba EXTRA DREAM", 7/9/2017 [Sun] 17:00 @ Blue Field in Chiba
235 Spectators (overcrowded)
(1) Atsushi Aoki, Yusuke Okada & Hikaru Sato (Pancrase MISSION) vs. Tank Nagai, Yuki Sato & Ayumu Honda (all K-DOJO)
♦Winner: Ayumu (9:00) following a Missile Kick on Hikaru.
~ Ayumu with the win over the Asia Tag and World Junior champion, as Tank and Ayumu now hold an edge over the champions before the Asia Tag match on the 23rd.
(2) Takao Omori & Carbell Ito vs. Manabu Hara (freelance) & Kazuki Okubo (Ganko Pro)
♦Winner: Omori (18:12) following an Axe Bomber on Okubo.
~ Omori and All Japan's leading sponsor/part-time wrestler celebrate the win.
(3) Jun Akiyama & Atsushi Maruyama (freelance) vs. Yohei Nakajima & Kazuhiro Tamura (HEAT-UP)
♦Winner: Maruyama (12:09) following an Exploder on Yohei.
~ Maruyama takes a page out of Akiyama's book as he delivers his own "Exploder" to secure the win.
(4) Koji Iwamoto, Kaji Tomato (K-DOJO) & Fuminori Abe (Sportiva) vs. TAJIRI, KAI & Minoru Tanaka (all freelance)
♦Winner: TAJIRI (11:30) with a Small Package on Abe.
(5) Suwama vs. Massimo
♦Winner: Suwama (7:58) with the Manriki Sleeper.
~ Suwama hinted that his partner against Onita in an Electric Current Blast Death Match, on July 16, will be someone from Makai.
~ Suwama denied Hikaru's request to compete against him at the upcoming Hard Hit show.
(6) Kento Miyahara, Naoya Nomura & Yuma Aoyagi vs. Shuji Ishikawa (freelance), Kotaro Yoshino (K-DOJO) & Dinosaur Takuma (K-DOJO)
♦Winner: Miyahara (20:39) with a German Suplex Hold on Takuma.
~ Miyahara with the win over Ishikawa's team, as he stated that it is only inevitable that they will meet again for the Triple Crown belt.
http://puroresuspirit.net/2017/06/ajpw-event-cards-for-july-august-2017/