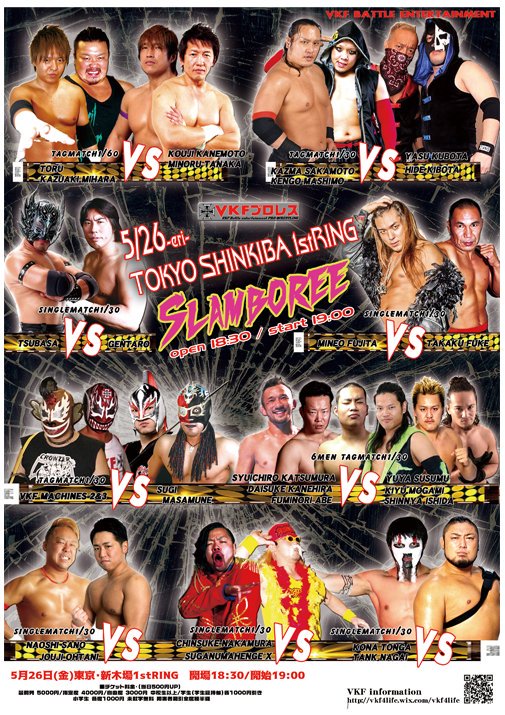 VKF Pro-Wrestling "SLAMBORE", 5/26/2017 [Fri] 19:00 @ Shinkiba 1stRING in Tokyo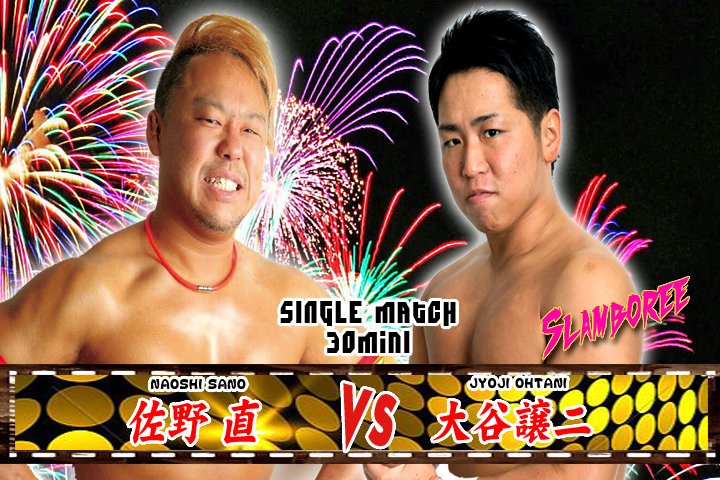 (1) Joji Otani (GUTS World) vs. Naoshi Sano (Sano-Damashii)
♦Winner: Sano (6:25) via pin-fall.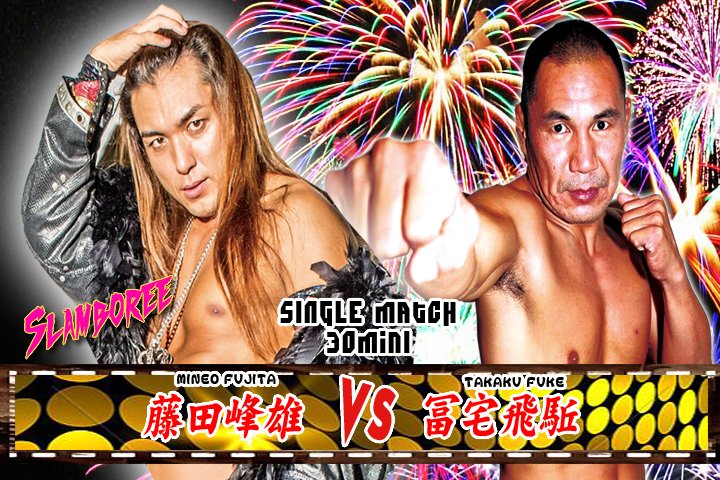 (2) Mineo Fujita (FREE) vs. Takaku Fuke (PancraseISM)
♦Winner: Fuke (7:08) with a Chinko-gado style Gyaku-juji.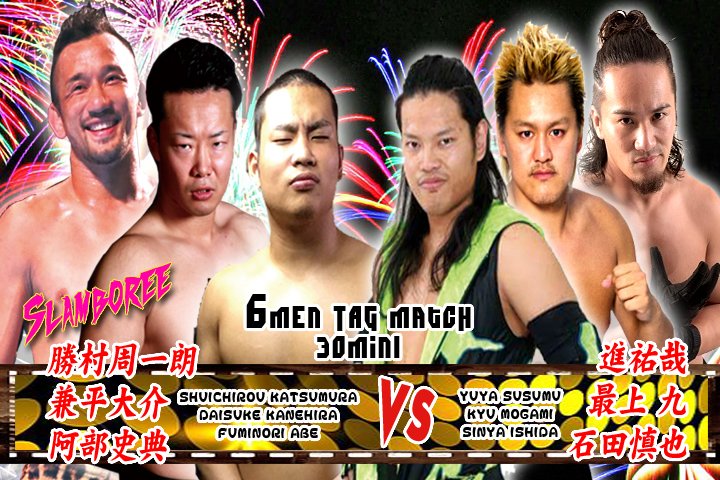 (3) Shuichiro Katsumura (Kachofugetsu), Daisuke Kanehira (HEAT-UP) & Fuminori Abe (Sportiva) vs. Yuya Susumu (FREEDOMS), Shinya Ishida (Sportiva) & Kyu Mogami (K-DOJO)
♦Winner: Susumu (6:17) with a Crucifix style Crossface Lock on Abe.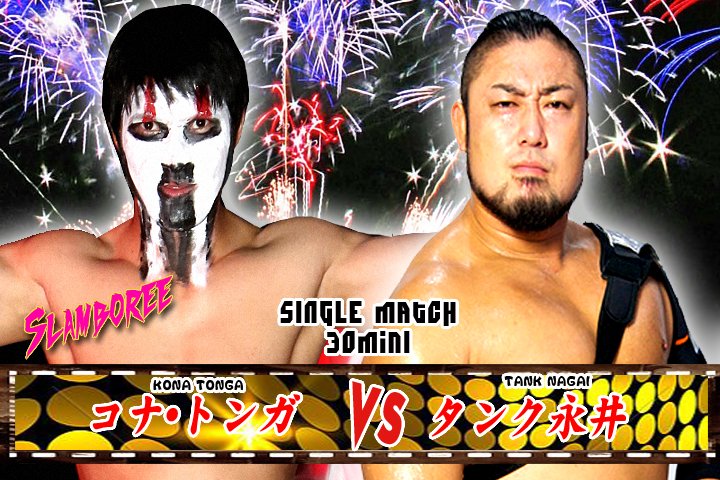 (4) Kona Tonga (666) vs. Tank Nagai (K-DOJO)
♦Winner: Tank (6:38) via submission.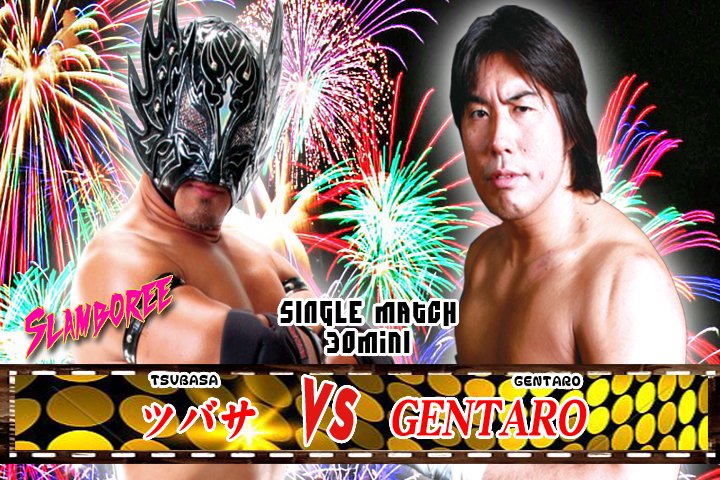 (5) Tsubasa (FREE) vs. GENTARO (FREEDOMS)
♦Winner: Tsubasa (11:58) with a Quesadora Clutch.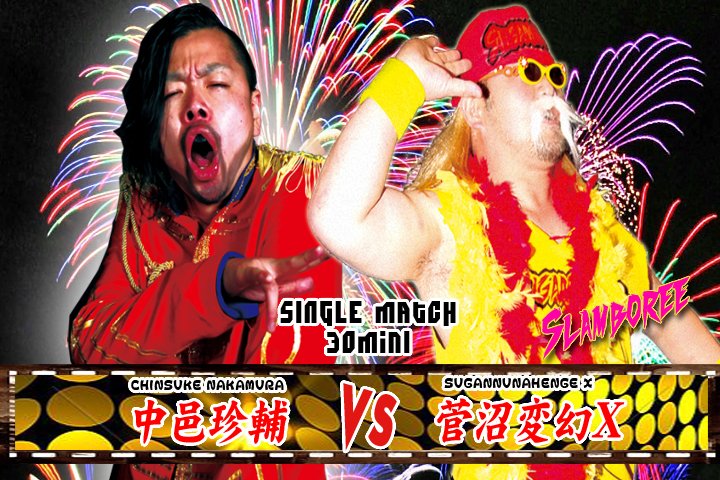 (6) Chinsuke Nakamura vs. Suganuma Hengen X = Jushin Thunder Nuger
♦Winner: Nuger (9:32) with a Kuchu Dojime-otoshi.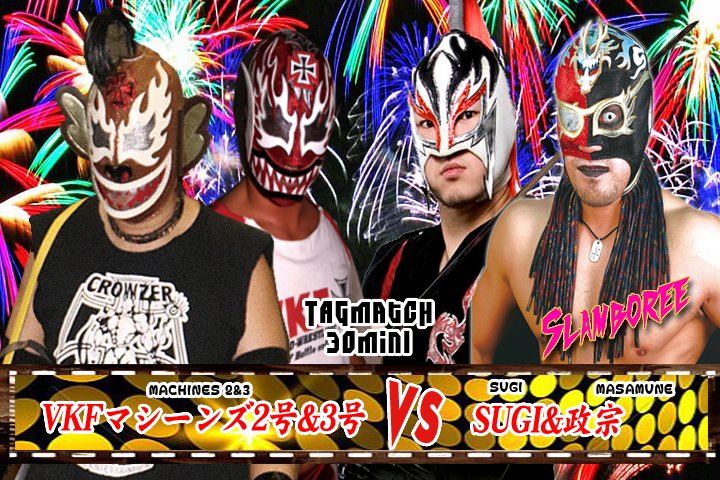 (7) VKF Machine 2 & 3 vs. SUGI & Masamune (both FREE)
♦Winner: SUGI (10:22) with a Swan-dive 450° Splash on Machine #2.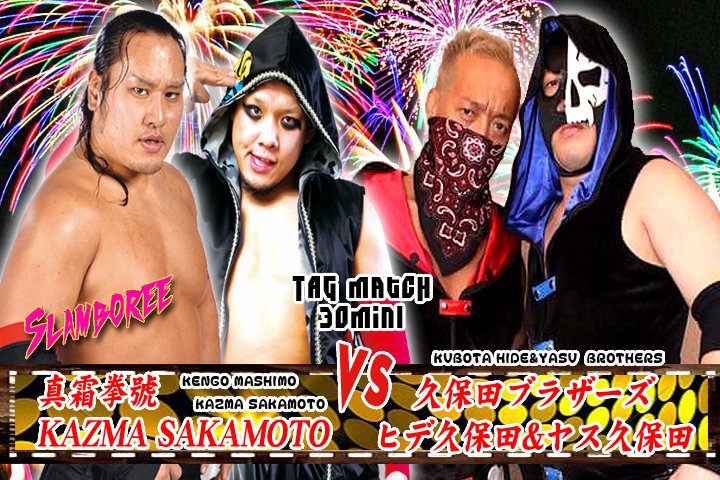 (8) Kengo Mashimo (K-DOJO) & KAZMA SAKAMOTO (FREE) vs. Hide & Yasu Kubota (both FREE)
♦Winner: Mashimo (11:42) following a Vertical Drop style Brainbuster on Yasu.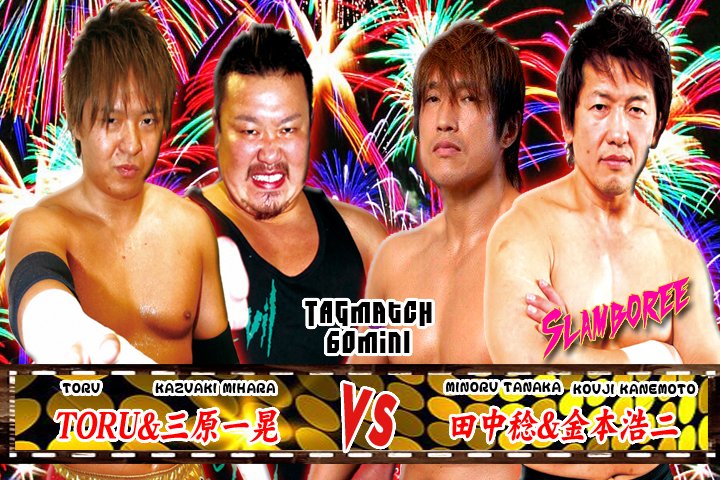 (9) Koji Kanemoto & Minoru Tanaka (both FREE) vs. Kazuaki Mihara & TORU (both Doutonbori)
♦Winner: Kanemoto (19:06) with an Ankle Hold.