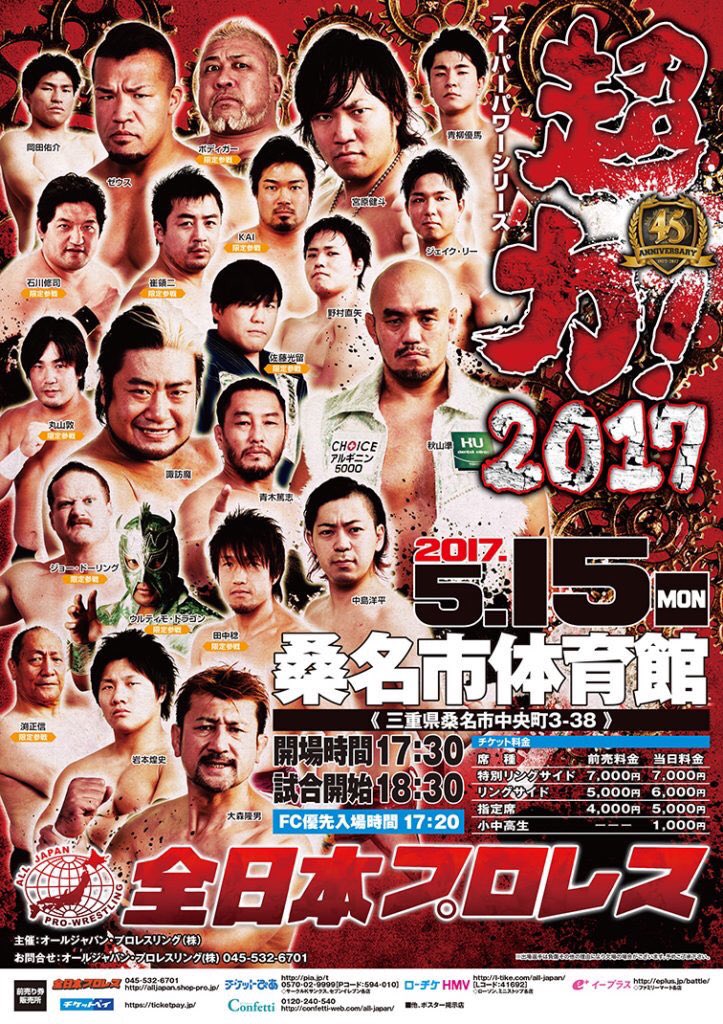 All Japan Pro-Wrestling "2017 Super Power Series", 5/15/2017 [Mon] @ Kuwana City Gymnasium in Mie
(1) Takao Omori vs. Yusuke Okada
♦Winner: Omori (5:38) with a Boston Crab.
(2) Atsushi Aoki & Hikaru Sato vs. Takeshi Minamino & Shin Black Tiger
♦Winner: Aoki (9:45) with a Diving Body Press on Shin Black Tiger.
~ Aoki & Hikaru declared that they will recapture the Asia Tag belts from Onita & Fuchi on June 20.
(3) Yohei Nakajima vs. Mitsuya Nagai (DRADITION)
♦Winner: Nagai (5:55) with the ROD.
~ Nagai stated that the GAORA belt is well within his grasp and that the belt will garner much more attention when he holds it.
(4) Naoya Nomura vs. Rikiya Fudo (Land's End)
♦Winner: Nomura (1:43) following a Spear.
~ Nomura with the quick win over, as Fudo continues to be frustrated as the rookie continues to have the upper hand over him.
(5) Kento Miyahara, Jake Lee & Yuma Aoyagi vs. Joe Doering, KAI & Minoru Tanaka (FREE)
♦Winner: Doering (15:28) with the Revolution Bomb on Aoyagi.
(6) Jun Akiyama, Shuji Ishikawa (FREE) & Koji Iwamoto vs. Zeus, The Bodyguard (FREE) & Atsushi Maruyama (FREE)
♦Winner: Iwamoto (16:50) with a German Suplex Hold on Maruyama.
~ Iwamoto celebrates the win in his hometown as he declared that next time he is here that he will be holding the World Junior belt.
http://puroresuspirit.net/2017/04/ajpw-event-cards-for-may-june-2017/