All Japan Pro-Wrestling "2017 Super Power Series", 5/12/2017 [Fri] @ Moriguchi Shimin Taiikukan, Main Arena in Osaka
1,438 spectators (overcrowded)
(1) Yusuke Okada vs. Takeshi Minamino (FREE)
♦Winner: Minamino (5:47) with a Camel Clutch.
(2) Yohei Nakajima, Ultimo Dragon & Billyken Kid vs. Atsushi Maruyama, Ultimate Spider Jr. & Takoyakida
♦Winner: Yohei (6:13) following the Tobiushiro-mawashigeri on Takoyakida.
(3) Takao Omori vs. Rikiya Fudo (LAND'S END)
♦Winner: Omori (4:44) following an Axe Bomber.
(4) Suwama & Atsushi Aoki vs. Ryoji Sai (LAND'S END) & Koji Iwamoto
♦Winner: Suwama (1:38) via TKO over Sai, referee stop.
~ Sai suffered a lot of blood loss following an accidental hand strike from Suwama. After Sai attempted to avoid a lariat from Suwama.
~ Medical personal were called in to check on Sai was taken backstage with a stretcher.
~ It was also announced that Suwama has suffered an injury to his right hand as well.
~ The two will miss tomorrow's show as the extent of their injuries will be released when they are known for certain.
(5) GAORA TV & World Junior Double Prelude: Jun Akiyama & Hikaru Sato vs. Mitsuya Nagai & Black Tiger VII
♦Winner: Black Tiger VII (10:16) with an Ultra High School Class La Magistral on Hikaru.
~ BT with the win over the World Junior Champion before their match on the 21st. BT declared that he wants to join All Japan when he captures the belt.
(6) Triple Crown Prelude: Kento Miyahara & Yuma Aoyagi vs. Shuji Ishikawa & KAI
♦Winner: Ishikawa (13:01) following a Running Knee Lift on Aoyagi.
~ Ishikawa stated that he is in the best shape of his career as he aims to become the Triple Crown champion on the 21st.
(7) World Tag Championship Match: [73rd Champions] Zeus & The Bodyguard vs. [Challengers] Jake Lee & Naoya Nomura
♦Winner: Bodyguard (22:50) with the Bounce on Nomura.
~ 3rd successful title defense.
~ "Big Guns" stated that they will accepted the challenge of BJW's "Okami" Daichi Hashimoto and Hideyoshi Kamitani next.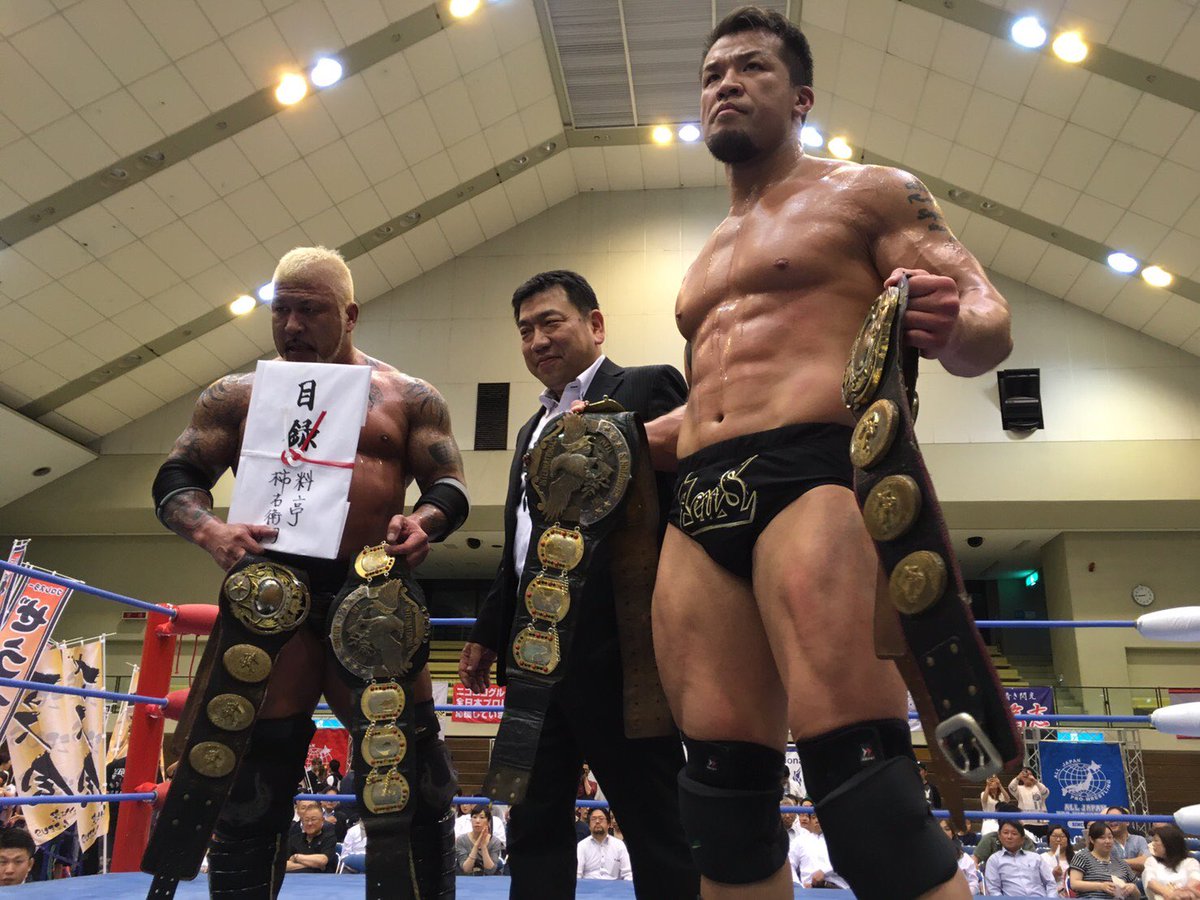 http://puroresuspirit.net/2017/04/ajpw-event-cards-for-may-june-2017/