WRESTLE-1 TOUR 2017 TRIUMPH, 5/4/2017 [Thu] 12:00 @ Korakuen Hall in Tokyo
903 Spectators
(1) Daiki Inaba, Seiki Yoshioka & Yusuke Kodama vs. Kotaro Suzuki (FREE), Seigo Tachibana & Jun Tonsho
♦Winner: Tachibana (7:30) with a Small Package Hold on Kodama.
~ NEW ERA suffers the loss against the Kotaro and ACE team. 
(2) Kaz Hayashi & Kohei Fujimura vs. NOSAWA Rongai & Ganseki Tanaka
♦Winner: Ganseki (7:26) following the Ganseki-otoshi on Fujimura.
~ Kaz had a few words for Kohei after suffering the loss to the ACE talent. Kaz told Fujimura that he needs to go to Mexico. Whichi Fujimura approved as he wants to learn the true lucha libre style. 
(3) Hana Kimura vs. Natsuko Tora (Stardom)
♦Winner: Hana (7:17) following a Missile Kick.
~ Hana appeared in a black attire and a heel attitude.
(4) WRESTLE-1 Cruiserweight Championship Match: [8th Champion] Andy Wu vs. [Challenger] MAZADA
♦Winner: MAZADA (13:11) with the Masada Driver.
~ Champion falls on his 1st title defense. MAZADA becomes the 9th champion.
~ MAZADA did as he proclaimed last month as he once more defeated Andy to become the champion.
~ Kaz Hayashi came forward to be the first challenger.
(5) Jiro "Ikemen" Kuroshio vs. Shuji Kondo
♦Winner: Kondo (10:25) with the Gorilla Clutch.
~ Kuroshio makes his return after being out of action for the last several months though in loss to the veteran.
~ Kuroshio made a challenge of a rematch as he will put his "jacket" on the line.

(6) WRESTLE-1 Tag Championship Match: [8th Champions] Koji Doi & Kumagoro vs. [Challengers] Masayuki Kono & Takanori Ito
♦Winner: Ito (17:42) with a German Suplex Hold on Kumagoro.
~ Champions fall on their 2nd title defense. Kono and Ito become the 9th champions.
~ Ito wins his first belt after only making his debut just 7 months ago.
(7) WRESTLE-1 Championship Match: [11th Champion] Shotaro Ashino vs. [Challenger] Manabu Soya
♦Winner: Ashino (21:37) with an Ankle Hold.
~ 2nd successful title defense.
~ Koji Doi stepped forward to make the challenge against the champion.
~ Ashino, who even though is considered part of the new era, declared that he will see the NEW ERA destroyed as well after he has taken out a portion of the already established.
~ Doi, during the backstage interview, stated that he may have lost the tag belts, but his confidence remains just as high as ever. That he already has his taste of what it means to be a singles champion, as he holds the Result Championship, and aims to win the biggest prize within the promotion.
http://puroresuspirit.net/tag/w-1/
~ Upcoming…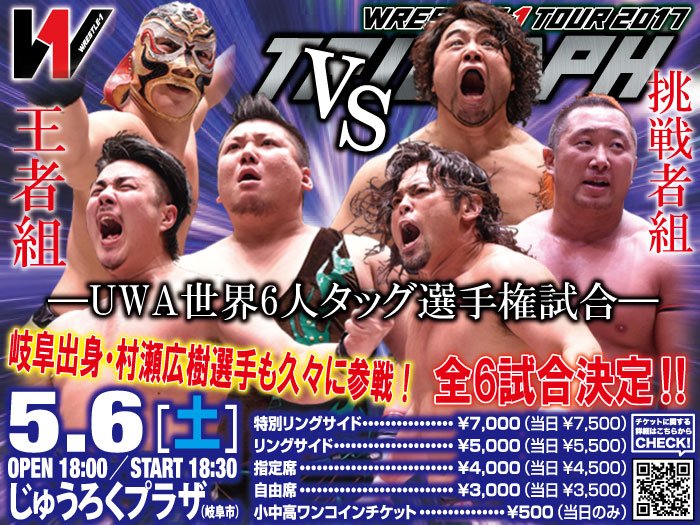 WRESTLE-1 TOUR 2017 TRIUMPH, 5/6/2017 [Sat] 18:30 @ Juroku Plaza in Gifu
() Kohei Fujimura vs. Hajime
() Jiro "Ikemen" Kuroshio vs. Jun Tonsho
() Hiroki Murase vs. Masayuki Mitomi
() Shotaro Ashino & Seigo Tachibana vs. Daiki Inaba & Seiki Yoshioka
() UWA World 6 Tag Championship Match: [55th Champions] Koji Doi, Kumagoro & Andy Wu vs. [Challengers] Kaz Hayashi, Shuji Kondo & Manabu Soya
~ 1st title defense.