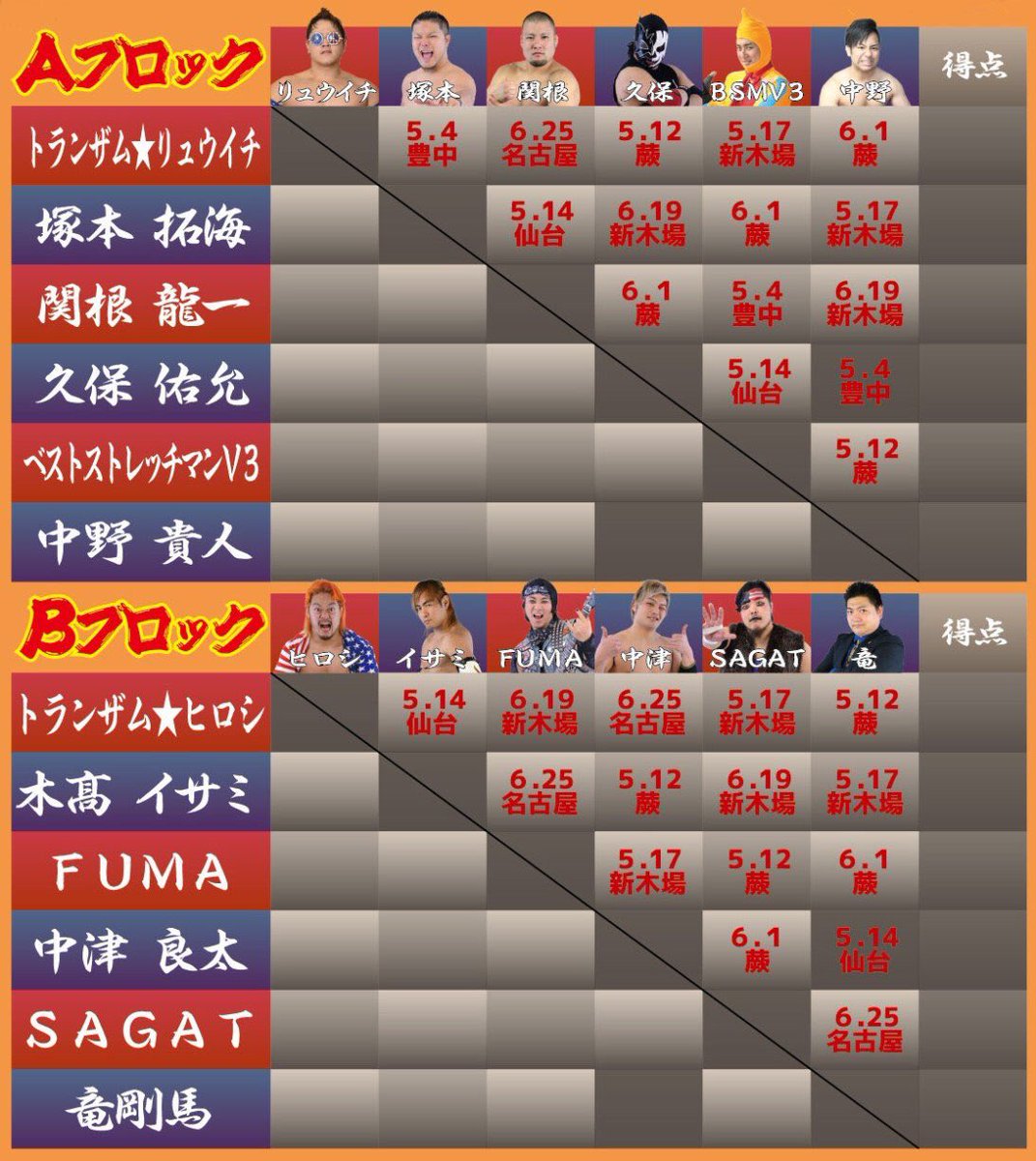 BASARA, 5/4/2017 [Thu] 17:00 @ Toyonaka City Rose Cultural Hall in Osaka
(1) Itadaki A BLOCK Match: Yusuke Kubo vs. Takato Nakano
♦Winner: Kubo (9:23) with a Modified Cross Facelock.
~ Kubo [1 win = 2 points]
~ Nakano [1 loss = 0 points]
(2) Ryota Nakatsu vs. Tatsuhiko Yoshino (BJW)
♦Winner: Yoshino (6:32) with a School Boy.
(3)  Itadaki A BLOCK Match: Ryuichi Sekine vs. Best Stretch Man
♦Winner: Sekine (8:04) with the Let's Combine.
~ Sekine [1 win = 2 points]
~ Best Stretch Man [1 loss = 0 points]
(4) Hiroshi de Soleil vs Infinity!: Trans Am ★ Hiroshi & SAGAT vs. Buffalo (Makai) & Tsubasa (FREE)
♦Winner: Tsubasa (10:25) with a La Magistral on SAGAT.
(5) Hardcore Tag Match: FUMA & HUB (FREE) vs. Gunso & Kabuki Kid (both Dove)
♦Winner: FUMA (13:46) with the Heavy Metal Anthem on Kabuki from off a ladder with a chair .
(6) Special Single Match: Isami Kodaka vs. Naoki Tanizaki (DG)
♦Winner: Tanizaki (12:59) via pin-fall.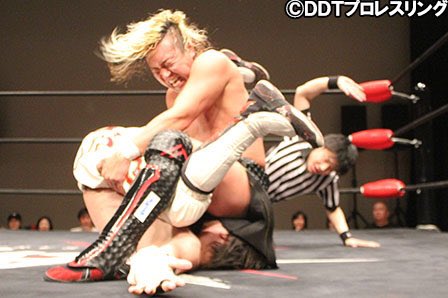 (7)  Itadaki A BLOCK Match: Trans Am ★ Ryuichi vs. Takumi Tsukamoto
♦Winner: Ryuichi (12:52) following the Perfect 5.
~ Ryuichi [1 win = 2 points]
~ Tsukamoto [1 loss = 0 points]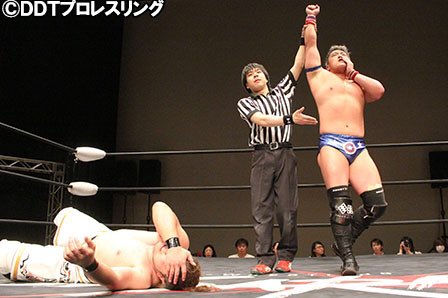 http://puroresuspirit.net/tag/basara/
CURRENT STANDINGS
A BLOCK
Trans Am ★ Ryuichi  [1 win = 2 points]
Ryuichi Sekine [1 win = 2 points]
Yusuke Kubo [1 win = 2 points]
Takumi Tsukamoto [1 loss = 0 points]
Best Stretch Man V3  [1 loss = 0 points]
Takato Nakano [1 loss = 0 points]
B BLOCK
Trans Am ★ Hiroshi
Isami Kodaka
FUMA
Ryota Nakatsu
SAGATA
Goma Ryu