NOAH "Global Tag League 2017", 5/3/2017 [Wed] @ Korakuen Hall in Tokyo
813 Spectators
(1) Tadasuke vs. Seiya Morohashi (FREE)
♦Winner: Tadasuke (11:07) following the Outkast.
~ The former DDT wrestler thanked Ishimori for giving him the chance to compete in NOAH and would compete again if the chance arises. 
(2) Taiji Ishimori & Hi69 vs. Yoshinari Ogawa & Rionne Fujiwara
♦Winner: Ishimori (8:20) with a 450° Splash on Rionne.
(3) Hajime Ohara & Hitoshi Kumano vs. Daisuke Harada & HAYATA
♦Winner: HAYATA (14:13) following the Headache on Ohara.
~ HAYATA with a direct win over the GHC Jr. Champion before their match on 5/27.
(4) Naomichi Marufuji & Maybach Taniguchi vs. Robbie E & KAZMA SAKAMOTO (FREE)
♦Winner: Taniguchi (11:10) with the Maybach Bomb Zwei on Robbie.
(5) GTL Match: Kaito Kiyomiya & Takuya Nomura vs. Cody Hall & Randy Reign
♦Winner: Kiyomiya (12:21) with an  O'Connor's Clutch on Reign.
~ Hall and Reign did not take kindly to the flash pin finish as they took out the rookie after the match.
~ Kiyomiya/Takuya [2 wins, 5 losses = 4 points]
~ Hall/Reign [4 wins, 3 losses = 8 points]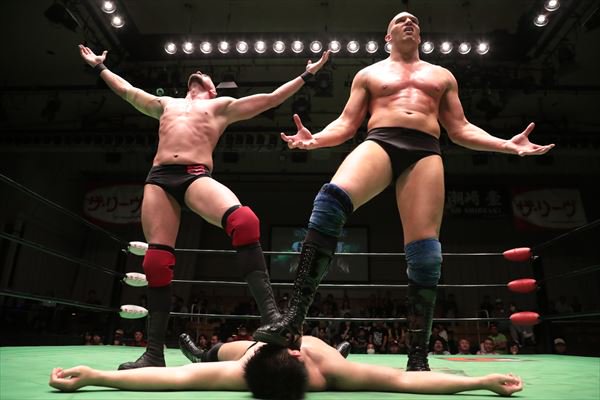 (6) GTL Match: Katsuhiko Nakajima & Masa Kitamiya vs. Muhammad Yone & Akitoshi Saito
♦Winner: Yone (15:11) following the Kinniku Buster on Nakajima.
~ Yone with the win over the GHC Heavyweight Champion as he also stops The Aggression from moving on to the final match.
~ Nakajima accepted a title defense against Yone.
~ Yone/Saito [3 wins, 4 losses = 6 points]
~ Nakajima/Kitamiya [4 wins, 3 losses = 8 points]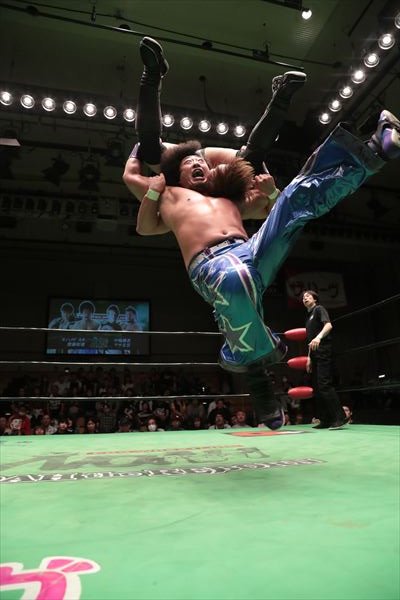 (7) GTL Match: Go Shiozaki & Atsushi Kotoge vs. Takashi Sugiura & Kenoh
♦Winner: Kotoge (22:18) with a Small Package on Kenoh.
~ Shiozaki and Kotoge take out the former GHC Champions and in the process move on to tomorrow's final match.
~ Shiozaki/Kotoge [5 wins, 2 losses = 10 points]
~ Sugiura/Kenoh [4 wins, 3 losses = 8 points]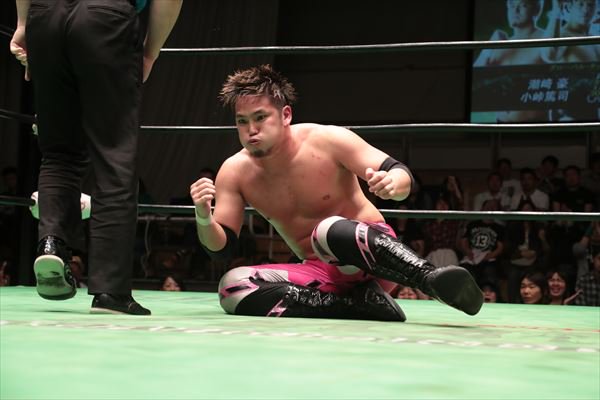 ~ The final match is now set as the GHC Champions Naomichi Marufuji and Maybach Taniguchi take on Go Shiozaki and Atsushi Kotoge.
FINAL STANDINGS
~ Marufuji/Taniguchi [5 wins, 2 losses = 10 points]
~ Shiozaki/Kotoge [5 wins, 2 losses = 10 points]
~ Hall/Reign [4 wins, 3 losses = 8 points]
~ Sugiura/Kenoh [4 wins, 3 losses = 8 points]
~ Nakajima/Kitamiya [4 wins, 3 losses = 8 points]
~ Yone/Saito [3 wins, 4 losses = 6 points]
~ Kiyomiya/Takuya [2 wins, 5 losses = 4 points]
~ Robbie/Bram [1 win, 2 losses, 4 forfeits = 2 points]
http://puroresuspirit.net/2017/03/noah-event-cards-for-march-april-2017/
PREVIOUS DAYS RESULTS
~ GTL Day 1 (4/22) [RESULTS]
~ GTL Day 2 (4/23) [RESULTS]
~ GTL Day 3 (4/24) [RESULTS]
~ GTL Day 4 (4/27) [RESULTS]
~ GTL Day 5 (4/29) [RESULTS]
~ GTL Day 6 (4/30) [RESULTS]
~ GTL Day 7 (5/3) * Above
~ GTL Day 8 ~ Final (5/4)