BJW "Ikkitosen ~ DeathMatch Survivor ", 3/30/2017 [Thu] 18:30 @ Korakuen Hall in Tokyo
1,607 Spectators (crowded)
(1) Ryuichi Kawakami & Yuya Aoki vs. Yasufumi Nakanoue (FREE) & Yoshihisa Uto
♦Winner: Uto (8:30) with a Cobra Twist on Yuya.
(2) Abdullah Kobayashi, Takayuki Ueki, Masaya Takahashi (ASUKA PROJECT) & Kankuro Hoshino vs. Yuko Miyamoto (666), Shu Brahman, Kei Brahman & Toshiyuki Sakuda
♦Winner: Ueki (8:25) with the Uroboros on Kikuta.
(3) Tsutomu Oosugi, Hercules Senga, Shinobu (666) & Kazumi Kikuta vs. Kazuki Hashimoto, Atsushi Maruyama (FREE), Tatsuhiko Yoshino & Takuya Nomura
♦Winner: Kazuki (10:24) with the Sankyakutomoe on Kikuta.
(4) Yuji Okabayashi, Kohei Sato (ZERO1) & Shuji Ishikawa (FREE) vs. Ryota Hama (FREE), Daichi Hashimoto & Hideyoshi Kamitani
♦Winner: Daichi (16:21) following the Rising DDT on Okabayashi.
~ Daichi with the win as he stated that he aims to capture the "World Strong" belt.
(5) Ikkiosen A Block ~ "Tenchiwokurau" Gigarada vs Mega Hammer DeathMatch: Isami Kodaka (BASARA) vs. Takumi Tsukamoto (BASARA)
♦Winner: Kodaka (13:47) following the Astro Sciccors from a ladder.
~ Isami Kodaka [4 wins, 1 loss = 8 points]
~ Takumi Tsukamoto [2 wins, 3 losses = 4 points]
(6) Ikkiosen A Block ~ 4corners of pain DeathMatch: Ryuji Ito vs. Kenji Fukimoto (FREEDOMS)
♦Winner: Fukimoto (12:15) following the Package Driver onto a Gadget Cross Board.
~ Kenji Fukimoto [3 wins, 2 losses = 6 points]
~ Ryuji Ito [3 wins, 2 losses = 6 points]
~ Isami Kodaka claims the #1 spot for the A Block as Fukimoto takes the #2 spot.
(7) Ikkiosen B Block ~ DON'T TRY THIS AT HOME ~ Murder ~ Cutter Knife + Alpha DeathMatch: Jaki Numazawa vs. Masashi Takeda (FREE)
♦Winner: Numazawa (13:07) with the Kamui-rakkan.
~ Jaki Numazawa [3 wins, 2 losses = 6 points]
~ Masashi Takeda [3 wins, 2 losses = 6 points]
~ Numazawa claims the #2 spot, as he will be taking on Isami on 4/8. Masaya Takahashi remained at #1 following his win on the last show.
(8) BJW World Strong Heavyweight Championship Match: [9th Champion] Daisuke Sekimoto vs. [Challenger] Hideki Suzuki (FREE)
♦Winner: Hideki (18:47) following a Double Arm Suplex.
~ Champion falls on his 3rd title defense. Hideki becomes the 10th generation champion.
~ As for as a next challenge for Hideki, Okabayashi and Nakanoue will be competing in a singles match tomorrow (3/31 at Shinkiba) and the winner go on to face Daichi Hashimoto on April 9. The winner of that match will be the first to challenge Hideki.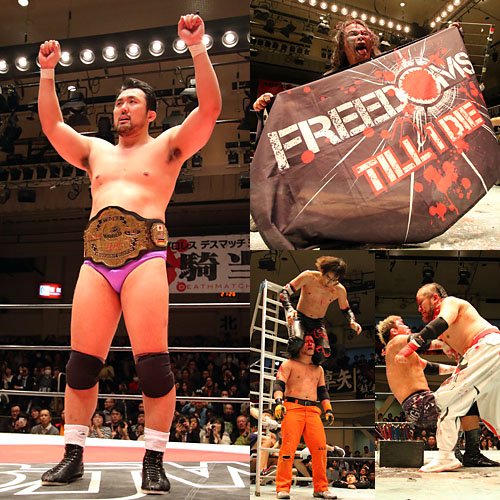 ---
Ikkitosen Final Standings
A BLOCK
~ Isami Kodaka [4 wins, 1 loss = 8 points]
~ Kenji Fukimoto [3 wins, 2 losses = 6 points]
~ Ryuji Ito [3 wins, 2 losses = 6 points]
~ Takayuki Ueki [2 wins, 3 losses = 4 points]
~ Takumi Tsukamoto [2 wins, 3 losses = 4 points]
~ Toshiyuki Sakuda [1 win, 4 losses = 2 points]
B BLOCK
~ Masaya Takahashi [4 wins, 1 loss = 8 points]
~ Jaki Numazawa [3 wins, 2 losses = 6 points]
~ Masashi Takeda [3 wins, 2 losses = 6 points]
~ Yuko Miyamoto [2 wins, 3 losses = 4 points]
~ Ryuichi Sekine [2 wins, 3 losses = 4 points]
~ Kankuro Hoshino [1 win, 4 losses = 2 points]
---
~ The finals on April 8 will now look as follows…
BJW "Ikkitosen ~ DeathMatch Survivor Final", 4/8/2017 [Sat] 18:30 @ Sapporo 
() Ikkiosen Semi-final: (A BLOCK #1) Isami Kodaka vs. (B BLOCK #2) Jaki Numazawa
() Ikkiosen Semi-final: (B BLOCK #1) Masaya Takahashi vs. (A BLOCK #2) Kenji Fukimoto
() Ryota Hama & Kazumi Kikuta vs. Yasufumi Nakanoue & Yuya Aoki
() Abdullah Kobayashi, Tsutomu Oosugi & Hercules Senga vs. Tatsuhiko Yoshino, Shu & Kei Brahman
() Ryuichi Kawakami & Manabu Soya (W-1) vs. Daichi Hashimoto & Hideyoshi Kamitani
() Daisuke Sekimoto, Yuji Okabayashi & Kazuki Hashimoto vs. Hideki Suzuki, Yoshihisa Uto & Takuya Nomura
() Ikkiosen Final Match:
http://puroresuspirit.net/2017/02/bjw-event-cards-for-march-april-2017/