K-DOJO "CLUB-K TOUR in OSAKA", 3/25/2017 [Sat] 13:00 @ Osaka Municipal Konohana Community Hall
(1) Road to 25th Anniversary TAKA Michinoku ~ 6th Match: TAKA Michinoku vs. Ricky Fuji
♦Winner: Fuji (6:37) with a Frankensteiner.
(2) Bambi vs. ERINA
♦Winner: Bambi (5:36) with the Bamlock.
(3) Shiori Asahi & Yuma vs. Ayato Yoshida & Kyu Mogami
♦Winner: Yoshida (12:12) following a Backdrop on Yuma.
(4) Taishi Takizawa, Kotaro Yoshino & Hiro Tonai vs. Kengo Mashimo, Ayumu Honda & Kunio Toshima
♦Winner: Takizawa (14:56) following the Takabisha on Toshima.
(5) Osaka Special Single Match: Kaji Tomato vs. Jimmy K-ness J.K.S. (DG)
♦Winner: K-ness (13:21) with the Hikari no Wa.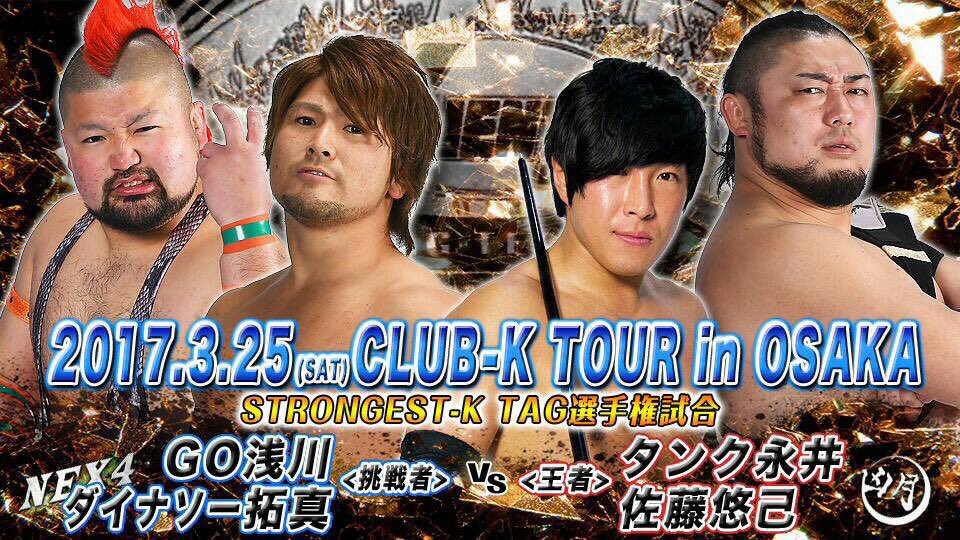 (6) STRONGEST-K TAG Championship Match: [33rd Champions] Tank Nagai & Yuki Sato vs. [Challengers] GO Asakawa & Dinosaur Takuma
♦Winner: Tank (17:55) following a Diving Senton on Asakawa.
~ 1st successful title defense.
http://puroresuspirit.net/tag/k-dojo/
Upcoming…
K-DOJO "CLUB-K TOUR in NAGOYA", 3/26/2017 [Sun] 13:30 @ Nagoya City Tenka Sports Center, 2nd Stadium in Aichi
() Ricky Fuji & Bambi vs. Takuya Shibayama (DEP) & ERINA
() Kaji Tomato & Yuma vs. Kotaro Yoshino & Yoshihiro Horaguchi vs. Yuki Sato & Kunio Toshima
() Shiori Asahi vs. Taishi Takizawa
() TAKA Michinoku vs. Marines Mask
() Ayato Yoshida, GO Asakawa & Dinosaur Takuma vs. Kengo Mashimo, Tank Nagai & Ayumu Honda
K-BLOOM, 4/1/2017 [Sat] 18:00 @ Blue Field in Chiba
() Kyu Mogami vs. Marines Mask
() Kotaro Yoshino vs. Yuma
() Ayato Yoshida vs. Dinosaur Takuma
() Yoshihiro Horaguchi & Malik vs. GO Asakawa & ERINA
KAIENTAI DOJO "K-UP IMPACT in Blue Field ~ 2017 SPRING ~ ", 4/2/2017 [Sun] @ Blue Field in Chiba
~ Genichiro Tenryu Talk Battle (w/ Moderator Shiori Asahi)
() Kaji Tomato vs. Akiyori Takizawa (ASUKA PROJECT)
() GO Asakawa vs. Masa Kitamiya (NOAH)
() Taishi Takizawa & Kotaro Yoshino vs. Masao Inoue (FREE) & LEONA (DRADITION)
() Kengo Mashimo & Tank Nagai vs. Kotaro Suzuki & SUSHI (both FREE)
() Ayato Yoshida & Dinosaur Takuma vs. Shiro Koshinaka (FREE) & Akitoshi Saito (NOAH)
K-DOJO "CLUB-K in YOKOHAMA", 4/8/2017 [Sat] 12:30 @ Yokohama Nigiwaiza in Kanagawa
() Ricky Fuji & Bambi vs. Daigoro Kashiwa & Yoshihiro Horaguchi
() Kaji Tomato & Yuma vs. Marines Mask & Malik
()  TAKA Michinoku vs. ERINA
() Kotaro Yoshino vs. Shiori Asahi
() Taishi Takizawa vs. Tank Nagai
() Ayato Yoshida, Kyu Mogami, GO Asakawa & Dinosaur Takuma vs. Kengo Mashimo, Yuki Sato, Ayumu Honda & Kunio Toshima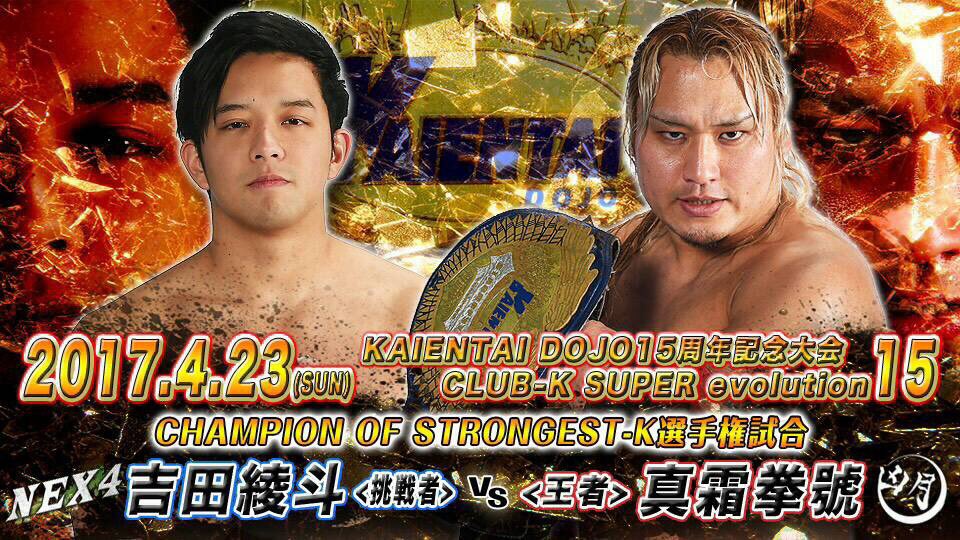 KAIENTAI DOJO 15th ANNIVERSARY SHOW ~ CLUB-K SUPER evolution 15″, 4/23/2017 [Sun] 12:00 @ Korakuen Hall in Tokyo
(-) CHAMPION OF STRONGEST-K Championship Match: [Champion] Kengo Mashimo vs. [Challenger] Ayato Yoshida