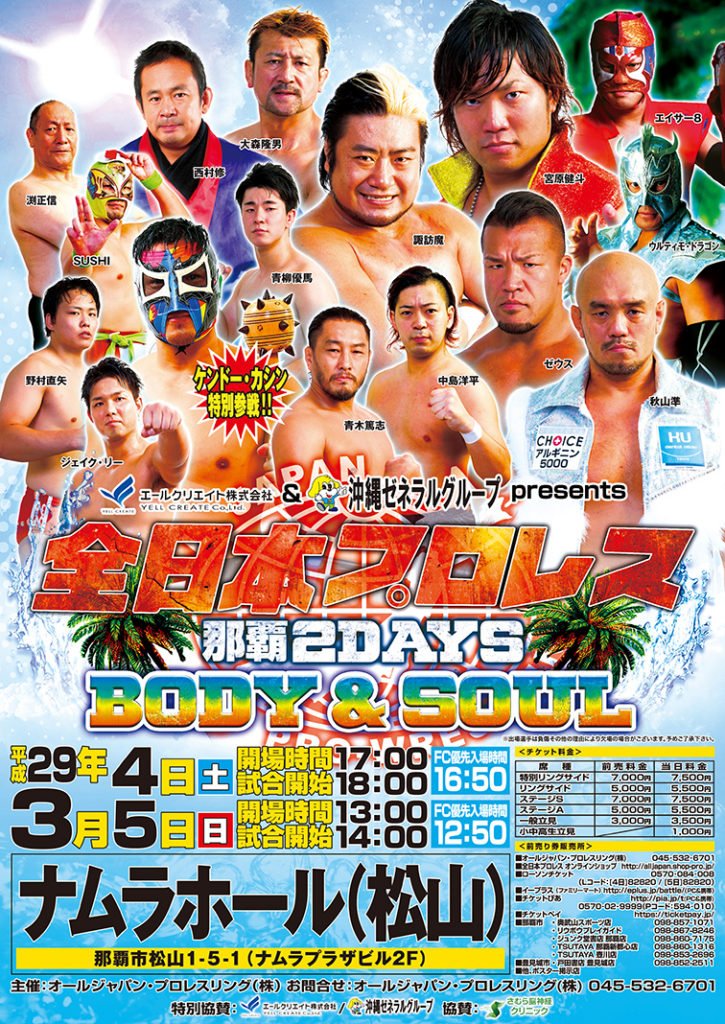 Yell Creation & Okinawa General Group presents All Japan Pro-Wrestling Naha 2-Days ~BODY & SOUL~, 3/5/2017 [Sun] 14:00 @ Naha City Namura Hall in Okinawa
620 Spectators (overcrowded)
(1) Yuma Aoyagi vs. Yusuke Okada
♦Winner: Aoyagi (9:38) with a Boston Crab.
(2) Takao Omori & Tearan Seaser (K-DOJO) vs. Osamu Nishimura (FREE) & Eisa 8 (FREE)
♦Winner: Omori (9:37) following an Axe Bomber on Eisa.
(3) Atsushi Aoki & Hikaru Sato vs. Koji Iwamoto & Ultimo Dragon
♦Winner: DRAW (20:00) Time Expired.
(4) Masanobu Fuchi vs. Kendo Kashin (FREE)
♦Winner: Kashin (12:48) with a Cross Armbar.
~ Kashin with the win over the veteran and Asia Tag Champion.
(5) Zeus & The Bodyguard vs. Suwama & SUSHI (FREE)
♦Winner: Bodyguard (15:10) with the Bounce on SUSHI.
~ Suwama welcomed SUSHI back to the All Japan ring, though declared that guys like KAI have no place.
(6) Kento Miyahara, Jake Lee & Naoya Nomura vs. Jun Akiyama, KAI (FREE) & Yohei Nakajima
♦Winner: Miyahara (22:54) with a German Suplex Hold on Yohei.
~ Miyahara thanked the Okinawa fans for coming out and supporting All Japan. That he hopes to take the power that he felt from the fans and come back next year still the Triple Crown Champion.
AJPW Event Cards for March & April 2017
http://puroresuspirit.net/2017/02/ajpw-event-cards-for-march-april-2017/