FREEDOMS, 1/26/2017 [Thu] 19:00 @ Shinkiba 1stRING in Tokyo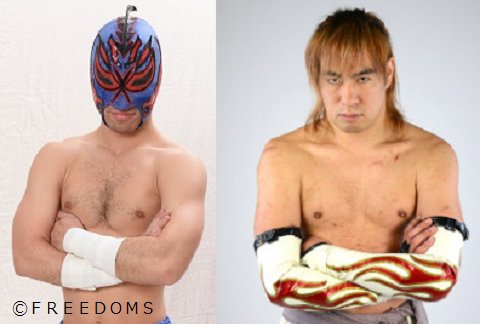 (1) Dragon Libre Trial Series ~ First Match: Dragon Libre vs. Isami Kodaka (BASARA)
◆Winner: Kodaka (9:29) with a Crucifix Hold.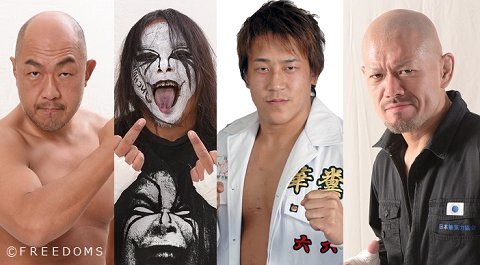 (2) Tatsuhito Takaiwa (FREE) & Kenji Fukimoto vs. Yuko Miyamoto (666) & Kenichiro Arai (DG)
◆Winner: Fukimoto (13:11) following a Package Piledriver on Arai.
~ Fukimoto stated that he wants to compete in BJW's upcoming "Ikkitosen ~ Death Match" tournament.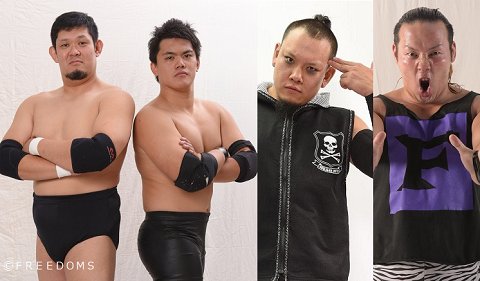 (3) Mammoth Sasaki & Toru Sugiura vs. KAZMA SAKAMOTO & Hi69 (both FREE)
◆Winner: Toru (12:13) via foul, KAZMA assaulted the referee.
~ KAZMA called out to Mammoth for them to form a potential alliance.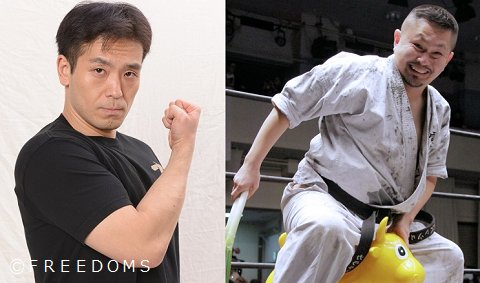 (4) Rikidozan 3rd Generation ~ Single Match Trial Series Final: Chikara vs. Karate Brahman
◆Winner: Chikara (10:14) via referee stop, with a Stranger Sleeper.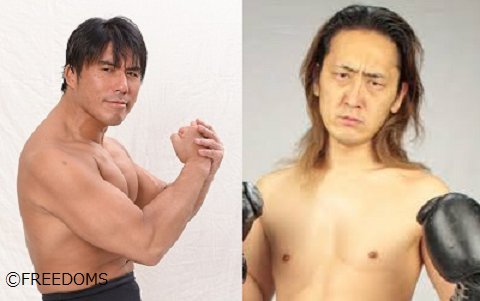 (5) UWA World Junior Heavyweight Championship Match: [30th Champion] GENTARO vs. [Challenger] Tanomusaku Toba (FREE)
◆Winner: GENTARO (11:46) with an Air Body Scissors.
~ 2nd successful title defense.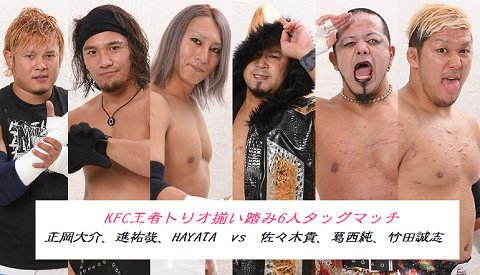 (6) Daisuke Masaoka, Yuya Susumu & HAYATA (DOVE) vs. Takashi Sasaki, Jun Kasai & Masashi Takeda (U-FILE)
◆Winner: Takeda (18:23) following a Revers U-Crash on Masaoka.
~ Takeda with the win over the KFC Champion as he called out for a title match.
http://puroresuspirit.net/tag/freedoms/
Upcoming…
FREEDOMS, 1/29/2017 [Sun] 14:30 @ Moriguchi Shimin Taiikukan in Osaka
() GENTARO & Yuki Tanaka vs. Fuminori Abe (Sportiva) & Dragon Libre
() Yuko Miyamoto & Konaka = Pale One (both 666) vs. Shu & Kei Brahman
() Mixed Tag Match: Drake Morimatsu & Kuishinbo Kamen (Osaka) vs. Takoyakida (Osaka) & Idea (NPW)
() Kamui vs. X
() Kenji Fukimoto, Masashi Takeda & AK vs. Hide Kubota, Masamune & MIYAWAKI
() Hardcore Tag Match: Jun Kasai & Daisuke Masaoka vs. Mammoth Sasaki & Toru Sugiura
(-) KING of FREEDOM WORLD TAG CHAMPIONSHIP Match: [11th Champions] Yuya Susumu & HAYATA vs. [Challenger] Takashi Sasaki & Dyna Mido
~ 4th title defense.
FREEDOMS "FREEDOM Valentine 2017", 2/11/2017 [Sat] 18:30 @ Shinkiba 1stRING in Tokyo
(-) Deathmatch: Daisuke Masaoka & Jun Kasai vs. Masashi Takeda & Kenji Fukimoto