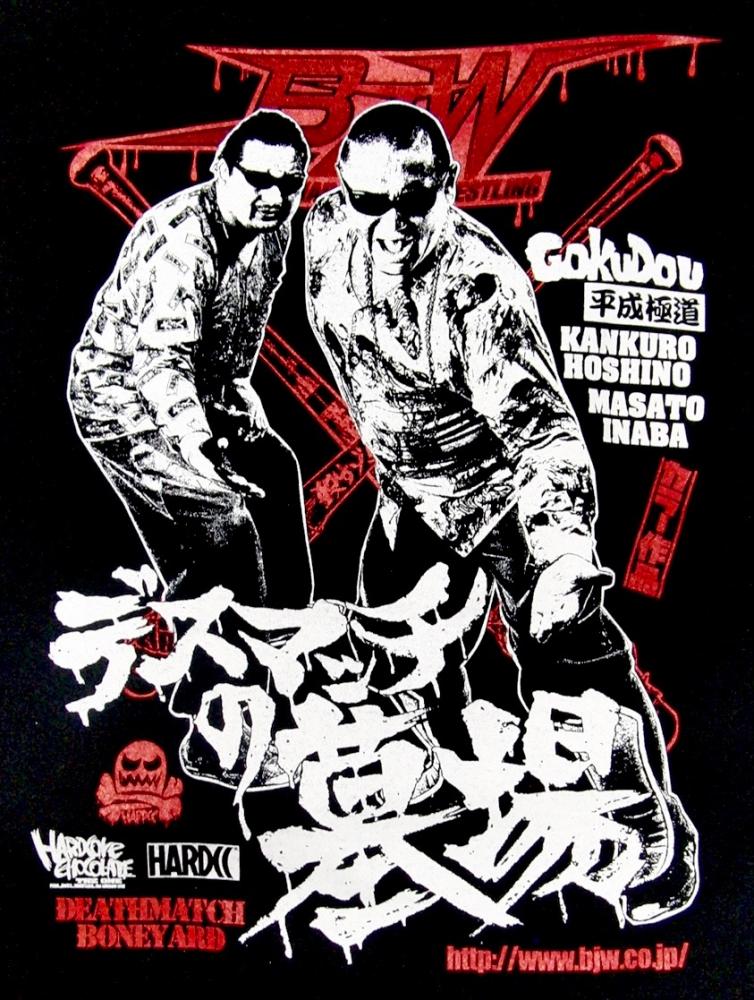 BJW, 1/4/2017 [Wed] 12:00 @ Shinkiba 1stRING in Tokyo
378 Spectators (overcrowded)
(1) Tsutomu Oosugi & Hercules Senga & Shinobu (666) vs. Jaki Numazawa, Atsushi Maruyama (FREE) & Tatsuhiko Yoshino
◆Winner: Shinobu (6:21) witht he Missile Kick on Yoshino.
(2) Hideyoshi Kamitani & Daichi Hashimoto vs. Kazuki Hashimoto & Yasufumi Nakanoue (FREE)
◆Winner: Kazuki (10:39) with a Sankyakutomoe on Daichi.
(3) Daisuke Sekimoto, Yuji Okabayashi & Ryuichi Kawakami vs. Yoshihisa Uto, Kazumi Kikuta & Takuya Nomura
◆Winner: Sekimoto (12:45) following a Vertical fall style Brainbuster on Kikuta.
(4) Barbed-wire Board Tag Deathmatch: Abdullah Kobayashi & Masaya Takahashi (ASUKA) vs. Masashi Takeda (U-FILE) & Takumi Tsukamoto (BASARA)
◆Winner: Tsukamoto (10:37) following the Zudon on Masaya, onto a barbed-wire board.
(5) Thumbtack and Pin-Board Deathmatch: Yuko Miyamoto (666) vs. Toshiyuki Sakuda
◆Winner: Miyamoto (9:36) following a Thunder Fire onto the pin-board.
(6) Heisei Gokudo Combi Last Match: Great Kojika, Kankuro Hoshino & Masato Inaba (FREE) vs. Ryuji Ito, Shu Brahman & Kei Brahman
◆Winner: Kei (14:22) following the Full Body Dissatisfaction on Inaba.
(7) Fluorescent Light-tube 200 Count Deathmatch: Isami Kodaka (BASARA) vs. Takayuki Ueki
◆Winner: Kodaka (12:51) following the Isami-ashi Zan.
http://puroresuspirit.net/tag/bjw/
Upcoming…
BJW "BJ Winter Vacation 2017 ~ Day 1", 1/17/2017 [Tue] 18:30 @ Ueno Onshikoen Outdoor Stage, Mizukami Music House)
(-) Yuya Aoki's Debut Match: Yuji Okabayashi vs. Yuya Aoki
BJW "Death Market 36", 1/29/2017 [Sun] 18:00 @ Nagoya Diamond Hall in Aichi
(-) BJW World Strong Heavyweight Championship Match: [9th Champion] Daisuke Sekimoto vs. [Challenger] Yoshihisa Uto
~ 1st title defense.