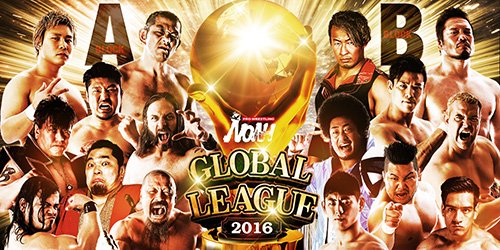 Pro Wrestling NOAH "Global League 2016", 11/23/2016 [Wed] 18:30 @ Korakuen Hall in Tokyo
1,313 Spectators
(1) Hitoshi Kumano vs. Alejandro Saez
◆Winner: Saez (4:54) with a Spiral Tap.
(2) Akitoshi Saito & Yoshinari Ogawa vs. Kenoh & Hajime Ohara
◆Winner: Ogawa (6:27) via pin-fall on Ohara.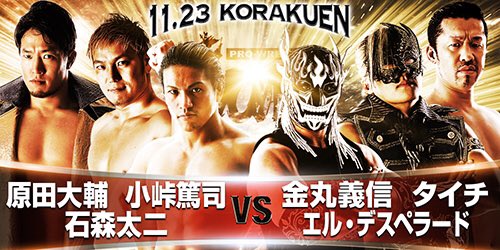 (3) Atsushi Kotoge, Daisuke Harada & Taiji Ishimori vs. Yoshinobu Kanemaru, Taichi & El Desperado
◆Winner: Taichi (7:51) with a Taichi style Last Ride on Harada.
~ Taichi once more made a direct challenge against Kotoge for the GHC Jr. belt.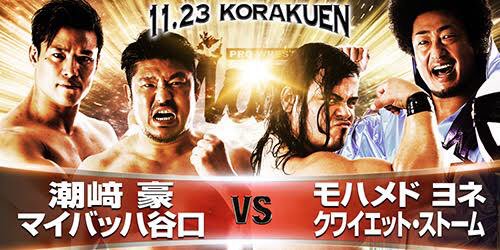 (4) Go Shiozaki & Maybach Taniguchi vs. Muhammad Yone & Quiet Storm
◆Winner: Shiozaki (9:46) following the Gowan Lariat on Storm.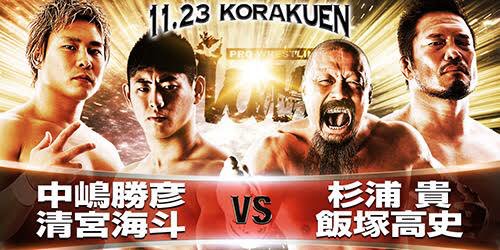 (5) Katsuhiko Nakajima & Kaito Kiyomiya vs. Takashi Sugiura & Takashi Iizuka
◆Winner: Sugiura (11:48) following the Olympic Qualifying Slam on Kiyomiya.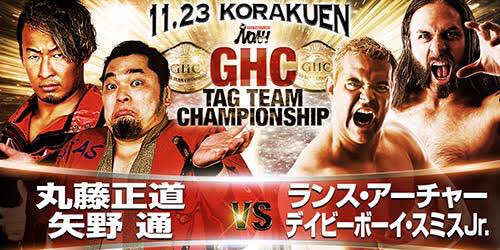 (6) GHC Tag Championship Match: [34th Champions] Naomichi Marufuji & Toru Yano vs. [Challengers] Lance Archer & Davey Boy Smith Jr.
◆Winner: Archer (17:30) following the Killer Bomb on Yano.
~ Killer Elite Squad become the 35th generation champions.
~ Following the match, Shiozaki and Taniguchi made the challenge against the new champions.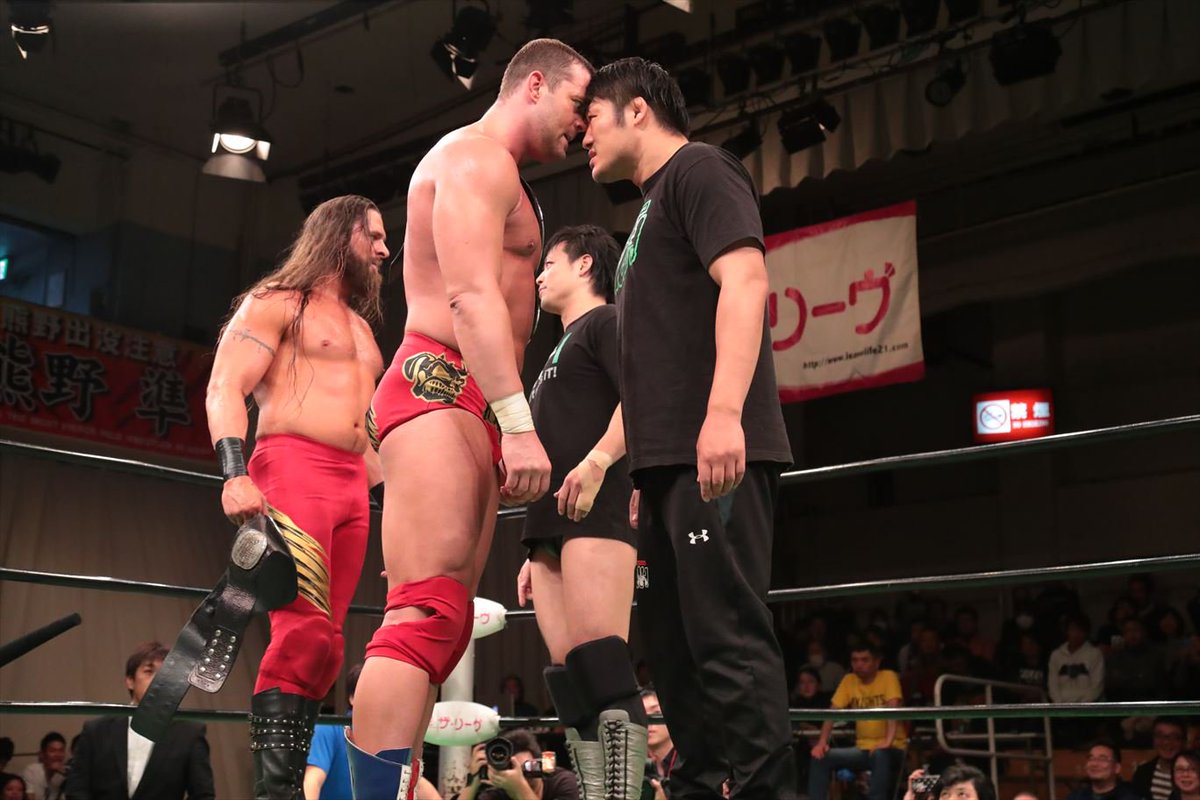 (7) GL 2016 Final Match: (A BLOCK #1) Minoru Suzuki vs. (B BLOCK #1) Masa Kitamiya
◆Winner: Suzuki (35:15) following the Gotch style Piledriver.
~ Suzuki wins the Global League 2016.
~ KES invaded the match in the later part when Kitamiya looked to have the advatange, but Nakajima jumped into to make the save. Though ultimately it was all in vein as Suzuki eventually prevailed.
~ Nakajima confronted the next challenger for his GHC belt, as the match has been set for the December 2 show at Korakuen.
~ Suzuki declared that the final bomb explosion will shatter NOAH for good on 12/2.
~ While Nakajima declared that is Suzuki loses that Suzuki and SZKG shall be gone for good. Though Suzuki made a return comment that if he wins that Nakajima shall be gone for good himself.
~ Nakajima stated that he shall win and will not stop in the pursuit to rid NOAH of the SZKG menace.
~ The final stage now appears to be set as either the SZGK will be withdrawn from NOAH for good or NOAH will be forced to dissolve in the wake of SZKG being in total control once more.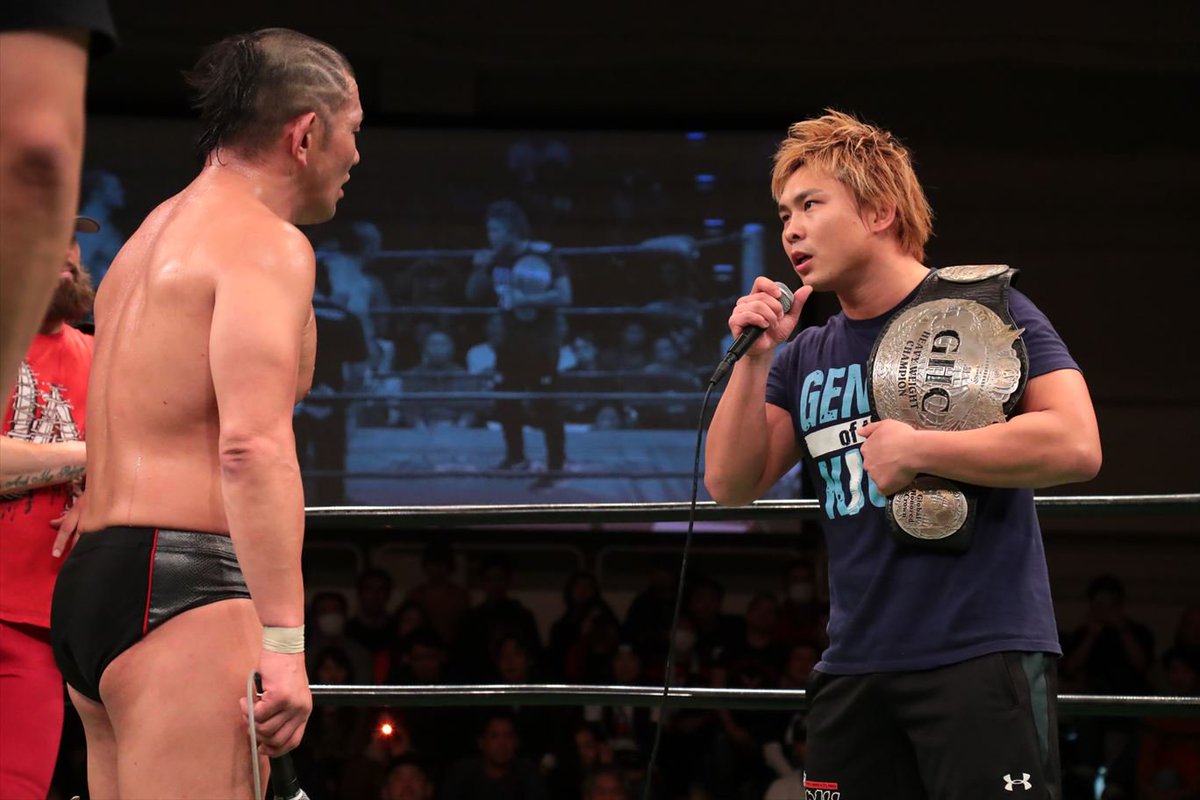 Previous League Results
~ GL Day 1 – 11/3 [RESULTS]
~ GL Day 2 – 11/4 [RESULTS]
~ GL Day 3 – 11/5 [RESULTS]
~ GL Day 4 – 11/8 [RESULTS]
~ GL Day 5 – 11/11 [RESULTS]
~ GL Day 6 – 11/12 [RESULTS]
~ GL Day 7 – 11/13 [RESULTS]
~ GL Day 8 – 11/14 [RESULTS]
~ GL Day 9 – 11/15 [RESULTS]
~ GL Day 10 – 11/17 [RESULTS]
~ GL Day 11 – 11/19 [RESULTS]
~ GL Day 12 – 11/22 [RESULTS]
~ GL Day 13 – 11/23 *Above