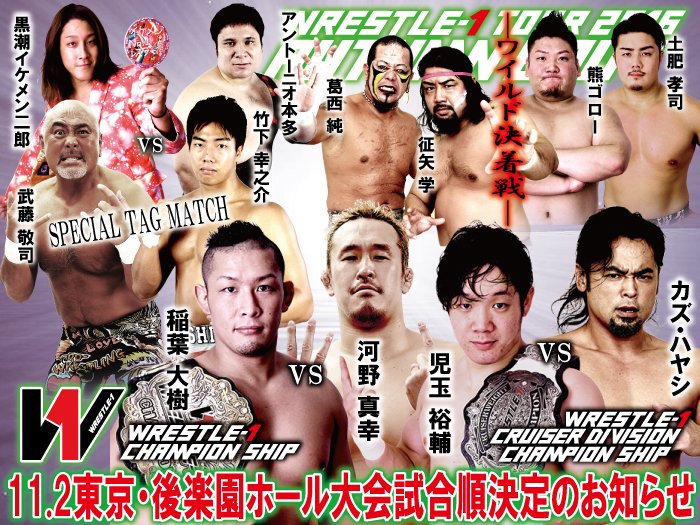 WRESTLE-1 TOUR AUTUMN BOUT, 11/2/2016 [Wed] 19:00 @ Korakuen Hall in Tokyo
(1) Jun Tonsho vs. Seigo Tachibana
◆Winner: Tonsho (4:59) with a Boston Crab.
(2) KAI, Hiroki Murase & Shota vs. Yuji Hino, MAZADA & "brother" YASSHI
◆Winner: MAZADA (10:05) following the Masada Driver on Shota.
(3) Shuji Kondo, Kotaro Suzuki & NOSAWA Rongai vs. Andy Wu, Seiki Yoshioka & Kohei Fujimura
◆Winner: NOSAWA (8:08) with an Ultra High School La Magistral on Fujimura.
(4) Manabu Soya & Jun Kasai [FREEDOMS] vs. Koji Doi & Kumagoro
◆Winner: Doi (12:35) following a Vertical Fall style Brainbuster on Soya.
~ Shotaro Ashino will be making his return at the 12/9 show at Korakuen Hall. He has been out of action since July after suffering severe ligimant damage to his right knee.
(5) Special Tag Match: Keiji Mutoh & Jiro "Ikemen" Kuroshio vs. Konosuke Takeshita & Antonio Honda (both DDT)
◆Winner: Mutoh (13:19) following a Shining Wizard on Honda.
~ It appears that Takeshita was not happy with the outcome against Mutoh as he looks to be wanting a singles match against the veteran in the future.
(6) WRESTLE-1 Cruiserweight Championship Match: [5th Champion] Yusuke Kodama vs. [Challenger] Kaz Hayashi
◆Winner: Kodama (14:31) following the Vertical Break.
~ 3rd successful title defense.
~ MAZADA came forward to be the next challenger for the belt.
(7) WRESTLE-1 Championship Match: [9th Champion] Daiki Inaba vs. [Challenger] Masayuki Kono
◆Winner: Kono (22:14) following a Giant Knee Drop.
~ Champion falls on his 2nd title defense. Kono becomes the 10th generation champion.
~ Mutoh came forward to greet the new champion which led to the crowd cheering for Mutoh to be the next challenger. Though Kuroshio came forward as he made it known that he wants to challenge for the belt. The champion scoffed off the request, but Kuroshio was adamant and stated that he wants the match for the 12/9 show at Korakuen.
http://puroresuspirit.net/tag/w-1/
Upcoming…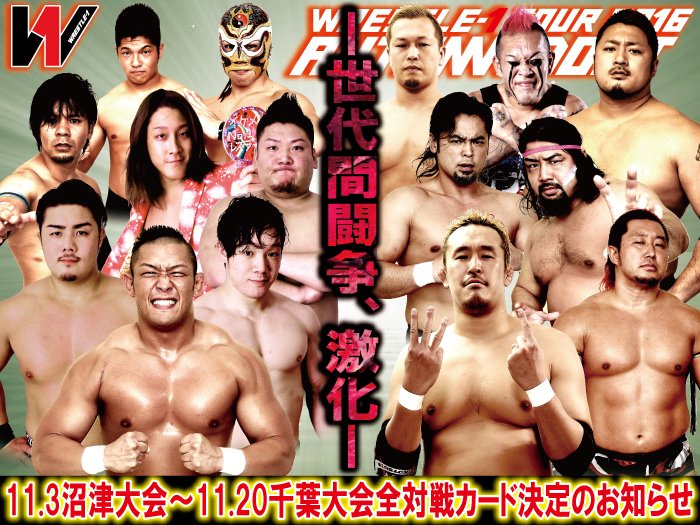 "WRESTLE-1 TOUR 2016 AUTUMN BOUT", 11/3/2016 [Thu] 17:00 @ Kira-Messe Numazu in Shizuoka
() Kotaro Suzuki vs. Seigo Tachibana
() Seiki Yoshioka vs. Yuji Hino
() Koji Doi & Jiro "Ikemen" Kuroshio vs. Masayuki Kono & Manabu Soya
() Yusuke Kodama, Andy Wu & Kohei Fujimura vs. Kaz Hayashi, Shuji Kondo & NOSAWA Rongai
() Daiki Inaba & Kumagoro vs. KAI & Hiroki Murase
"WRESTLE-1 TOUR 2016 AUTUMN BOUT", 11/5/2016 [Sat] 17:30 @ Yokohama Radiant Hall in Kanagawa
() Kohei Fujimura vs. Takanori Ito
() KAI & Hiroki Murase vs. Seigo Tachibana & Jun Tonsho
() Seiki Yoshioka & Kumagoro vs. Manabu Soya & Yuji Hino
() Andy Wu & Jiro "Ikemen" Kuroshio vs. Shuji Kondo & Kotaro Suzuki
() Daiki Inaba, Yusuke Kodama & Koji Doi vs. Masayuki Kono, Kaz Hayashi & NOSAWA Rongai
"WRESTLE-1 TOUR 2016 AUTUMN BOUT", 11/13/2016 [Sun] 16:30 @ Shinshu Sky Park in Nagano
() Hiroki Murase vs. Sho Shindo
() KAI vs. Kohei Fujimura
() Yusuke Kodama & Andy Wu vs. Kotaro Suzuki & NOSAWA Rongai
() Seiki Yoshioka &  vs. Jiro "Ikemen" Kuroshio vs. Kaz Hayashi & Yuji Hino
() Daiki Inaba, Koji Doi & Kumagoro vs. Masayuki Kono, Shuji Kondo & Manabu Soya
"WRESTLE-1 TOUR 2016 AUTUMN BOUT", 11/20/2016 [Sun] 12:30 @ Blue Field in Chiba
() KAI vs. Takanori Ito
() Kohei Fujimura vs. NOSAWA Rongai
() Yusuke Kodama vs. Hiroki Murase
() Daiki Inaba & Kumagoro vs. Manabu Soya & Shuji Kondo
() Elimination Match: Jiro "Ikemen" Kuroshio, Koji Doi, Andy Wu & Seiki Yoshioka vs. Masayuki Kono, Yuji Hino, Kaz Hayashi & Kotaro Suzuki