All Japan Pro Wrestling "Raising an Army Commemorative Series", 10/15/2016 [Sat] 18:00 @ Sanjo City Sakae Gymnasium in Niigata
820 Spectators (crowded)
~ Giant Baba was was honored with the title of honorary citizen for Sanjo City. The mayor of the city was present to give the award to Makoto Baba. Jun Akiyama was also present for the ceremony. Over 10,000 signatures were gathered which unanimously made him the candidate at the Sanjo City Council Meeting which was held on September 5.
(1) SUSHI & Big THE Ryokan [Niigata] vs. Ultimo Dragon [Toryumon MEXICO] & Koji Iwamoto [Sportiva]
◆Winner: Dragon (12:22) with a La Magistral on Ryokan.
(2) Yohei Nakajima vs. Ryoji Sai [LAND'S END]
◆Winner: Sai (9:31) following tha Yamaori.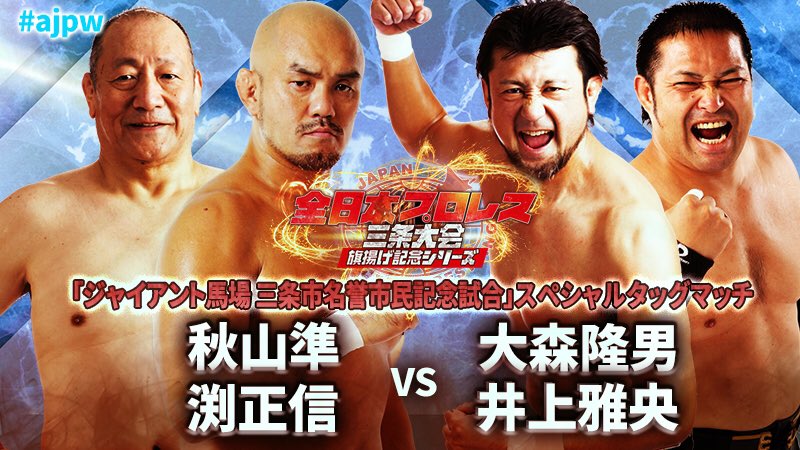 (3) Giant Baba Sanjo City Honoring Special Tag Match: Jun Akiyama & Masanobu Fuchi vs. Takao Omori & Masao Inoue [FREE]
◆Winner: Fuchi (11:34) with a Small Package on Inoue.
~ Fuchi with the win as he personally offered thanks the late Baba-san.
(4) Jake Lee, Naoya Nomura & Yuma Aoyagi vs. Mitsuya Nagai [DRADITION], Tatsuhito Takaiwa [FREE] & Takeshi Minamino [Toneri Family]
◆Winner: Nagai (11:08) with the ROD on Aoyagi.
~ DARK NIGHTMARE (DNM) with the win over the young generation. After the match Takaiwa and 5th gen. Black Tiger were formally added as members of the group.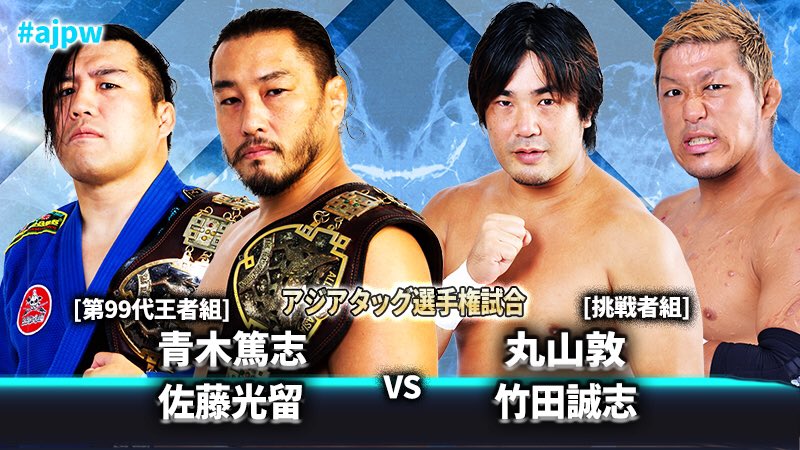 (5) Asia Tag Championship Match: [99th Champions] Atsushi Aoki & Hikaru Sato vs. [Challengers]  Atsushi Maruyama (FREE) & Masashi Takeda (U-FILE)
◆Winner: Aoki (15:46) witht he Trap Over on Maruyama.
~ 4th successful title defense.
~ The champions called out that they want to face the veteran team of Masanobu Fuchi and Atsushi Onita at the Ryogoku Show next month. Fuchi and Onita having teamed in recent special occasions and more specifically back in the early 1980's when they had acquired tag team titles.
~ Fuchi came out and accepted the honor to challenge.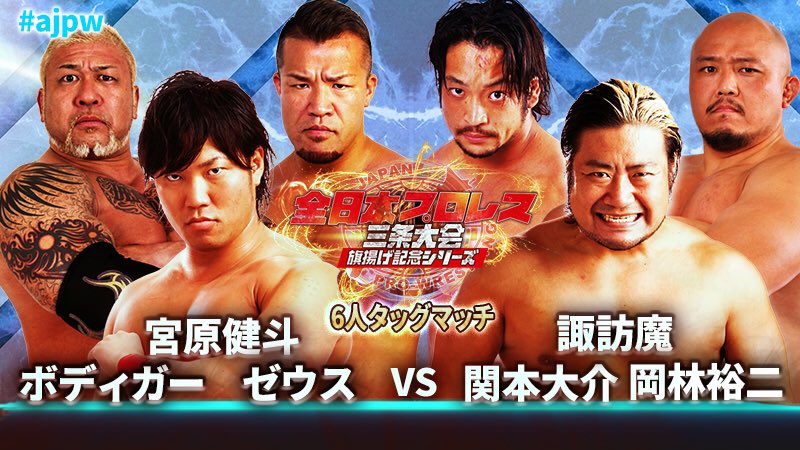 (6) Kento Miyahara, Zeus & The Bodyguard [FREE] vs. Suwama, Daisuke Sekimoto [BJW] & Yuji Okabayashi [BJW]
◆Winner: Suwama (22:24) following the Last Ride on Miyahara.
~ Suwama wins the double prelude match with yet another win over the Triple Crown champion. Suwama continues to show that he will reclaim his reign of the belt that he never directly lost.
http://puroresuspirit.net/2016/08/ajpw-event-cards-for-september-october-2016/