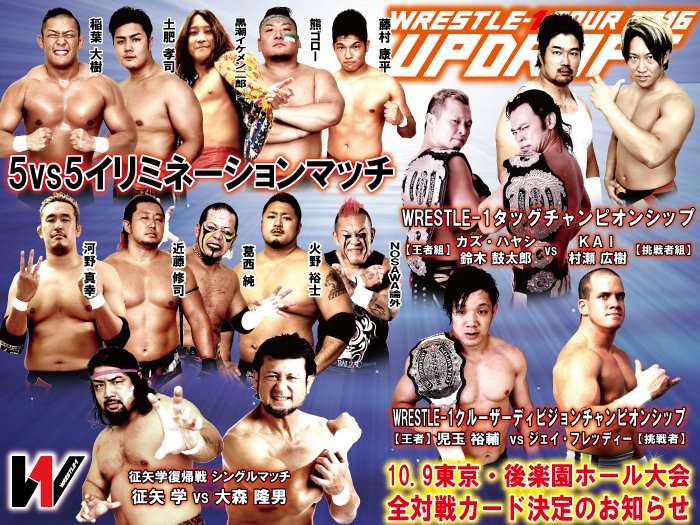 "WRESTLE-1 TOUR 2016 UPDRAFT", 10/9/2016 [Sun] 12:00 @ Korakuen Hall in Tokyo
912 Spectators
(1) Seigo Tachibana vs. Sho Shindo
◆Winner: Tachibana (7:27) with a Boston Crab.
(2) Reika Saiki vs. Kyoko Kimura
◆Winner: Kimura (8:02) following the Gory Crash.
~ Kyoko claiming a bit of revenge of Saiki defeating her daughter Hana match after match.
(3) Andy Wu & Seiki Yoshioka vs. MAZADA & Jun Tonsho
◆Winner: Seiki (10:33) following a Buzzsaw Kick.
(4) WRESTLE-1 Cruiserweight Championship Match: [5th Champion] Yusuke Kodama vs. [Challenger] Jay Freddie
◆Winner: Kodama (16:22) following the Cervical Break.
~ 2nd successful title defense.
~ Respect was shown between the champion and challenger after the match.
~ Hayashi challenged Kodama for the next title shot.
(5) Soya's Return Match: Manabu Soya vs. Takao Omori [AJPW]
◆Winner: Omori (13:16) following an Axe Bomber.
~ Omori stated that he would not be apposed to a "GET WILD" reunion.
(6) WRESTLE-1 Tag Championship Match: [Champions] Kaz Hayashi & Kotaro Suzuki vs. [Challengers] KAI & Hiroki Murase
◆Winner: Kotaro (18:16) with a Tiger Driver on Murase.
~ 1st successful title defense.
(7) 5 vs 5 Elimination Match: Daiki Inaba, Koji Doi, Jiro "Ikemen" Kuroshio, Kumagoro & Kohei Fujimura vs. Masayuki Kono, Shuji Kondo, Jun Kasai, Yuji Hino & NOSAWA Rongai
~ Fujimura eliminated NOSAWA (15:01) via pin-fall, following an accidental chair shot.
~ Kumagoro and Kasai (17:05) double ring out.
~ Kono eliminated Kuroshio (17:05) following a Chokeslam.
~ Inaba eliminated Kondo (26:12) with a Ground Gokusori Manjigatame.
~ Hino eliminted Fujimura (28:40) following the Fucking BOMB.
~ Kono eliminated Doi (32:08) with a Figure Four Leg Lock.
◆Winner: Hino (36:00) following the Fucking BOMB on Inaba.
~ Hino secures the win over the reigning W-1 Champion Inaba as he and Kono remain over the new generation.
~ Kono called out for the title challenge against Inaba on the 11/2 show at Korakuen.
~ A special tag match was announced for the 11/2 show though, as Mutoh and Kuroshio will be taking on DDT's Konosuke Takeshita and Antonio Honda.
~ Speaking of Kuroshio, he will be hosting his own self-produced show on 11/21 at the Shinkiba 1stRING.
http://puroresuspirit.net/tag/w-1/
Upcoming…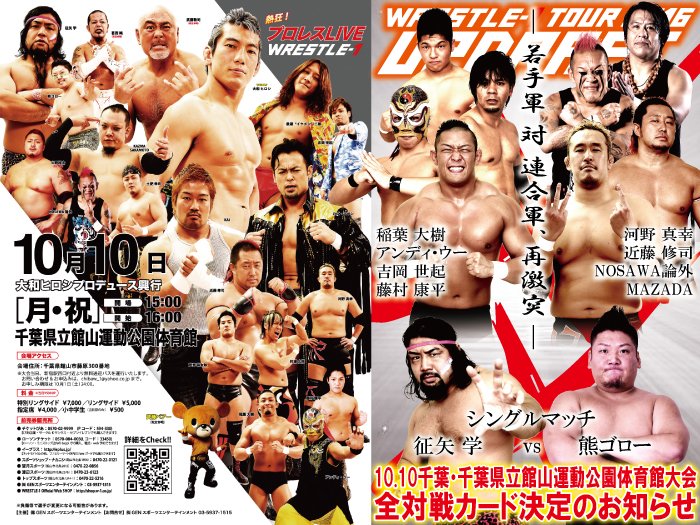 WRESTLE-1 TOUR 2016 UPDRAFT, 10/10/2016 [Mon] 16:00 @ Chiba Prefectural Tateyama Sports Park Gymnasium
() Koji Doi vs. Jay Freddie
() KAI & Hiroki Murase vs. Kotaro Suzuki & Sho Shindo
() Yusuke Kodama & Seigo Tachibana vs. Kaz Hayashi & Jun Tonsho
() Jiro "Ikemen" Kuroshio vs. Yuji Hino
() Manabu Soya vs. Kumagoro
() Daiki Inaba, Andy Wu, Seiki Yoshioka & Kohei Fujimura vs. Masayuki Kono, Shuji Kondo, NOSAWA Rongai & MAZADA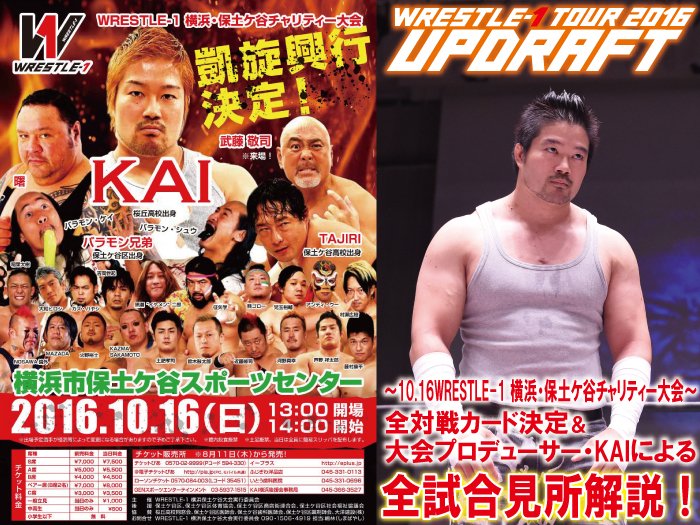 WRESTLE-1 TOUR 2016 UPDRAFT, 10/16/2016 [Sun] 14:00 @ Yokohama City Hodogaya Sports Center in Kanagawa
() Seiki Yoshioka vs. Kohei Fujimura
() Hiroki Murase & Masayuki Mitomi vs. Shuji Kondo & NOSAWA Rongai
() Jay Freddie vs. Shota vs. Amigo Suzuki
() Kaz Hayashi & Kotaro Suzuki [FREE] vs. Yusuke Kodama & Andy Wu
() Akebono [Oudou], Daiki Inaba & Kumagoro vs. Masayuki Kono, Yuji Hino & MAZADA
() TAJIRI [FREE] & Jiro "Ikemen" Kuroshio vs. Shu & Kei Brahman [both FREE]
() KAI & Koji Doi vs. Manabu Soya & Daisuke Sekimoto [BJW]
WRESTLE-1 TOUR AUTUMN BOUT, 11/2/2016 [Wed] 19:00 @ Korakuen Hall in Tokyo
() Special Tag Match: Keiji Mutoh & Jiro "Ikemen" Kuroshio vs. Konosuke Takeshita & Antonio Honda