All Japan Pro Wrestling, 9/25/2016 [Sun] 17:00 @ Yamada Green Dome Maebashi, Sub-Event Area in Gunma
(1) Takao Omori vs. Yuma Aoyagi
◆Winner: Omori (8:49) following an Axe Bomber.
(2) Naoya Nomura vs. Rikiya Fudo [LAND'S END]
◆Winner: Fudo (6:59) with a Reverse Splash.
(3) Jun Akiyama & SUSHI vs. Mitsuya Nagai & Takeshi Minamino
◆Winner: Nagai (16:04) following the ROD on SUSHI.
~ Nagai and Minamino stated that they aim to continue competing in All Japan as they dropped the name for their new group as "DARK NIGHTMARE", a play off the former group under KENSO in "DARK KINGDOM".
(4) GOARA TV Championship Match: [13th Champion] Yohei Nakajima vs. [Challenger] Masao Inoue
◆Winner: Yohei (16:01) with a Jacknife Hold.
~ 1st successful title defense.
(5) Kento Miyahara & Jake Lee vs. Zeus & The Bodyguard
◆Winner: Zeus (16:55) with a Jackhammer.
~ Lee seems to be having issues with both Aoyagi and Nomura in NEXTREAM as he suffered another loss. Frustrations are apparent as he appears to not not see his place in the group.
~ Though Aoyagi and Nomura appear to have found a common bond as they aim to beat the W-1 team on 10/9.
(6) Suwama, Atsushi Aoki & Hikaru Sato vs. Yutaka Yoshie [FREE], Ryoji Sai [LAND'S END] & Osamu Nishimura [FREE]
◆Winner: Yoshie (21:55) with a Diving Body Press on Aoki.
~ Aoki and Hikaru stated that they are eager for the upcoming "Junior Tag League", though Nagai and Minamino asserted themsevles as challengers for their Asia Tag belts.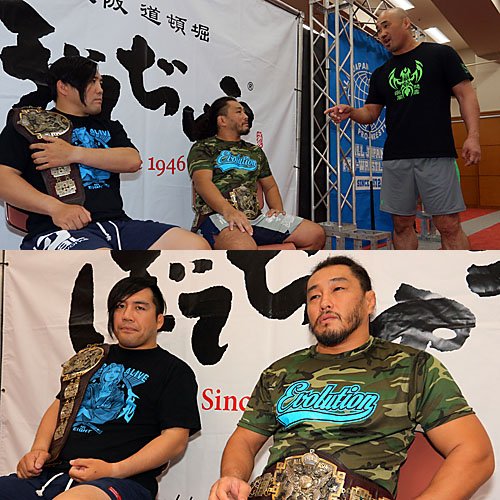 http://puroresuspirit.net/2016/08/ajpw-event-cards-for-september-october-2016/