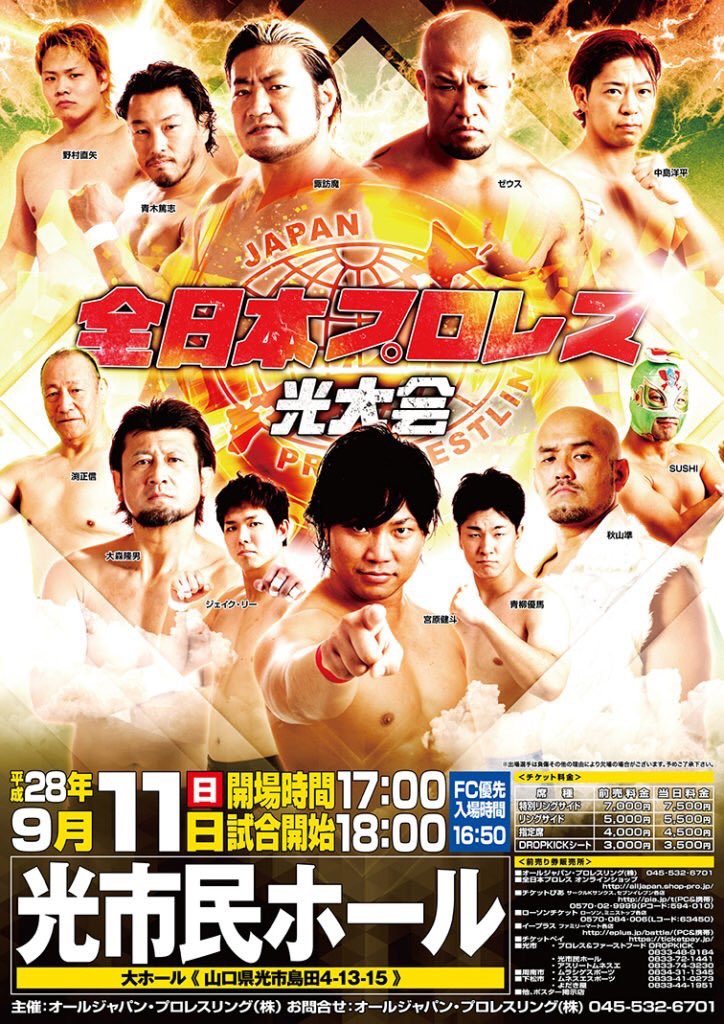 All Japan Pro Wrestling, 9/11/2016 [Mon] 18:00 @ Hikari Shimin Hall in Yamaguchi
(1) Takao Omori vs. Naoya Nomura
◆Winner: Omori (9:28) following an Axe Bomber.
(2) SUSHI vs. Sakigake [Dove]
◆Winner: Sakigake (9:35) via counter pin-fall from a TEKKAMAKI attempt.
(3) Atsushi Aoki, Hikaru Sato & Sakigake vs. Ultimo Dragon, Kuishinbo Kamen & Tsuchiya Crazy
◆Winner: Aoki (15:53) with a Texas Clover Hold on Tsuchiya.
(4) Kento Miyahara & Jake Lee vs. Yohei Nakajima & Yutaka Yoshie [FREE]
◆Winner: Miyahara (16:03) following the Blackout on Yohei.
~ Though in loss, Yohei declared that he needs to bring himself together to reclaim the GAORA belt on 9/19. As the rematch has been made official against Billyken Kid.
(5) Suwama vs. Rikiya Fudo [LAND'S END]
◆Winner: Suwama (10:52) with the Vice Sleeper.
~ Suwama gave a bit of praise to Takizawa, who he faces in the second round of the Oudou tournament, as he wants an exciting match from a fellow former Voodoo Murders member.
(6) Jun Akiyama & Yuma Aoyagi vs. Zeus & The Bodyguard
◆Winner: Zeus (19:11) with a Jackhammer on Aoyagi.
~ Zeus continues his win streak as he continues building towards the second round of the Oudou Tournament.
http://puroresuspirit.net/2016/08/ajpw-event-cards-for-september-october-2016/