DDT "Friendship, Effort, Victory in Nagaoya 2016", 5/15/2016 [Sun] 13:00 @ Nagoya International Conference Hall in Aichi
(1) Super Sasadango Machine & Saki Akai vs. 3rd generation Ultimo Robin & Daiki Shimatani
◆Winner: Sasadango (7:33) following the Vertical Fall style Collapse Lemon Shock on Shimatani.
(2) Toru Owashi & Kazuki Hirata vs. Antonio Honda & Hiroshi Fukuda vs. Masa Takanashi & Guanchulo
◆Winner: Guanchulo (8:05) with a School Boy on Hirata.
(3) KING OF DDT Trial Match: KENSO vs. Cherry
◆Winner: Cherry (7:48) with the Spring Night Love.
(4) Konosuke Takeshita & Tetsuya Endo vs. Yukio Sakaguchi & Kota Umeda
◆Winner: Takeshita (12:21) with a German Suplex Hold on Umeda.
(5) HARASHIMA & Mizuki Watase vs. Danshoku Dino & Makoto Oishi
◆Winner: Oishi (10:16) with the Jikiden Tornado Clutch on Watase.
~ Oishi and Dino made it known that they want a shot at the Asia Tag belts, which are held by Isami Kodaka and Yuko Miyamoto.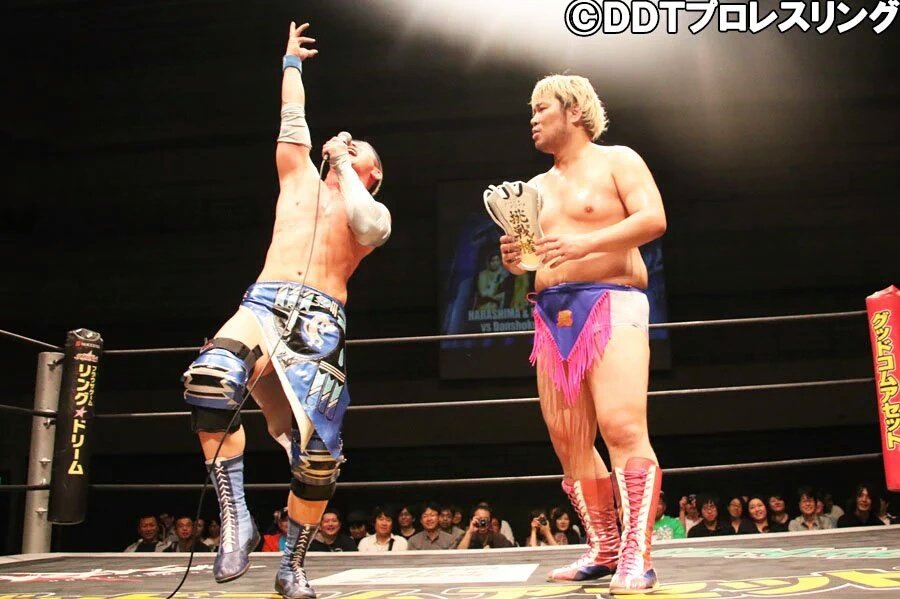 (6) KO-D 6 Tag Championship Match: [24th Champions] Kazusada Higuchi, Shunma Katsumata & Kouki Iwasaki vs. [Challengers] Keisuke Ishii, Shigehiro Irie & Soma Takao
◆Winner: Takao (15:09) with the Gin & Tonic on Iwasaki.
~ Champions fall on their 3rd title defense. Team Drift become the 25th generation champions.
~ HARASHIMA and his group, Smile Squash (Urano and Akito), were appointed as their first challengers. Looks to be on 5/29, which could be the "potential" final match of Team Drift if they do not win.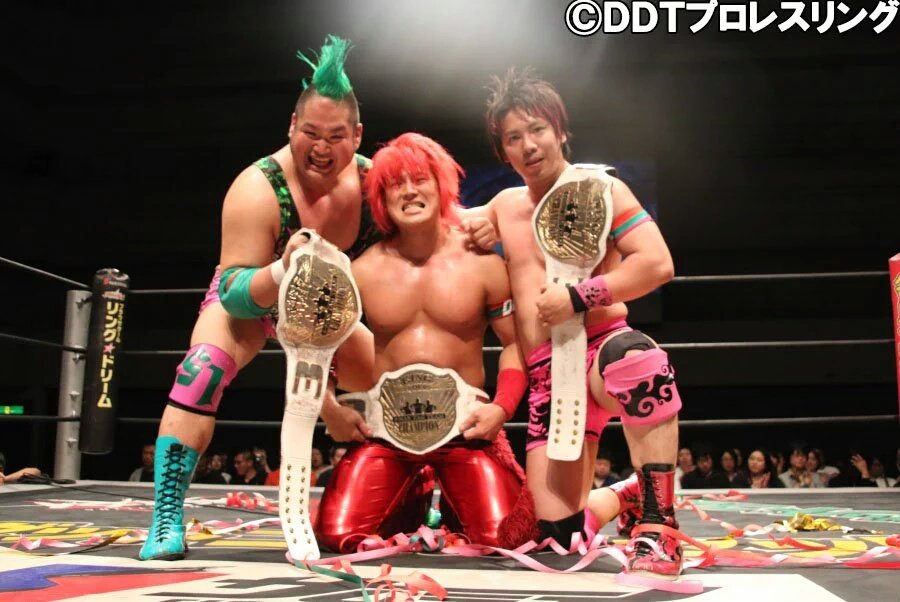 (7) KO-D Tag Championship Match: [54th Champions] Daisuke Sasaki & Shuji Ishikawa vs. [Challengers] Yasu Urano & Akito
◆Winner: Daisuke (26:34) with the Vietnam Driver II on Urano.
~ 3rd successful title defense.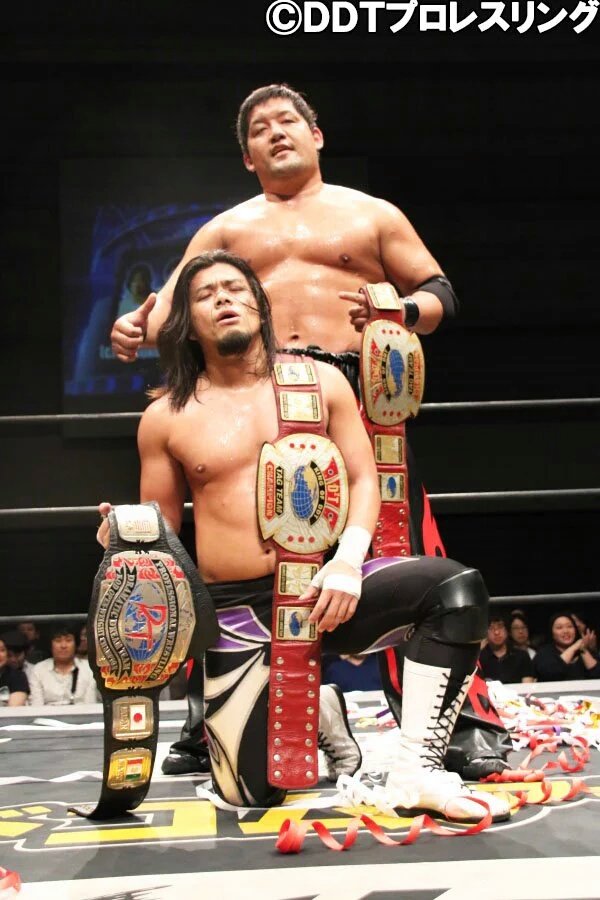 http://puroresuspirit.net/tag/ddt/
Upcoming…
DDT Pro-Wrestling "Dramatic Dreams! Vol.3", 5/22/2016 [Sun] @ Osaka City Yodogawa Ward Community Center
() Special Single Match: Danshoku Dino vs. Magnitude Kishiwada
(-) Reunion Special Single Match: Yasu Urano vs. Antonio Honda – Special rereree: Dick Togo
(-) Special Tag Match: Kazuki Hirata & Kuishinbo Kamen vs. Hiroshi Fukuda & Kikutaro
(-) Sanshiro Takagi, Jinsei Shinzaki [MichiPro] & Toru Owashi vs. Shigehiro Irie, Kazusada Higuchi & Super Sasadango Machine
(-) Special Single Match: Konosuke Takeshita vs. ZERO [FREE]
~ Also announced to be competing…
Shuji Ishikawa, Kengo Takai, Gurukun Mask, and Shoichi Uchida
DDT "Audience 2016", 5/29/2016 [Sun] 12:00 @ Korakuen Hall in Tokyo
(-) KENSO KING OF DDT 2016 Assessment Match: KENSO vs. (tba)
(-) KO-D 6 Tag Championship Match: [24th Champions] Kazusada Higuchi, Shunma Katsumata & Kouki Iwasaki vs. [Challengers] Keisuke Ishii, Shigehiro Irie & Soma Takao
~ 3rd title defense.
(-) DDT EXTREME Championship Match: [Champion] Super Sasadango Machine vs. [Challenger] LiLiCo
(-) KO-D Openweight Championship Match: [Champion] Daisuke Sasaki vs. [Challenger] Konosuke Takeshita