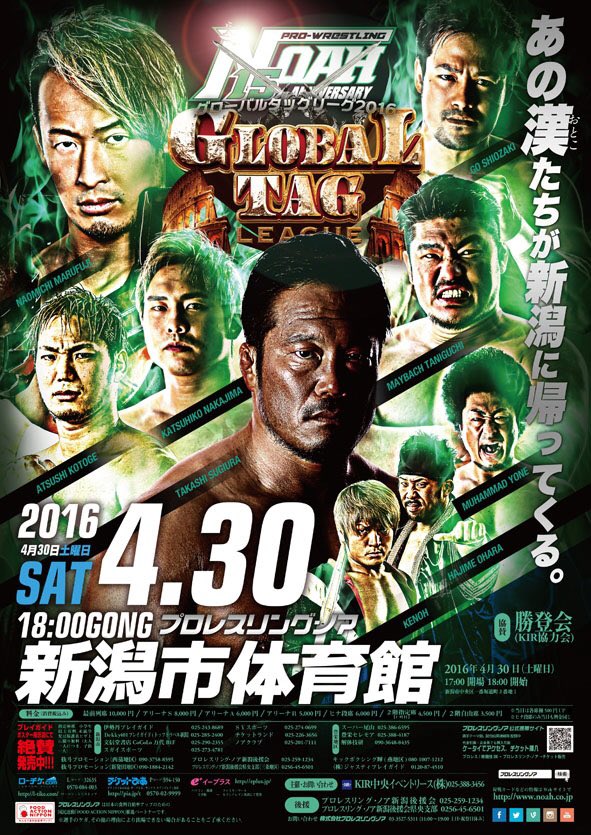 NOAH "Global Tag League War 2016", 4/30/2016 [Sat] 18:00 @ Niigata City Gymnasium
(1) Hitoshi Kumano vs. Shiro Tomoyose
◆Winner: Kumano (6:17) with a Boston Crab.
(2) Taiji Ishimori & Yoshinari Ogawa & Kaito Kiyomiya vs. Akitoshi Saito, Genba Hirayanagi & Captain NOAH
◆Winner: Saito (10:26) following an Iron Claw Selam on Kiyomiya.
(3) GHC Junior Prelude: Yoshinobu Kanemaru & Taichi vs. Hajime Ohara & Kenoh
◆Winner: Ohara (10:15) with the Muy Bien Clutch on Kanemaru.
~ Ohara with a direct win over the champion Kanemaru.
(4) GHC Junior Tag Championship Match: [27th Champions] Daisuke Harada & Atsushi Kotoge vs. [Challengers] TAKA Michinoku & El Desperado
◆Winner: Kotoge (14:04) following a Kill Switch on TAKA.
~ 1st successful title defense.
~ TAKA & Despe suffer yet another loss against the now champion team as they have run out of chances for belts.
~ The champions accepted that they will take on KenOhara in a rematch, potentially at the big show at the end of May.
(5) Global Tag League War Match: Minoru Suzuki & Takashi Iizuka vs. Muhammad Yone & Quiet Storm
◆Winner: Storm (14:08) following the 50cm Arm Lariat on Iizuka.
~ Yone/Storm [2 wins, 4 losses = 4 points]
~ Suzuki/Iizuka [3 wins, 3 losses = 6 points]
~ Storm showing that his team is not completely down and out as they show one last spurt and keep Suzuki's team from claiming a top spot.
(6) Global Tag League War Match: Katsuhiko Nakajima & Masa Kitamiya vs. Hiroyoshi Tenzan & Satoshi Kojima
◆Winner: Nakajima (14:22) following the Vertical Spike on Kojima.
~ Nakajima/Kitamiya [3 wins, 3 losses = 6 points]
~ Kojima/Tenzan [3 wins, 3 losses = 6 points]
~ Nakajima with a strong win as he manages to keep his team alive in the league.
(7) Global Tag League War Match: Lance Archer & Davey Boy Smith Jr. vs. Go Shiozaki & Maybach Taniguchi
◆Winner: Archer (14:10) following the Killer Bomb on Taniguchi.
~ Archer/Smith [4 wins, 2 losses = 8 points]
~ Shiozaki/Taniguchi [3 wins, 3 losses = 6 points]
~ K.E.S. remain dominant as they take out the "fan-favorite" team to win. The reigning GHC champions claim the top spot in the league in the process. 
(8) Global Tag League War Match: Takashi Sugiura & Shelton X Benjamin vs. Naomichi Marufuji & Toru Yano
◆Winner: Marufuji (13:10) following a Ko-oh on Benjamin.
~ Maru/Yano [3 wins, 3 losses = 6 points]
~ Sugi/Benjamin [3 wins, 3 losses = 6 points]
~ With the win, now a major balancing act is taking place as for who could be the second team to make it to the final match.
CURRENT STANDINGS
~ Archer/Smith [4 wins, 2 losses = 8 points]
~ Suzuki/Iizuka [3 wins, 3 losses = 6 points]
~ Shiozaki/Taniguchi [3 wins, 3 losses = 6 points]
~ Maru/Yano [3 wins, 3 losses = 6 points]
~ Sugi/Benjamin [3 wins, 3 losses = 6 points]
~ Nakajima/Kitamiya [3 wins, 3 losses = 6 points]
~ Kojima/Tenzan [3 wins, 3 losses = 6 points]
~ Yone/Storm [2 wins, 4 losses = 4 points]
http://puroresuspirit.net/2016/02/noah-event-cards-for-march-april-2015-2/
PREVIOUS DAY RESULTS
~ Day 1 (4/21) [RESULTS]
~ Day 2 (4/23) [RESULTS]
~ Day 3 (4/24) [RESULTS]
~ Day 4 (4/25) [RESULTS]
~ Day 5 (4/26) [RESULTS]
~ Day 6 (4/29) [RESULTS]
~ Day 7 (4/30) ~ ABOVE
~ Day 8 (5/3)
~ Final Day (5/4)