K-DOJO "GWSP6 ~ Sekitoba DAY", 4/29/2016 [Fri] 13:00 @ Blue Field in Chiba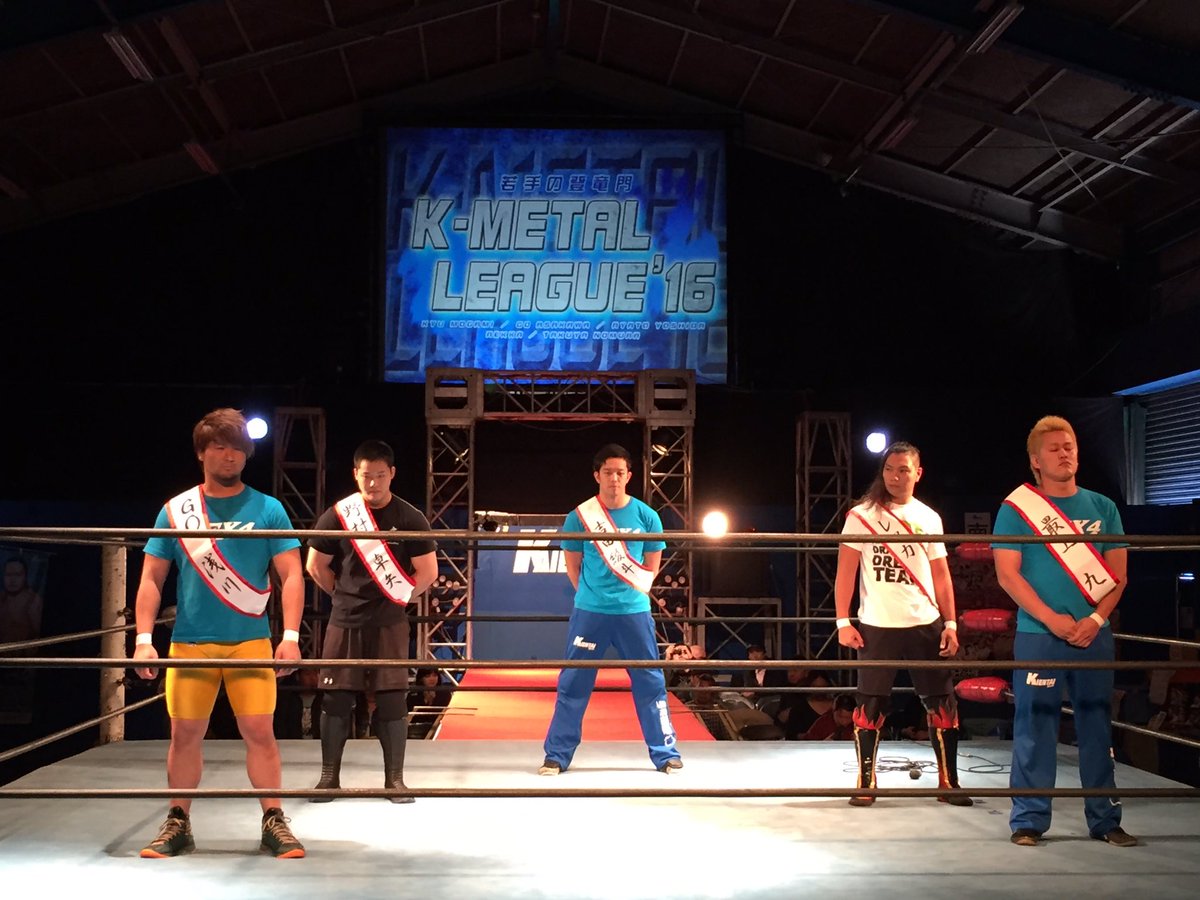 (1) K-METAL LEAGUE 2016 Official Match: Ayato Yoshida vs. Takuya Nomura [BJW]
◆Winner: Yoshida (8:47) following a Backdrop.
~ Yoshida [1 win = 2 points]
~ Takuya [1 loss = 0 points]
~ Yoshida declared that he will remain undefeated and win the K-METAL League.
(2) K-METAL LEAGUE 2016 Official Match: GO Asakawa vs. Rekka [DNA]
◆Winner: Rekka (7:26) following a Vertical Drop style Brainbuster.
~ Rekka [1 win = 2 points]
~ Asakawa [1 loss = 0 points]
(3) Saburo Inematsu & Daigoro Kashiwa vs. Marines Mask & Tearan Seaser
◆Winner: Inematsu (10:18) following a Death Valley Bomb on Seaser.
(4) GW Special! Single Match Trial: Kengo Mashimo vs. Yoshihiro Horaguchi
◆Winner: Mashimo (15:48) with the Mudo.
(5) 3WAY Match: Tank Nagai vs. Kotaro Yoshino vs. Kaji Tomato
◆Winner: Yoshino (8:17) with an Air Scissors Drop on Kaji.
~ Yoshino with the win in prelude to the upcoming ST-K Tag defense and ST-K singles challenge.
(6) Hiro Tonai vs. Taishi Takizawa
◆Winner: Takizawa (23:55) following a Modified Wrist Clutch style Takabisha.
~ Tonai competed in his last singles match as a full-time member of K-DOJO. Respect was shown between the two as Takizawa was brought to tears as his friend for the last 10 years is moving forward in a new journey as a professional wrestler.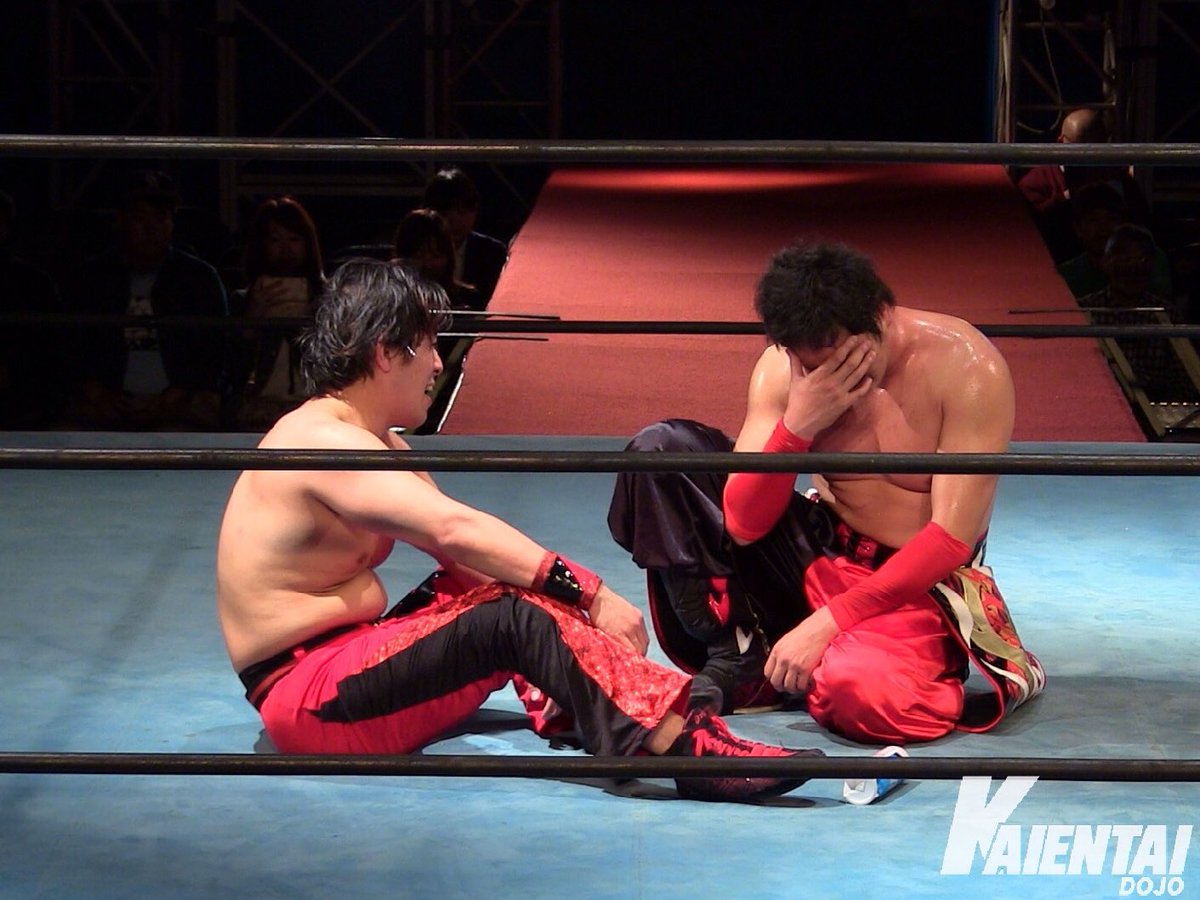 ~ Yoshino called out for one more match with Tonai apart of Sekitoba in which a special tag match was then set in place.
(7) Special 8 Man Tag Match: Hiro Tonai, Taishi Takizawa, Kotaro Yoshino & Yoshihiro Horaguchi vs. Kaji Tomato, Daigoro Kashiwa, Ayumu Honda & Kyu Mogami
◆Winner: Tonai (14:14) with an Armbar on Mogami.
http://puroresuspirit.net/tag/k-dojo/
Upcoming…
K-DOJO "GWSP6 ~ NEX4 DAY", 4/30/2016 [Sat] 18:30 @ Blue Field in Chiba 
() K-METAL LEAGUE 2016 Official Match: Rekka vs. Takuya Nomura
() K-METAL LEAGUE 2016 Official Match: Ayato Yoshida vs. Kyu Mogami
() K-METAL LEAGUE Past Winners 6 Man Tag Match: Kunio Toshima, Shiori Asahi, Taishi Takizawa, Kotaro Nasu, Tank Nagai, Kotaro Yoshino
() GW Special! Single Match Trial: Bambi vs. Yoshihiro Horaguchi
() Ayumu Honda & Tearan Seaser vs. Kengo Mashimo & Yuma
() GO Asakawa vs. Keisuke Ishii [DDT]
K-DOJO "GWSP6 ~ Bozz Rengo DAY", 5/1/2016 [Sun] 13:00 @ Blue Field in Chiba 
() K-METAL LEAGUE 2016 Official Match: Kyu Mogami vs. Rekka
() K-METAL LEAGUE 2016 Official Match: GO Asakawa vs. Takuya Nomura
()  GW Special! Single Match Trial: Tank Nagai vs. Yoshihiro Horaguchi
() Kengo Mashimo vs. Tearan Seaser
() Ryuichi Sekine [BASARA] & Kotaro Nasu [FREE] vs. Ayumu Honda & Ayato Yoshida
() WEW Hardcore Tag Championship 5WAY Match: [Champions] Kunio Toshima & Yuma vs. [Challengers] Saburo Inematsu & Daigoro Kashiwa vs. Taishi Takizawa & Kotaro Yoshino vs. Kaji Tomato & Shiori Asahi vs. TAKA Michinoku & Ricky Fuji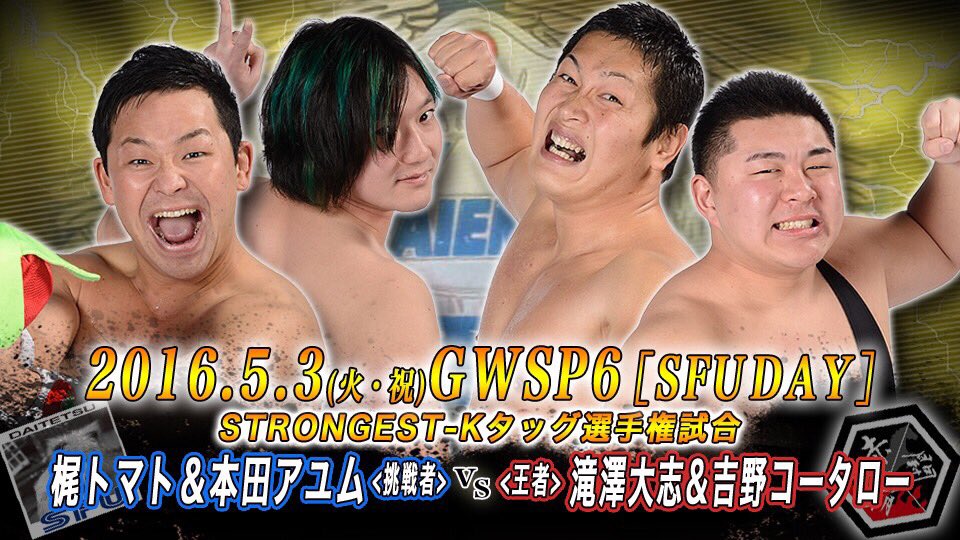 K-DOJO "GWSP6 ~ SFU DAY", 5/3/2016 [Tue] 13:00 @ Blue Field in Chiba 
() K-METAL LEAGUE 2016 Official Match: Ayato Yoshida vs. Rekka
() K-METAL LEAGUE 2016 Official Match: Kyu Mogami vs. GO Asakawa
() GW Special! Single Match Trial: Shiori Asahi vs. Yoshihiro Horaguchi
() Bambi vs. Syuri [FREE]
() Saburo Inematsu, Ricky Fuji & TAKA Michinoku vs. Tank Nagai, Kengo Mashimo & Yuma
() STRONGEST-K TAG Championship Match: [Champions] Taishi Takizawa & Kotaro Yoshino vs. [Challengers] Kaji Tomato & Ayumu Honda
K-DOJO "GWSP6 ~ TEAM69ROLL DAY", 5/4/2016 [Wed] 13:00 @ Blue Field in Chiba 
() K-METAL LEAGUE 2016 Official Match: Kyu Mogami vs. Takuya Nomura
() K-METAL LEAGUE 2016 Official Match: Ayato Yoshida vs. GO Asakawa
() GW Special! Single Match Trial: Saburo Inematsu vs. Yoshihiro Horaguchi
() Kaji Tomato, Shiori Asahi & Ayumu Honda vs. Hi69, MIKAMI & Masamune [all FREE]
() Ricky Fuji & MEN'S Teioh vs. Kengo Mashimo & Yuma
() TAKA Michinoku vs. Rekka [DNA]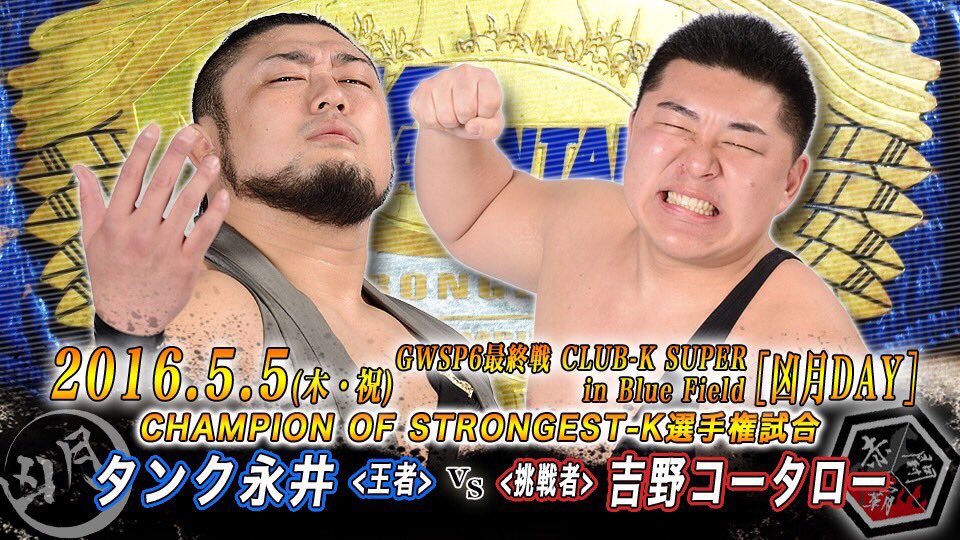 K-DOJO "GWSP6 ~ Magatsuki DAY", 5/5/2016 [Thu] 13:00 @ Blue Field in Chiba 
() SFU Showdown: Kaji Tomato & Ayumu Honda vs. Shiori Asahi & Bambi [loser will suffer a punishment set by Magatsuki]
() Bozz Rengo Showdown: Saburo Inematsu vs. Daigoro Kashiwa [loser will suffer a punishment set by Magatsuki]
() GW Special! Single Match Trial: Taishi Takizawa vs. Yoshihiro Horaguchi
() TAKA Michinoku, Ricky Fuji & Hi69 vs. (K-METAL League Non-Final Qualifiers)
() Magatsuki Showdown: Kengo Mashimo & Kunio Toshima vs. Yuki Sato & Yuma
() K-METAL LEAGUE 2016 Official Final Match: #1 vs. #2
() CHAMPION OF STRONGEST-K Championship Match: [Champion] Tank Nagai vs. [Challenger] Kotaro Yoshino