—————————————————————————————————————————————————————-
◆BASARA NEWS◆ [4/14 RESULTS]
~ Isami announced that the "頂天(Itadaki-ten)~Itadaki~" league will be taking place throughout the month of May and June. There will be two blocks with 5 men competing in each block. The league will take place from 5/1 in Itabashi with the finl match st for 6/23 at Shinjuku FACE. They details are as follows…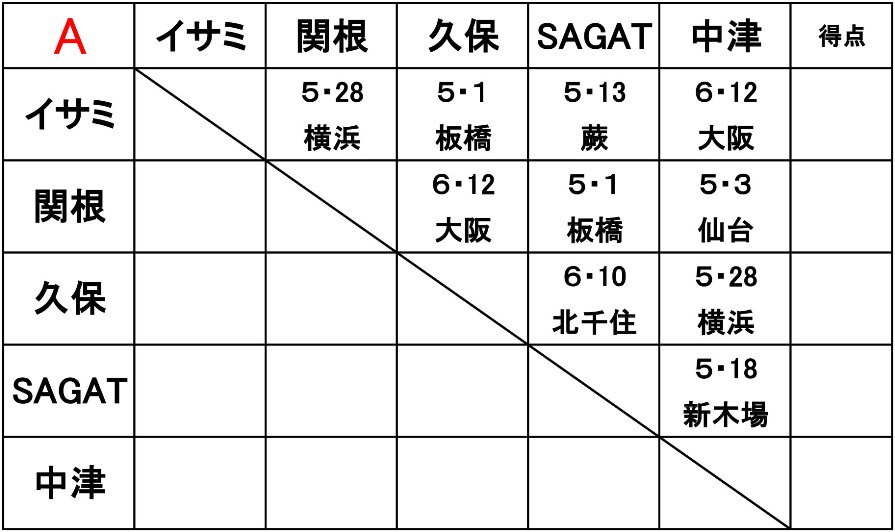 Isami Kodaka
Ryuichi Sekine
Yusuke Kubo
SAGAT
Ryota Nakatsu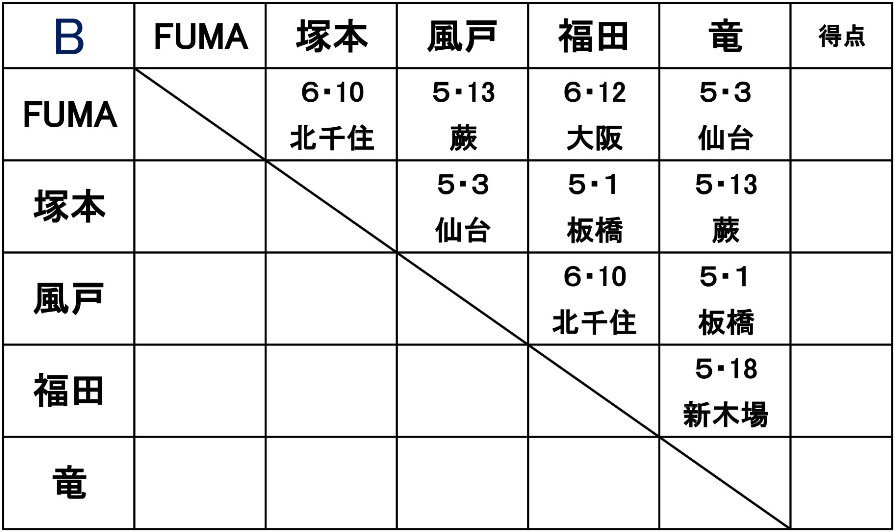 FUMA
Takumi Tsukamoto
Daichi Kazato
Hiroshi Fukuda
Goma Ryu
BARARA, 5/1/2016 [Sun] 17:30 @ Itabashi Green Hall in Tokyo
() Itadaki A BLOCK League Match: Isami Kodaka vs. Yusuke Kubo
() Itadaki A BLOCK League Match: Ryuichi Sekine vs. SAGAT
() Itadaki B BLOCK League Match: Takumi Tsukomoto vs. Hiroshi Fukuda
() Itadaki B BLOCK League Match: Daichi Kazato vs. Goma Ryu
BARARA, 5/3/2016 [Tue] 13:00 @ Yume Messe Miyagi, West Building Hall
() Itadaki A BLOCK League Match: Ryuichi Sekine vs. Ryota Nakatsu
() Itadaki A BLOCK League Match: Takumi Tsukamoto vs. Daichi Kazato
() Itadaki B BLOCK League Match: FUMA vs. Goma Ryu
BARARA, 5/13/2016 [Fri] 19:00 @ Warabi Wrestle Butokan in Saitama
() Itadaki A BLOCK League Match: Isami Kodaka vs. SAGAT
() Itadaki B BLOCK League Match: FUMA vs. Daichi Kazato
() Itadaki B BLOCK League Match: Takumi Tsukamoto vs. Goma Ryu
BARARA/Sakaba Pro-Wrestling "Night of Drunkers", 5/18/2016 [Wed] 19:30 @ Shinkiba 1stRING in Tokyo
() Itadaki A BLOCK League Match: SAGAT vs. Ryota Nakatsu
() Itadaki B BLOCK League Match: Hiroshi Fukuda vs. Goma Ryu
BARARA, 5/28/2016 [Sat] 17:30 @ Yokohama Radiant Hall in Kanagawa
() Itadaki A BLOCK League Match: Isami Kodaka vs. Ryuichi Sekine
() Itadaki A BLOCK League Match: Yusuke Kubo vs. Ryota Nakatsu
BARARA, 6/10/2016 [Fri] 19:00 @ Kita-Senju Theater 1010 in Tokyo
() Itadaki A BLOCK League Match: Yusuke Kubo vs. SAGAT
() Itadaki B BLOCK League Match: FUMA vs. Takumi Tsukamoto
() Itadaki B BLOCK League Match: Hiroshi Fukuda vs. Daichi Kazato
BARARA, 6/12/2016 [Sun] 13:00 @ Osaka City Hirano Kumin Hall
() Itadaki A BLOCK League Match: Isami Kodaka vs. Ryota Nakatsu
() Itadaki A BLOCK League Match: Ryuichi Sekine vs. Yusuke Kubo
() Itadaki B BLOCK League Match: FUMA vs. Hiroshi Fukuda
BARARA, 6/23/2016 [Thu] 19:00 @ Shinjuku FACE in Tokyo
() Itadaki League FINAL Match: [A BLOCK #1] vs. [B BLOCK #2]
—————————————————————————————————————————————————————-
◆BJW NEWS◆ [4/14 RESULTS]
~ BJW announced the full event card for the upcoming show on 4/29. The event will see the Asia Tag belts in defense as Miyamoto and Kodaka defend against two former Asia Tag Champions in Great Kojika and Daisuke Sekimoto. Kojika last held the belt back in 1979 in which he held the belt for a total of 5 times between 1973 and 1979.
~ Jun Akiyama will also be competing on the show as he will be teaming with Daichi Hashimoto as they take on Yuji Okabayashi and Yoshihisa Uto.
BJW, 4/29/2016 [Fri] 18:30 @ Korakuen Hall in Tokyo
(1) Tatsuhiko Yoshino & Toshiyuki Sakuda vs. Kazumi Kikuta & Kohei Fujimura
(2) Kankuro Hoshino, Saburo Inematsu & Ryuichi Sekine vs. Shu Brahman, Kei Brahman & Takayuki Ueki
(3) Deathmatch: Ryuji Ito, Abdullah Kobayashi & Jaki Numazawa vs. Masaya Takahashi, Masashi Takeda & Takumi Tsukamoto
(4) Ryota Hama, Hideyoshi Kamitani & Atsushi Maruyama vs. Shuji Ishikawa, Hideki Suzuki & Shinobu
(5) Yuji Okabayashi & Yoshihisa Uto vs. Jun Akiyama & Daichi Hashimoto
(6) Asia Tag Championship Match: [98th Champions] Yuko Miyamoto & Isami Kodaka vs. [Challengers] Great Kojika & Daisuke Sekimoto
~ 5th title defense.
~ Then it was formally announced that Yuji Okabayashi will be defending the World Strong belt against the "Ikkitosen ~strong climb~" winner Shuji Ishikawa on 5/5 in Yokohama. This match joins the previously announced Deathmatch title defense.
BJW "ENDLESS SURVIVOR", 5/5/2016 [Thu] 15:00 @ Yokohama Cultural Gymnasium
(-) BJW World Strong Heavyweight Championship Match: [7th Champion] Yuji Okabayashi vs. [Challenger] Shuji Ishikawa
~ 3rd title defense.
(-) BJW Deathmatch Heavyweight Championship Match: [32nd Champion] Ryuji Ito vs. [Challenger] Masaya Takahashi
~ 5th title defense.
http://puroresuspirit.net/tag/bjw/
—————————————————————————————————————————————————————-
If you enjoy these posts feel free to check out the Patreon to help support the further growth of the website. At least $1 a month will help cover the server costs and future plans to build a better site. This in term is aimed to help you all in return to keep up with numerous promotions throughout Japan. Thank you for helping keep the spirit alive.