—————————————————————————————————————————————————————-
◆BJW◆
~ It was announced that Kohei Sato will miss the 4/3 show in Sendai due to a medial collateral ligament (MCL) injury. Kohei was originally scheduled to compete against Daichi Hashimoto in the official "Ikkitosen" league match, but Daichi will automatically gain 2 points due to Kohei's absence. Daichi now sits at 2 wins, 1 bye, and 2 losses = 6 points.
~ No word on what shows Kohei will miss, but it might very well be possible that he will miss all upcoming scheduled matches. This could include the IC Tag title defense in ZERO1 as well.
~ Masato Tanaka will be competing on the show with Kohei's absence.
BJW, 4/3/2016 [Sun] 18:00 @ Sendai Rensa
(1) Brahman Partner Assessment Match: Takayuki Ueki vs. Toshiyuki Sakuda
(2) Barbed-wire Board 10 Man Tag Match: Ryuji Ito, Abdullah Kobayashi, Jaki Numazawa, Kankuro Hoshino & Takumi Tsukamoto vs. Masaya Takahashi, Yuko Miyamoto, Isami Kodaka, Masashi Takeda & Masato Inaba
(3) B BLOCK Match: Ryota Hama vs. Yoshihisa Uto
(4) B BLOCK Match: Shuji Ishikawa vs. Shinobu
(5) SOS vs Brahman Special 6 Man Tag Match: Yuji Okabayashi, Tsutomu Osugi & Hercules Senga vs. Daisuke Sekimoto, Shu & Kei Brahman
(6) Hideyoshi Kamitani, Daichi Hashimoto & Kazumi Kikuta vs. Masato Tanaka [ZERO1], GAINA [FREE] & Hideki Suzuki [FREE]
(7) A BLOCK Match: Seiya Sanada vs. Atsushi Maruyama
http://puroresuspirit.net/2016/02/bjw-ikkitosen-strong-climb-2016-info-event-cards-listing/
~ It was also announced that Isami Kodaka and Yuko Miyamoto will be defending the Asia Tag belts against the team of Atsushi Maruyama and Masashi Takeda on 4/11 in Sapporo.
BJW "Tokyo Dome Hotel Sapporo Present's ~The Dream Match ~ Hanami 3 Days ~ First Day", 4/11/2016 [Mon] 18:30 @ Tokyo Dome Hotel Sapporo, B2F Pia Bridge Hall
(-) Ryota Hama [W-1] & Hideyoshi Kamitani vs. Yuji Okabayashi & Yasufumi Nakanoue [W-1]
(-) Asia Tag Championship Match: [98th Champions] Isami Kodaka & Yuko Miyamoto vs. [Challengers] Atsushi Maruyama & Masashi Takeda
~ 4th title defense.
~ Then the full event card was released for the 4/23 show in Osaka. An update to the card is that Sanada will miss the show, but Minoru Tanaka will be completing in his place.
BJW "BJ-STYLE #6", 4/23/2016 [Sat] 17:00 @ Osaka City Nishi Ward Community Center
Newly announced…
(-) Yuji Okabayashi & Atsushi Maruyama [FREE] vs. Minoru Tanaka [W-1] & Daichi Hashimoto
Previously announced…
(-) Toshiyuki Sakuda & Takuya Nomura vs. Yuichi Taniguchi & (to be announced)
(-) Dainihon vs Doutonbori? Osaka Battle in April 8 Man Tag Match: Kankuro Hoshino, Masato Inaba, Tsutomu Osugi & Kazumi Kikuta vs. HUB, Billyken Kid, Orochi & Takaku Fuke
(-) Barbed-wire Board Tag Match: Jaki Numazawa & Masashi Takeda vs. Masaya Takahashi & Ryuichi Sekine
(-) Takumi Tsukamoto vs. Kazuaki Mihara [Doutonbori]
(-) Bring Your Own Weapon's 6 Man Tag Death Match: Ryuji Ito, Yuko Miyamoto & Isami Kodaka vs. Abdullah Kobayashi, Shu & Kei Brahman
(-) Ryota Hama & Yoshihisa Uto vs. Shinobu & Takayuki Ueki
http://puroresuspirit.net/tag/bjw/
—————————————————————————————————————————————————————-
◆DDT◆ [4/2 RESULTS]
~ Morohashi announced that he will resigned from DDT as of the end of March, though that he will continue competing as freelance wrestler in the future. This followed a win over Hoshitango which saw the former sumo crowned the new King of Dark Champion.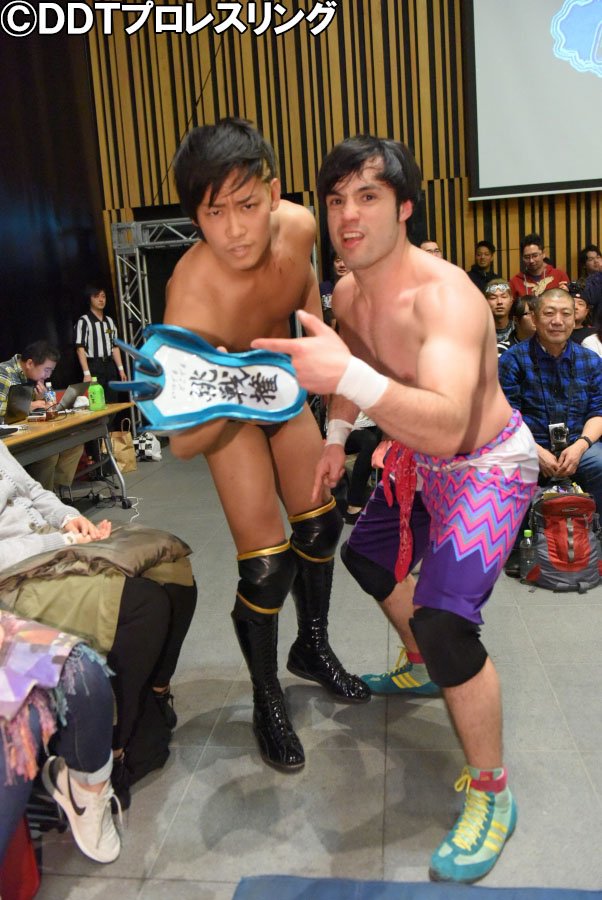 ~ Mizuki Watase also captured Akai's rights to challenge anytime, anywhere.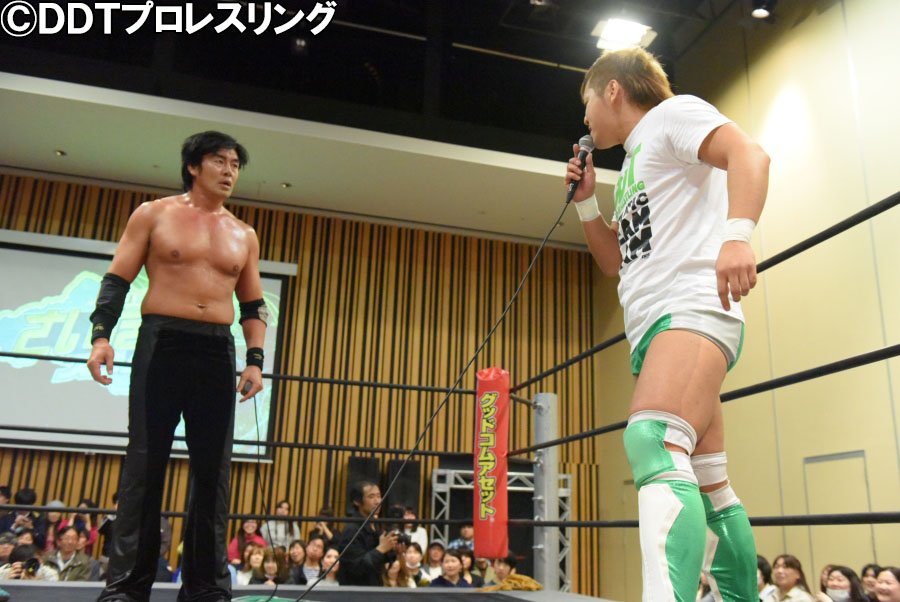 ~ Issues have apparently been lit between KENSO and the DNA talent, as Kouki Iwasaki looked to set forth a challenge against the veteran.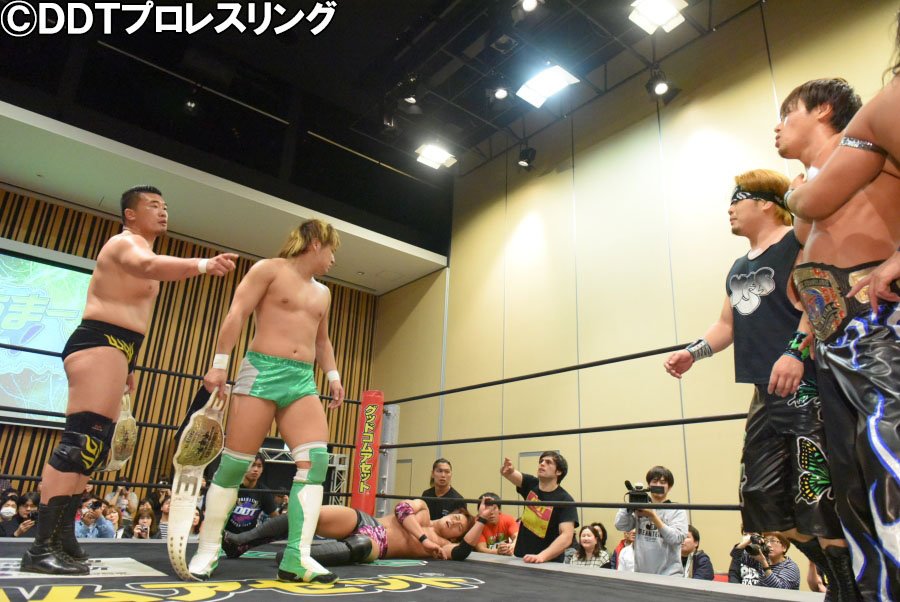 ~ HARASHIMA, Akito, and Urano called out for a shot at the KO-D 6 Tag belts, the DNA Champions agreed to the challenge. The match was then set for 4/17 in .
DDT "Road To Ryogoku 2016 in NAGAOKA ~ Dramatic Dreatm Tochi-Omatsuri", 4/17/2016 [Sun] 14:00 @ Aore Nagaoka in Niigata
(-) Danshoku Dino & Makoto Oishi vs. Yukio Sakaguchi & Masa Takanashi
(-) Super Sasadango Machine vs. Hiroshi Fukuda
(-) KO-D 6 Man Tag Championship Match: [Champions] Kazusada Higuchi, Shunma Katsumata & Kouki Iwasaki vs. [Challengers] HARASHIMA, Akito & Yasu Urano
http://puroresuspirit.net/tag/ddt/
—————————————————————————————————————————————————————-
◆NJPW◆ [4/2 RESULTS]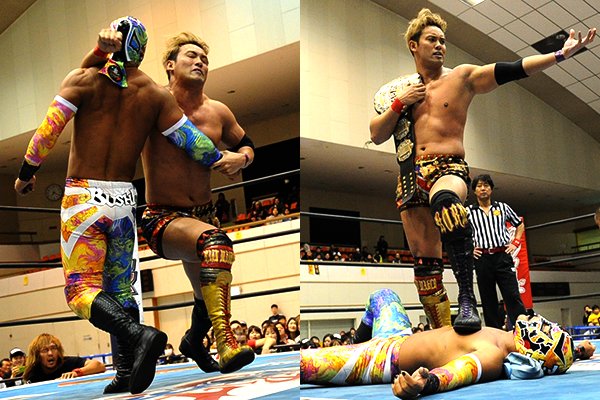 ~ Okada claimed a win for CHAOS as he took out BUSHI in the main event.
~ After the repeated assaults from Naito to Gedo this tour, Gedo finally got on the mic and said "there is no way out you asshole". As he tried to solidify the position that Okada will leave "INVASION ATTACK" with yet another win over Naito.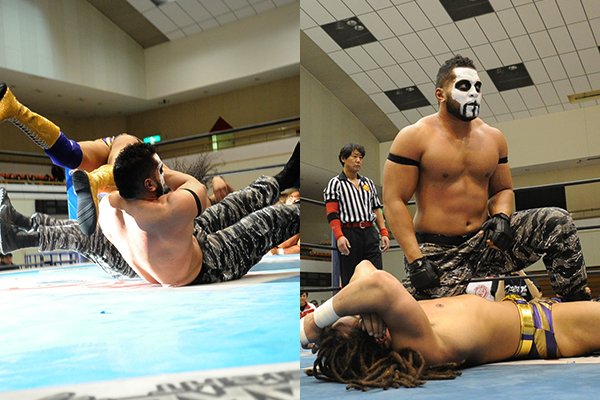 ~ Tonga and Loa continue to remain as a strong cohesive team head into the IWGP Tag challenge.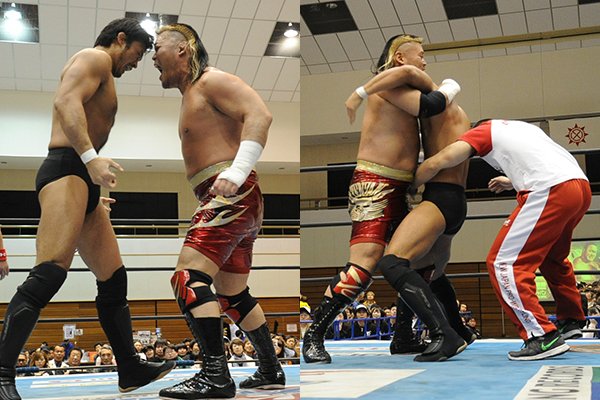 ~ The on-going battle between Shibata and Tenzan continued to remain heated as the two head into the title match at INVASION ATTACK.
http://puroresuspirit.net/2016/02/njpw-event-cards-for-march-april-2015-2/
—————————————————————————————————————————————————————-
◆MISC◆
~ FTO : Black Tiger & Azure Dragon defeated KAZE & Agu to become the new Kyushu Tag Champions.
~ Ibushi Pro-Wrestling Kenkujo : Ibushi made an appearance at ringside at the NXT special last night in Austin, TX. He also competed for Kaiju Big Battle then EVOLVE today as well.
Ibushi has been heavily rumored to be WWE bound following the news that he would not be signing with DDT nor NJPW. His appearances on the NXT show almost guarantee that he is in talks for their upcoming "Cruiserweight Tournament" in July. [BushidoRX]
—————————————————————————————————————————————————————-
◆JOSHI◆
~ Tokyo Joshi : Ai Shimizu took part in her graduation match from Tokyo Joshi.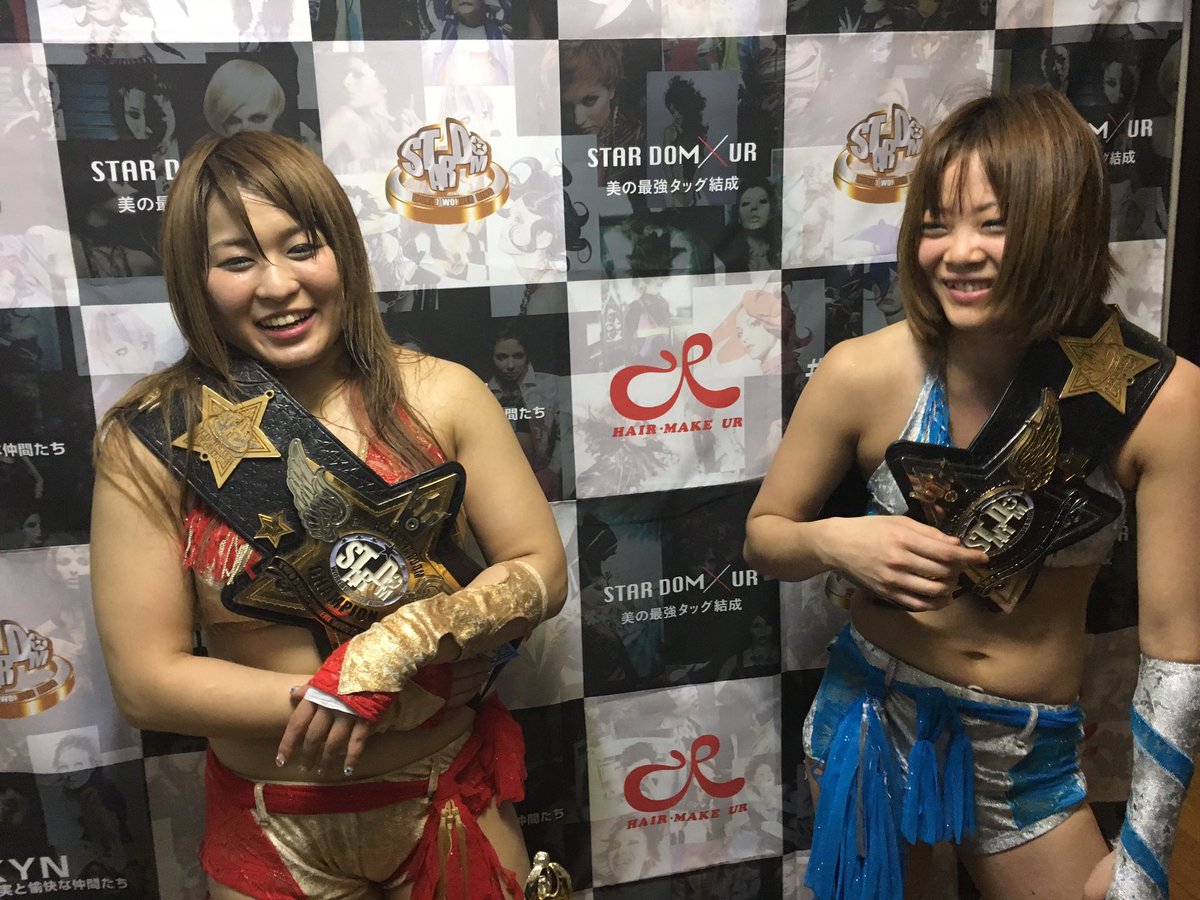 ~ Stardom : Io Shirai & Mayu Iwatani retained the Goddess of Stardom Tag belts over Hiroyo Matsumo & Kagetsu today in Osaka. Iwatani (15:58) with a Dragon Suplex Hold on Kagetsu. 10th successful title defense.
—————————————————————————————————————————————————————-
If you enjoy these posts feel free to check out the Patreon to help support the further growth of the website. At least $1 a month will help cover the server costs and future plans to build a better site. This in term is aimed to help you all in return to keep up with numerous promotions throughout Japan. Thank you for helping keep the spirit alive.