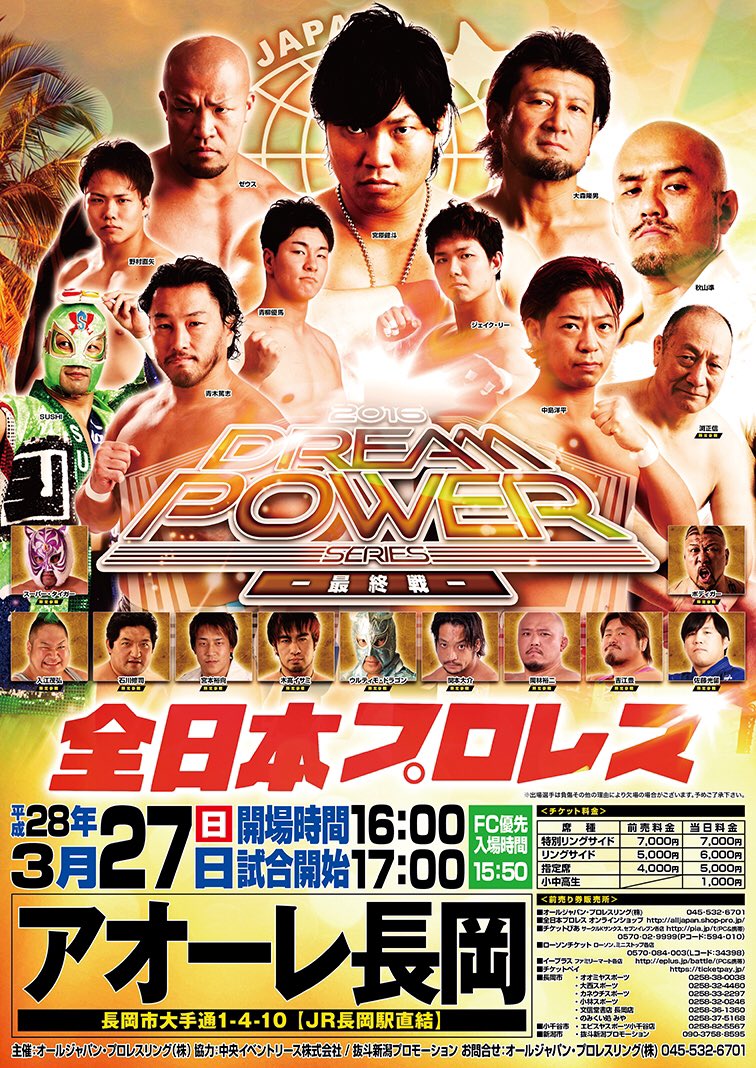 All Japan Pro Wrestling "2016 DREAM POWER SERIES", 3/27/2016 [Sun] 17:00 @ Aore Nagaoka in Niigata
(1) SUSHI vs. Hikaru Sato [Pancrase MISSION]
◆Winner: Hikaru (10:56) following a Backdrop.
(2) Masanobu Fuchi vs. Masao Inoue [FREE]
◆Winner: Inoue (12:23) with a Small Package.
(3) Yohei Nakajima & Ryuji Hijikata [FREE] vs. Shigeno Shima & Big THE Ryokan [both Niigata]
◆Winner: Yohei (11:48) following a Ganmengeri to Ryokan.
(4) Yuma Aoyagi vs. Ultimo Dragon [Toryumon MEXICO]
◆Winner: Dragon (9:10) with a La Magistral.
(5) Jun Akiyama & Super Tiger [RJPW] vs. Atsushi Aoki & Naoya Nomura
◆Winner:  (12:23) with a Backdrop Hold on Nomura.
~ Akiyama, much like Omori, made it known that he aims for a Triple Crown match in the near future and looking at the CC as his platform to do so.
(6) Before the 2016 Champion Carnival Special Tag Match: Kento Miyahara & Jake Lee vs. Takao Omori & Yutaka Yoshie [FREE]
◆Winner: Yoshie (13:45) with a Diving Body Press on Lee.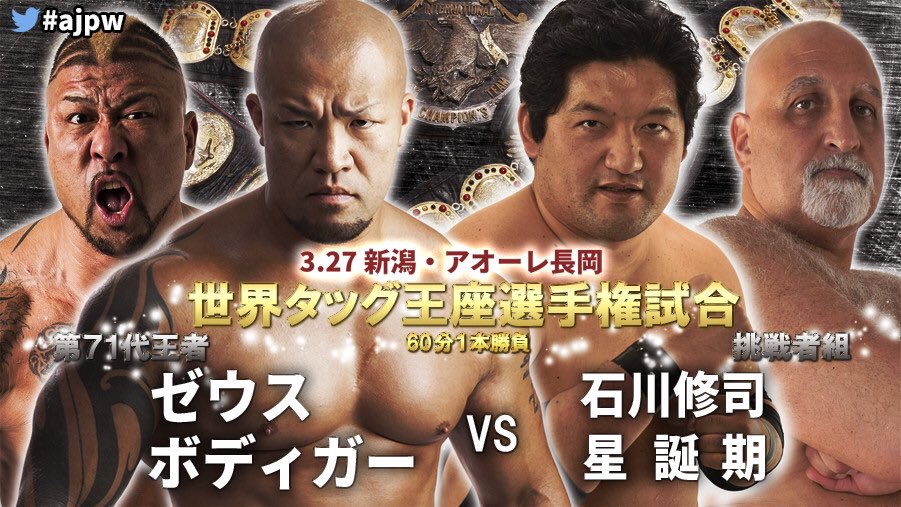 (7) World Tag Team Championship Match: [71st Champions] Zeus & The Bodyguard vs. [Challengers] Shuji Ishikawa & Hoshitango (both FREE)
◆Winner: Bodyguard (16:52) over Hoshitango.
~ 2nd successful title defense.
~ The champions claim a revenge win following a previous loss against the challengers.
http://puroresuspirit.net/2016/02/ajpw-event-cards-for-march-april-2016/