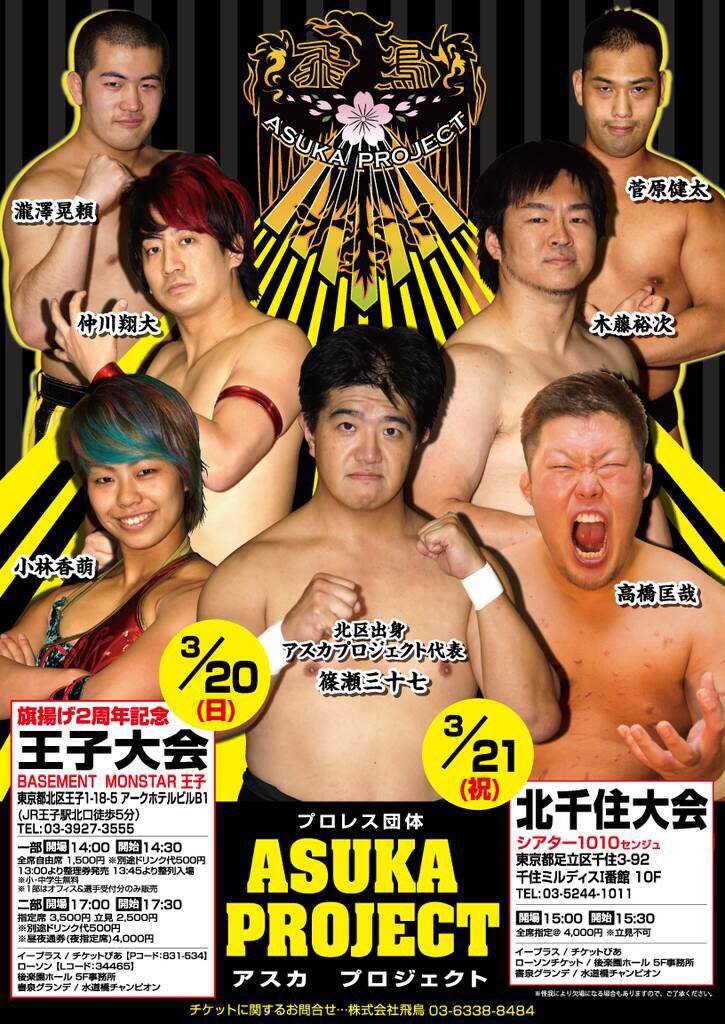 ASUKA PROJECT, 3/21/2016 [Mon] 15:30 @ Theater 1010 in Tokyo
(1) Akiyori Takizawa vs. Kyu Mogami [K-DOJO]
◆Winner: Mogami (8:07) with a Fishmern Suplex.
(2) Shinose Mitoshichi & Yuji Kito vs. Kaji Tomato & Ayumu Honda
◆Winner: Mitoshichi (12:57) following the Bazooka Elbow on Honda.
(3) Kenta Sugawara vs. Tank Nagai [K-DOJO]
◆Winner: Tank (11:01) following a Spear.
(4) Kaho Kobayashi, Wolf Tomoya & Shin Suzuki vs. Hayate, Nobutaka Moribe & Tetsuya Nakazato
◆Winner: Nakazato (13:17) with a Diving Body Press on Shin.
(5) Masaya Takahashi & Shota Nakagawa vs. Hiro Tonai & Yoshihiro Horaguchi [both K-DOJO]
◆Winner: Masaya (15:12) with a Jackhammer on Horaguchi.