"WRESTLE-1 TOUR 2016 TRANS MAGIC", 3/20/2016 [Sun] 12:30 @ Blue Field in Chiba
(1) Kohei Fujimura's Debut Match: Kumagoro vs. Kohei Fujimura
◆Winner: Kumagoro (7:32) following a Diving Senton.
(2) Ryota Hama & Masayuki Mitomi [FREE] vs. Jiro "Ikemen" Kuroshio & Stevie Fierce
◆Winner: Fierce (8:49) following a Kill Switch on Mitomi.
(3) Yasufumi Nakanoue & Seiki Yoshioka vs. NOSAWA Rongai & Koji Doi
◆Winner: Nakanoue (10:23) following a Diving Elbow Drop on Doi.
(4) Andy Wu & Daiki Inaba vs. Kotaro Suzuki and Keiichi Sato [both FREE]
◆Winner: Kotaro (10:34) following a Blue Destiny on Inaba.
(5) KAI, Kaz Hayashi & Minoru Tanaka vs. Masayuki Kono, Hiroki Murase & Shotaro Ashino
◆Winner: KAI (11:37) with a Small Package Hold on Kono.
~ KAI stated his intentions on being back in the W-1 title picture following today's win.
~ "brother" YASSHI appeared as he made it known that he wishes to join "TriggeR".
(6) Manabu Soya & AKIRA vs. Yuji Hino & KAZMA SAKAMOTO
◆Winner: Hino (16:34) with the Fucking BOMB on AKIRA.
~ Injury update: AKIRA suffered a confirmed concussion during the main event match. AKIRA will be held off of from competing for the time being. Tomorrow's event card has been changed to reflect his absence.
http://puroresuspirit.net/tag/w-1/
Upcoming…
"WRESTLE-1 TOUR 2016 TRANS MAGIC", 3/21/2016 [Mon] 17:00 @ Yamagata Big Wing
(1) Shotaro Ashino vs. Kohei Fujimura
(2) Ryota Hama vs. Andy Wu vs. Stevie Fierce
(3) Yasufumi Nakanoue vs. Daiki Inaba
(4) Masayuki Kono & Hiroki Murase vs. KAI & Masayuki Mitomi
(5) Jiro "Ikemen" Kuroshio & Seiki Yoshioka vs. Kotaro Suzuki & Keiichi Sato
(6) Manabu Soya, Kaz Hayashi, Minoru Tanaka & Kumagoro vs. Yuji Hino, KAZMA SAKAMOTO, NOSAWA Rongai & Koji Doi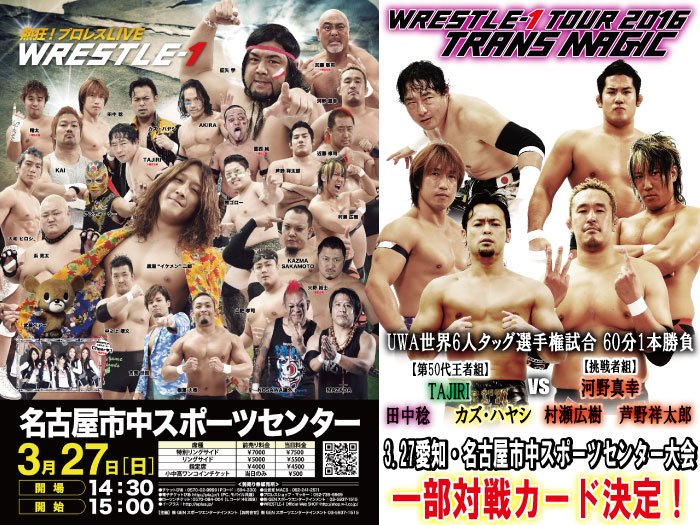 "WRESTLE-1 TOUR 2016 TRANS MAGIC", 3/27/2016 [Sun] 15:00 @ Nagoya City Naka Sports Center in Aichi
(-) UWA World 6 Man Tag Championship Match: [50th Champions] Kaz Hayashi, Minoru Tanaka & TAJIRI vs. [Challenger] Masayuki Kono, Hiroki Murase & Shotaro Ashino