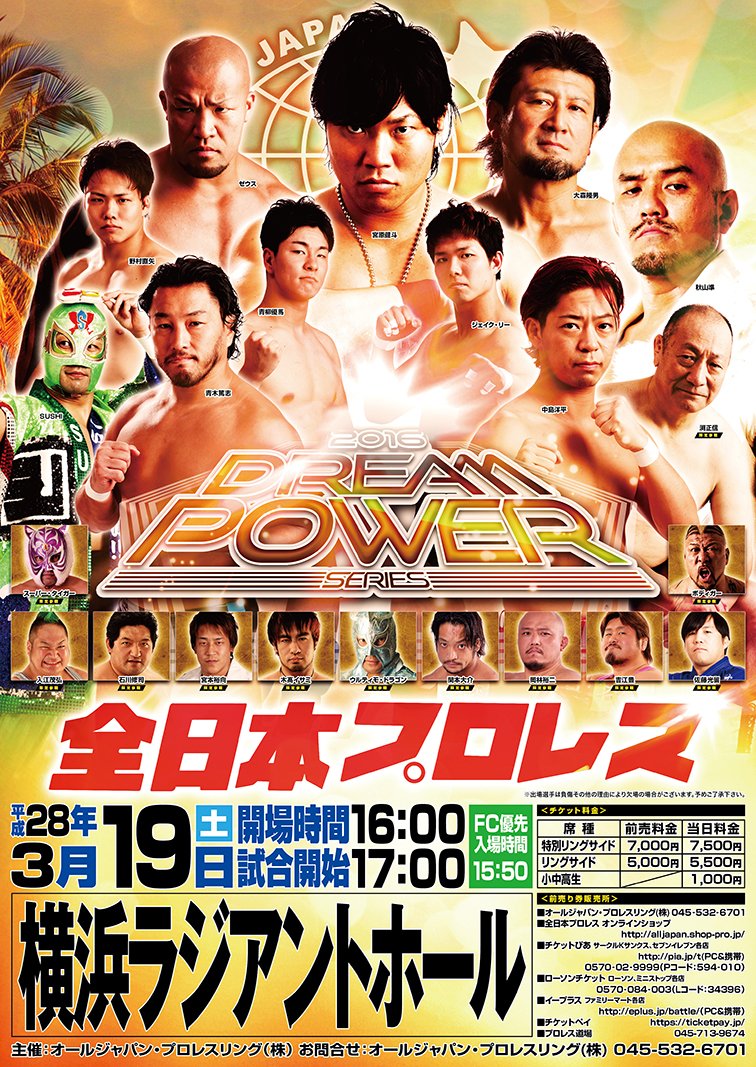 All Japan Pro Wrestling "2016 DREAM POWER SERIES", 3/19/2016 [Sat] 17:00 @ Yokohama Radiant Hall in Kanagawa
(1) Yohei Nakajima vs. Tatsuhiko Yoshino [GUTS]
◆Winner: Yohei (8:11) following the Tobiushiro.
~ Yoshino with a strong effort, but suffered the loss to the GAORA champion. Yoshino hinted at the possibility that he would like to compete in All Japan again.
(2) SUSHI & Kotaro Nasu [FREE] vs. Shigehiro Irie & Keisuke Ishii [both DDT]
◆Winner: Irie (10:27) with the Beast Splash on SUSHI.
(3) Masanobu Fuchi & Gabai Jichan [FREE] vs. Antonio Honda [FREE] & SUSHI☆Kuzou
◆Winner: Fuchi (13:37) following a Backdrop on Kuzou.
~ Gabai received a strong reaction for his first ever appearance in All Japan.
(4) Atsushi Aoki & Hikaru Sato vs. Takafumi Ito [PancraseISM] & Dan Theodore
◆Winner: Aoki (11:01) with a Chicken-wing Armlock on Theodore.
~ Ito called out Aoki for a singles match.
(5) Zeus & Yuma Aoyagi vs. Shuji Ishikawa & Hoshitango [both FREE]
◆Winner: Ishikawa (13:17) following the Giant Driver on Aoyagi.
~ Ishikawa & Hoshitango claim the early win over the Tag Champions team.
(6) Before the 2016 Champion Carnival Special Single Match: Naoya Nomura vs. Yutaka Yoshie [FREE]
◆Winner: Yoshie (10:37) with a Diving Body Press.
(7) Triple Crown Heavyweight Prelude Tag Match: Kento Miyahara & Jake Lee vs. Takao Omori & Jun Akiyama
◆Winner: Omori (20:17) following a Sliding Axe Bomber on Miyahara.
~ Omori claims the win over the TC champion before the title challenge on 3/21 in Okinawa.
http://puroresuspirit.net/2016/02/ajpw-event-cards-for-march-april-2016/