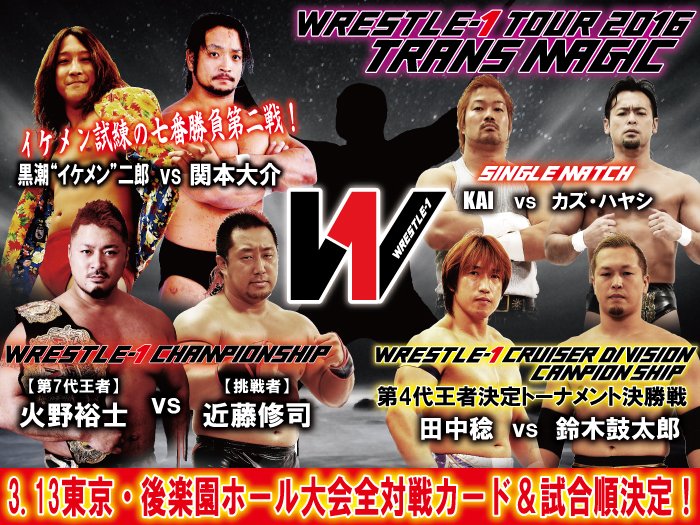 WRESTLE-1 TOUR 2016 TRANS MAGIC, 3/13/2016 [Sun] 12:00 @ Korakuen Hall in Tokyo
1,212 Spectators
(1) Jackets vs REAL DESPERADO: Yasufumi Nakanoue & Seiki Yoshioka vs. KAZMA SAKAMOTO & Koji Doi
◆Winner: Nakanoue (7:46) following a Diving Elbow Drop on Doi.
(2) Masayuki Kono, Hiroki Murase & Shotaro Ashino vs. Andy Wu, Stevie Fierce & Masayuki Mitomi [FREE]
◆Winner: Ashino (3:02) with an Ankle Hold on Mitomi.
(3) Ikemen Single Match Series – 2nd Round: Jiro "Ikemen" Kuroshio vs. Daisuke Sekimoto [BJW]
◆Winner: Sekimoto (11:33) with a Boston Crab.
~ Sanshiro Takagi accepted the next mach against Kuroshio.
(4) Special 6 Man Tag Match: Ultimo Dragon [Toryumon], TAJIRI & Daiki Inaba vs. Seiya Sanada [S.P.E], NOSAWA Rongai & MAZADA
◆Winner: TAJIRI (9:14) following a Buzzsaw Kick on NOSAWA.
(5) KAI vs. Kaz Hayashi
◆Winner: Hayashi (10:10) with a Makinage-gatame.
~ KAI then grabbed a mic following the loss as he appointed Hayashi as the latest member of his "Indy Army", Hayashi had almost no time to react as KAI raised his hand. Hayashi appeared almost dumbfounded.
(6) W-1 Cruiserweight 4th Generation Champion Tournament Final Match: Minoru Tanaka vs. Kotaro Suzuki [FREE]
◆Winner: Kotaro (14:24) with a Tiger Driver.
~ Kotaro becomes the 4th generation champion.
~ TAJIRI came out and tried to mist attack the new champion, but Kotaro dodged it.
(7) Special 8 Man Tag Match: Keiji Mutoh, Akebono [Oudou], Ryota Hama & Keiichi Sato [FREE] vs. Manabu Soya, AKIRA, Jun Kasai [FREEDOMS] & Kumagoro
◆Winner: Akebono (8:40) with the Akebono "Splash" on Kumagoro.
~ Mutoh gave an OK for Keiichi to continue competing in W-1. Keiichi wore his original orange debut attire that Kobashi has given him the honor to wear. 
(8) WRESTLE-1 Championship Match: [7th Champion] Yuji Hino vs. [Challenger] Shuji Kondo
◆Winner: Hino (16:06) following the Fucking BOMB.
~ 2nd successful title defense.
~ With the win, Hino remains as the leading double crown champion, singles and tag.
~ The other former W-1 Tag Champion, Masayuki Kono then came out to challenge Hino for the next match.