—————————————————————————————————————————————————————
◆BJW◆
~ It has been reported that Okabayashi will miss the upcoming show on 2/22 for fear that he may have suffered a mild concussion on 2/18. He is expected back for the 2/25 show at Shinkiba.
BJW, 2/22/2016 [Mon] 19:00 @ Yokohama Nigiwaiza
() Hideyoshi Kamitani & Daichi Hashimoto vs. Masato Inaba & Yoshihisa Uto
() Daisuke Sekimoto vs. Nene∞Dai
() Pro-Wrestling Mania Mask & Atsushi Maruyama vs. Harbor Future Kaiser & La☆Panda
() The Winger, Frank Atsushi & Kazumi Kikuta vs. Hideki Suzuki, Tatsuhiko Yoshino & Toshiyuki Sakuda
() Jaki Numazawa, Masashi Takeda [U-FILE] & X vs. Shu Brahman, Kei Brahman & X
~ The full card for the 3/19 Osaka show was also released with the main event of Okabayashi taking on Shinobu. Okabayashi will surely be looking for revenge following the outcome of the 2/18 show.
BJW "Osaka Surprise 25", 3/19/2016 [Sat] 17:30 @ Osaka City Nishi Ward Community Center
(1) Takayuki Ueki & Kazumi Kikuta vs. Toshiyuki Sakuda & Hiroto Okubo
(2) Abdullah Kobayashi, Miracleman & Ossan vs. Yuichi Taniguchi, Kuishinbo Kamen & Kanjyuro Matsuyama
(3) A BLOCK Match: Seiya Sanada vs. Daichi Hashimoto
(4) Tag Death Match: Ryuji Ito, Jaki Numazawa & Masaya Takahashi vs. Isami Kodaka, Yuko Miyamoto & Saburo Inematsu [K-DOJO]
(5) BJW x Doutonbori ~ Osaka Yayoi no Jin ~ 6 Man Tag Match: Kankuro Hoshino, Masato Inaba & Masashi Takeda vs. Billyken Kid, Orochi & Gameras
(6) Daisuke Sekimoto, Hideyoshi Kamitani, Takumi Tsukamoto & Yoshihisa Uto vs. The Bodyguard, Tadasuke, Kazuaki Mihara & TORU
(7) B BLOCK Match: Yuji Okabayashi vs. Shinobu
BJW Ikkitosen ~ strong climb ~ 2016 – Info & Event Cards Listing
http://puroresuspirit.net/2016/02/bjw-ikkitosen-strong-climb-2016-info-event-cards-listing/
http://puroresuspirit.net/tag/bjw/
—————————————————————————————————————————————————————
◆DDT◆ [FULL RESULTS]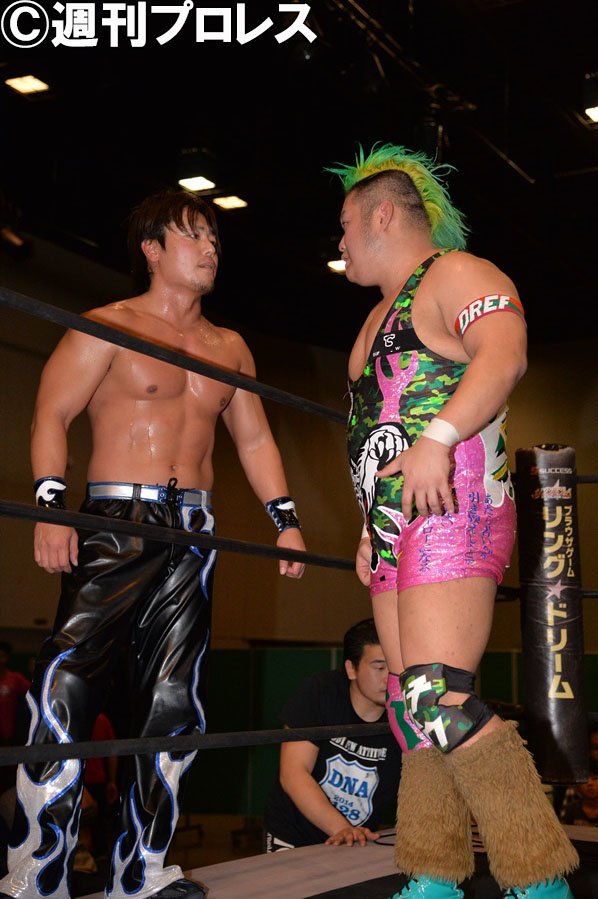 ~ Irie's team with the final win over HARASHIMA's team before the KO-D Contendership match on 2/28. Irie poised confident that he shall win the match.
~ Daisuke Sasaki defended the MAX Lucha Libre belt against Hiroshi Fukuda.
~ Kazuki Hirata continued his win streak as he heads into the KO-D 6 Tag defenses on 2/28.
—————————————————————————————————————————————————————
◆Michinoku◆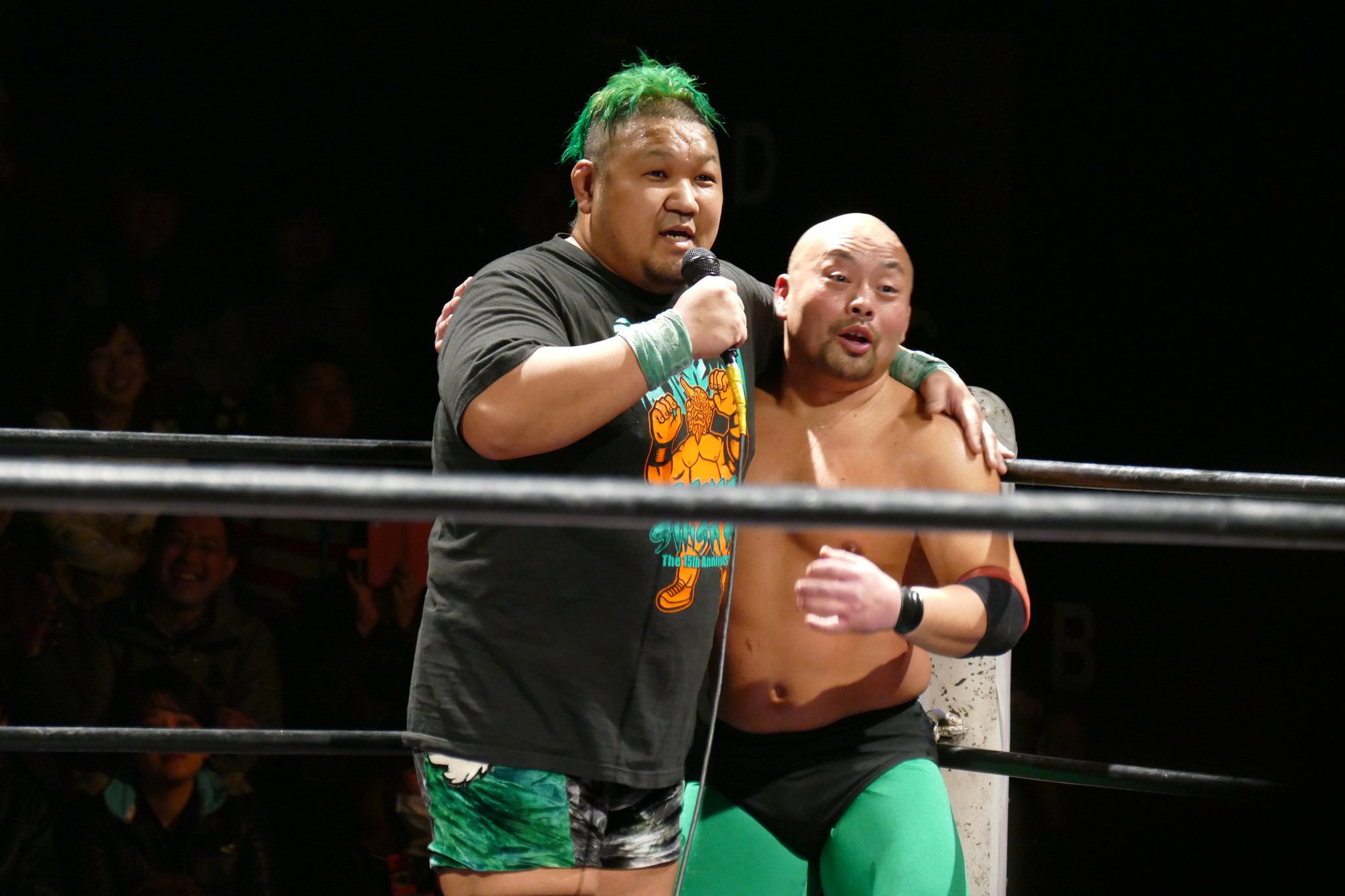 ~ GAINA & Taro Nohashi made it known that they want to challenge for the Tohoku Tag belts, which are currently held by Ikuto Hidaka & Minoru Fujita.
~ Daichi Sasaki claimed a solid win over Ken45° in a prelude 6 man tag match, Manjimaru vs Daichi Sasaki for the Tohoku Jr. belt will be on 3/20 in Yahaba.
—————————————————————————————————————————————————————
◆NJPW × ROH : HONOR RISING JAPAN◆ [FULL RESULTS]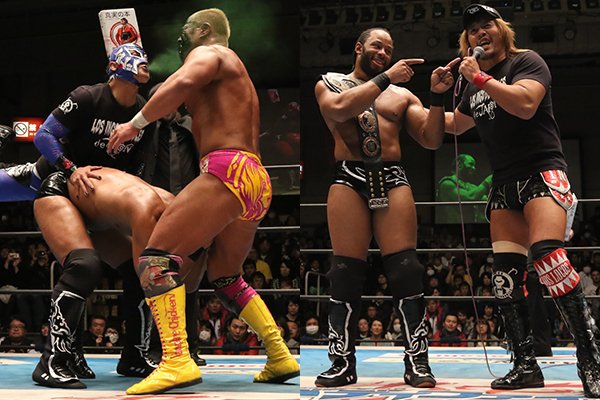 ~ Lethal defended the ROH World belt against Honma with the aid of L.I.J (Los Ignorables de Japon).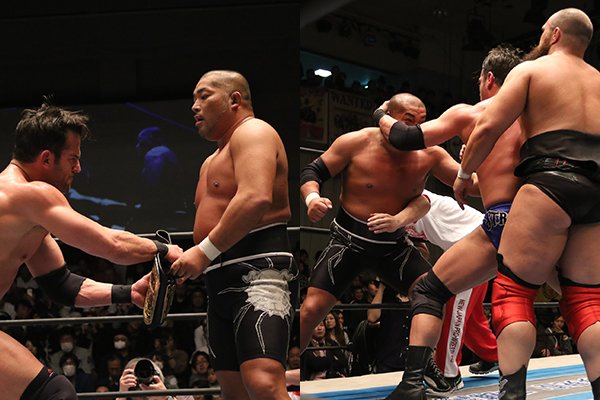 ~ Ishii and Strong continued to brawl following their scheduled tag match. It should be expected to see more between these two next week for the ROH shows.
~ Elgin made his intentions known that he wants a shot at the IWGP Heavyweight belt.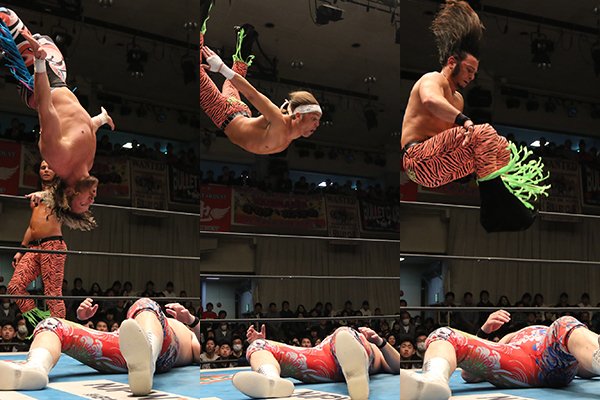 ~ Omega and Young Bucks captured the NEVER 6 Man Tag belts from Yano and Briscoe Brothers.


~ Anderson and Gallows bid their final farewell to NJPW today as they are now slated to head to the WWE next month, if not sooner. Anderson has been active in NJPW since 2008 and he stated that he has nothing but the utmost respect and gratitude for his time in New Japan.
—————————————————————————————————————————————————————