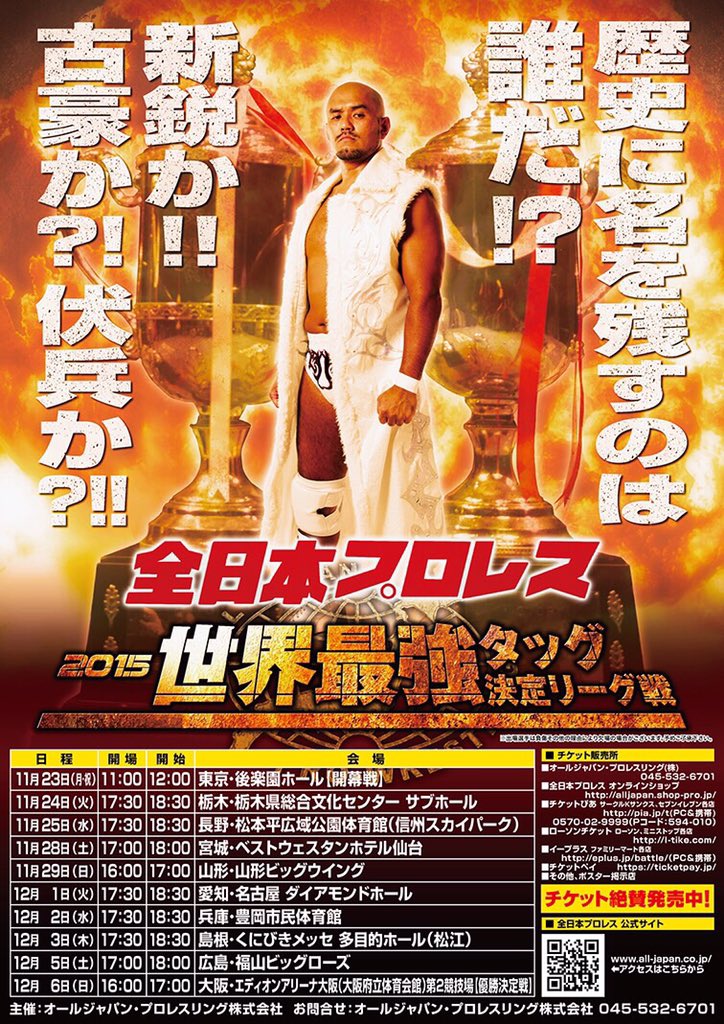 AJPW "World's Strongest Tag Decision League", 11/28/2015 [Sat] 18:00 @ Best Western Hotel Sendai
(1) Yuma Aoyagi vs. Keiichi Sato
◆Winner: Aoyagi (9:43) with a Fisherman Suplex Hold.
(2) Zeus vs. Yoshinobu Kanemaru vs. SUSHI
◆Winner: Zeus (11:30) with a Jackhammer on SUSHI.
(3) Atsushi Aoki & Hikaru Sato vs. Tsuyoshi Kikuchi & Aizawa No.1 [both FREE]
◆Winner: Hikaru (14:23) with a Cross Kneebar on Aizawa.
(4) Takao Omori vs. Naoya Nomura
◆Winner: Omori (12:39) following an Axe Bomber.
(5) Jun Akiyama, Osamu Nishimura & Ultimo Dragon vs. Kotaro Suzuki, Yohei Nakajima & Jake Lee
◆Winner: Akiyama (22:58) following an Exploder on Lee.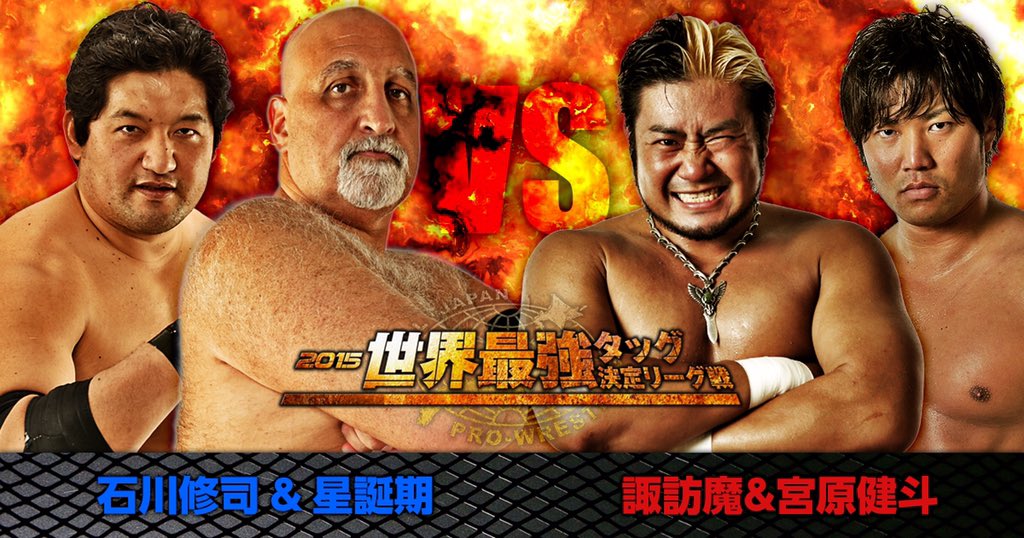 (6) Tag League Match: Suwama & Kento Miyahara vs. Shuji Ishikawa [FREE] & Hoshitango [DDT]
◆Winner: Miayahara (14:08) over Hoshitango.
~ Suwama/Miyahara [3 wins = 6 points]
~ Ishikawa/Hoshitango [2 wins, 1 loss = 4 points]
AJPW Event Cards for November & December 2015
http://puroresuspirit.net/2015/11/ajpw-event-cards-for-november-december-2015/
Previously Day Results
11/23 Day 1 [RESULTS]
11/24 Day 2 [RESULTS]
11/25 Day 3 [RESULTS]
11/28 Day 4 [RESULTS] * Above
11/29 Day 5 [RESULTS]
12/1 Day 6 [RESULTS]
12/2 Day 7 [RESULTS]
12/3 Day 8 [RESULTS]
12/5 Day 9 [RESULTS]
12/6 Final Day [RESULTS]