HEAT-UP "Flying Dragon Shinyuri Legend ~ Legend of Legends", 11/8/2015 [Sun] 13:00 @ Shinyuri 21 Hall in Kanagawa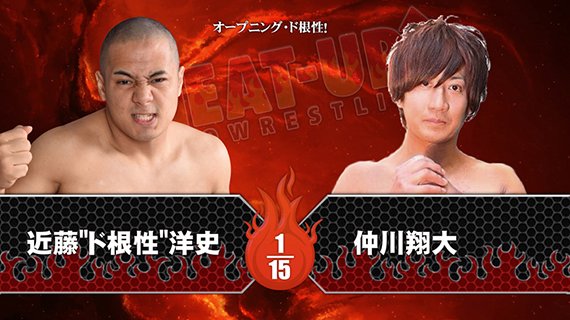 (1) Opening Dokonjo: Yoji "Dokonjo" Kondo vs. Shota Nakagawa [ASUKA]
◆Winner: Kondo (9:13) following a Brainbuster.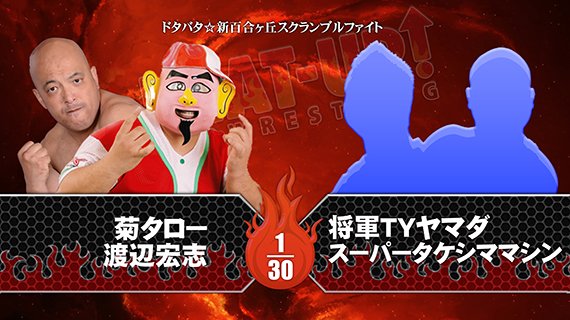 (2) Slapstick☆Shinyurigaoka Scramble Fight Tag Match: Hiroshi Watanabe [Yumemeijyuku] & Kikutao [Akiba] vs. General TY Yamada (Taro Yamada) [666] & Super Takeshima Machine (Kenji Takeshima) [Sportiva]
◆Winner: Takeshima (11:37) following a miniature bat attack on Kiku.
Rematch
◆Winner: Kiku (:22) via foul, Takeshima ripped Kiku's mask.
(3) Gatoh Move Offer Match: Riho, SAKI & MIAZUKI vs. Emi Sakura, Sayaka Obihiro & 'kotori'
◆Winner: Riho (15:23) via pin-fall on Obihiro.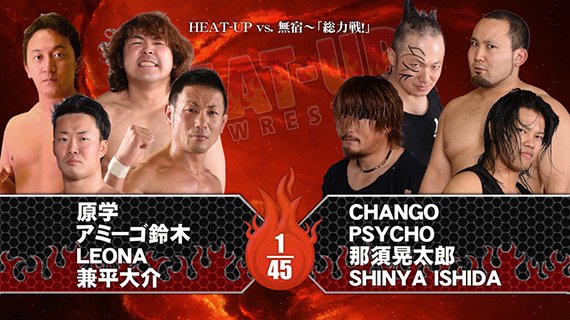 (4) HEAT-UP vs. Mushuku ~ Total War ~ 8 Man Tag Match: Manabu Hara [FREE], Amigo Suzuki, LEONA [DRADITION] & Daisuke Kanehira vs. CHANGO, PSYCHO, Kotaro Nasu & SHINYA ISHIDA [all FREE]
◆Winner: Kanehira (13:54) following a Running Knee Lift on CHANGO.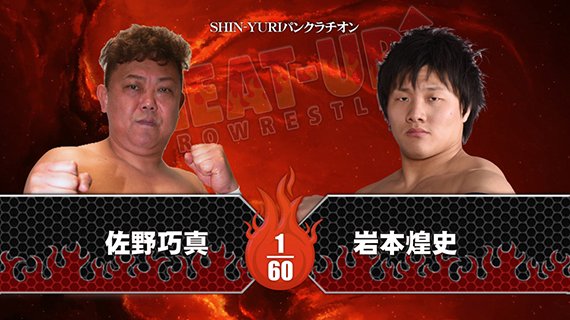 (5) SHIN-YURI Pankration: Takuma Sano [FREE] vs. Koji Iwamoto [Sportiva]
◆Winner: Sano (13:20) following a Northern Light Bomb.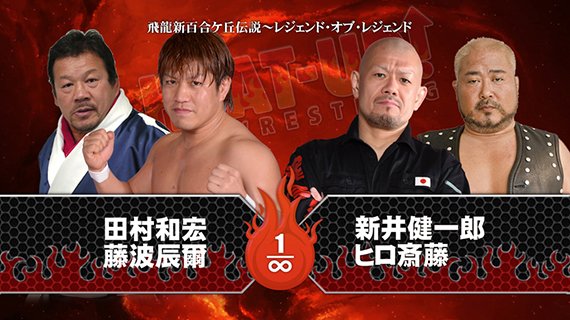 (6) Destroy! Enough of the Mushuku Style "CHEAT" – Special Tag Match: Kazuhiro Tamura & Tatsumi Fujinami [DRADITION] vs. Kenichiro Arai & Hiro Saito [DRADITION]
◆Winner: Fujinami (15:28) with a Dragon Sleeper on Arai.