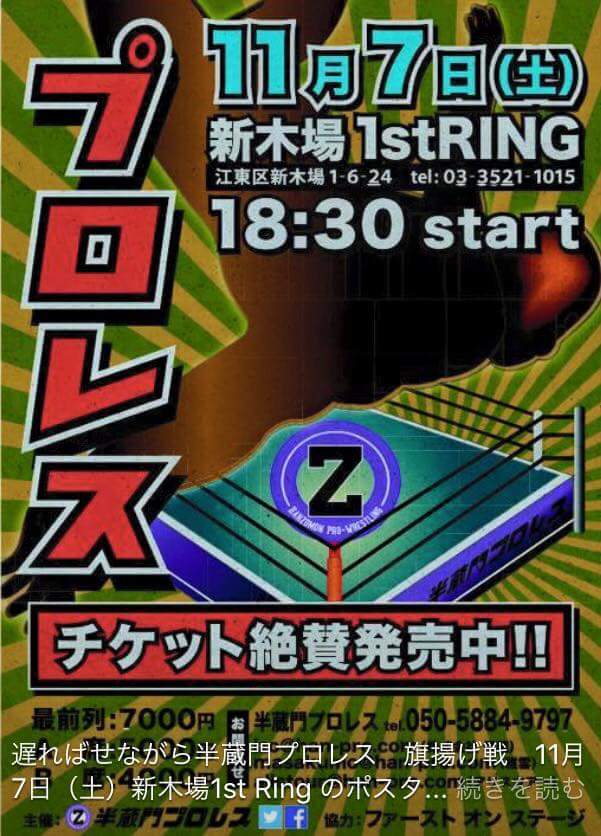 Hanzoman Pro-Wrestling, 11/7/2015 [Sat] 18:30 @ Shinkiba 1stRING in Tokyo
() Bullet Yankees vs Tokyo Gurentai – Union of the Prince of Evil: Ikuto Hidaka & Yusaku Obata vs. NOSAWA Rongai & Takuya Sugawara
◆Winner: Hidaka (15:26) with a Solarena on Sugawara.
(2) WRESTLE-1 Offer Match: KAI vs. Shotaro Ashino
◆Winner: KAI (10:01) with a Thunder Fire Power Bomb.
(3) ZERO1 Offer Match: Kohei Sato & Yoshikazu Yokoyama vs. KAMIKAZE & Ryoji Sai
◆Winner: Sai (13:16) following the Nachi no Taki on Yokoyama.
(4) KENSO Debut 15th Anniversary Match: KENSO & Haruka Kato vs. Kikutato & Hikaru Shida
◆Winner: KENSO (18:19) following the Hagakure on Kiku.
(5) Joshi Pro-Wrestling Special Tag Match: Ayako Hamada & Yu Yamagata vs. Chikayo Nagashima & Hiroyo Matsumoto
◆Winner: DRAW (20:00) Time Expired.
(6) Main Event – ZERO1 vs Tokyo Gurentai: Masato Tanaka vs. MAZADA
◆Winner: Tanaka (12:50) following the Sliding D.
~ The owners of Hanzoman thanked the wrestlers and the wrestling fans for coming out for tonight'ss show. They also announced they would hold their next show in the Spring of 2016.