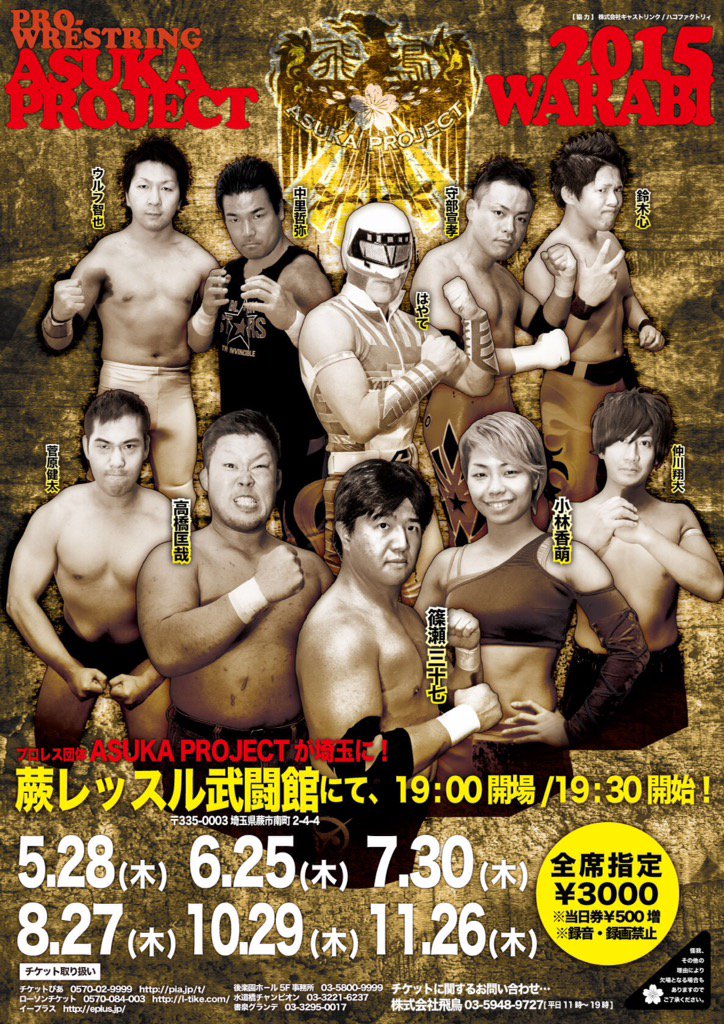 ASUKA PROJECT, 10/29/2015 [Thu] 19:30 @ Warabi Wrestle Butokan in Saitama
(1) Hayate & Nobutaka Moribe vs. Shota Nakagawa & Akiyori Takizawa
◆Winner: Moribe (10:10) following the Black Amigo.
(2) Yuka vs. Maruko Nagasaki
◆Winner: Yuka (6:42) with the Angels Trumpet.
(3) Shinose Mitoshichi, Choun Shiryu [FREE] & Wolf Tomoya vs. Yuji Kito, Masaya Takahashi & Shin Suzuki
◆Winner: Shinose (15:03) following the Bazooka Elbow on Masaya.
(4) ASUKA PROJECT Championship: [4th Champion] Kenichiro Arai vs. [Challenger] Kaho Kobayashi
◆Winner: Arai (14:47) following a Jumping Piledriver.
~ 4th successful title defense.
~ Kenta Sugawara came out to confront Arai after the match, but the two agreed to a partnership. Shinose came out in shock as the ASUKA rookie turned against him.


~ It was then announced that Kenichiro Arai & Kenta Sugawara will be taking on Shinose Mitoshichi & Akiyori Takizawa in November.